Sunset at the Lacerda Elevator, cravinho in the square, the drumming of Olodum … Ah, Pelourinho! I miss you!
Largo do Pelourinho. Salvador Bahia Foto: Amanda Oliveira.
How we miss walking through the streets of Salvador. A desire to stroll at Pelourinho and take pictures in front of the colorful houses, go to a mass at the Church of the Rosary of the Black People and, from there, watch a presentation of the Balé Folclórico da Bahia. We miss crossing Olodum drumming on the slopes, drinking a cravinho and going to shows and rehearsals in the largos and squares that are always crowded.
For now, the only way to visit Salvador is through memories. This famous Brazilian Baroque colonial architectural ensemble, Pelourinho, has so many surprises, that it would take days and days to visit everything. So, let's make a deal. After the quarantine finishes, we have an appointment: an ice cream watching the sunset from the Lacerda Elevator. In this itinerary, we try to soften this nostalgia called Pelourinho.
We've prepared a perfect playlist for this experience. Listen now!
Understanding territorial boundaries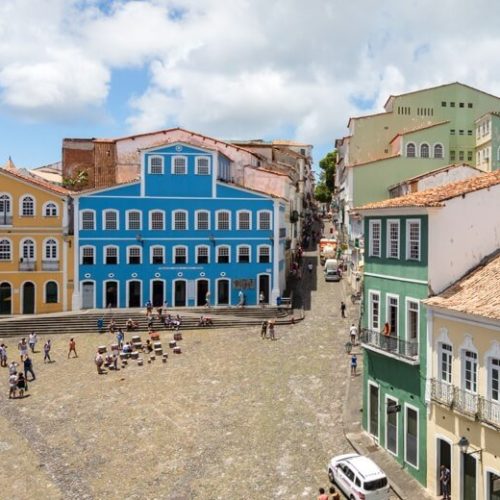 Largo do Pelourinho. Ao fundo, Fundação Casa de Jorge Amado. Foto: Fábio Marconi.
The well-known Pelourinho was just Largo do Pelourinho, located in the lower part of the region, where the Jorge Amado Foundation is located, for example. Today, it covers Largo do Terreiro de Jesus (there is the Cathedral Basilica of Salvador and the famous O Cravinho bar), and also Largo do Cruzeiro de São Francisco, going to Taboão (the street where Casa do Benin is located).
Pelourinho, popularly called Pelô, doesn't include the Lacerda Elevator. Did you think it did? You and many people also think that, maybe because this tourist spot is on the list of mandatory stops for those who are going to stroll through Pelô. For this reason, we decided to put the Lacerda Elevator here in this itinerary too!
One of the main tourist spots in Salvador and a World Heritage Site is today one of the most important centers for creative activities in the city. However, many people are unaware of the real meaning and history of the place, which was born as a punishment space for enslaved people. So, as much as this is a beautiful, cultural and fun place, it is important to understand its changes during the construction of this contemporary Salvador. The striking presence of the Afro-Brazilian heritage gave rise to a unique culture in Pelourinho.
Here you can find this and other information about the Historic Center of Salvador.
A Pelourinho class
Ah, how we wish to see this exuberant woman, with her colorful turban, walking up those hills. One of the biggest names in braids, twists and turbans in Brazil, Valdemira Telma de Jesus Sacramento, Negra Jhô, has the gift of making the heads look beautiful – in the inside too. That's because Negra Jhô makes her art telling stories of herself, of Salvador and giving a real class on Pelourinho.
A warrior woman, she made a revolution in Pelourinho when she arrived at the end of the 1970s, contributing effectively to the emancipation of black identity. A precursor to the empowerment of natural hair, she transformed the way black men and women looked at their own aesthetics.
Write in your agenda, for when all this goes away, to go and visit her salon.
Address: Ladeira de São Miguel, 4 – Pelourinho, Salvador – BA, 40026-030. Opening Hours: Monday to Friday, from 9am to 7pm. Saturday, from 9am to 8pm. Doesn't open on Sundays.
Culture and faith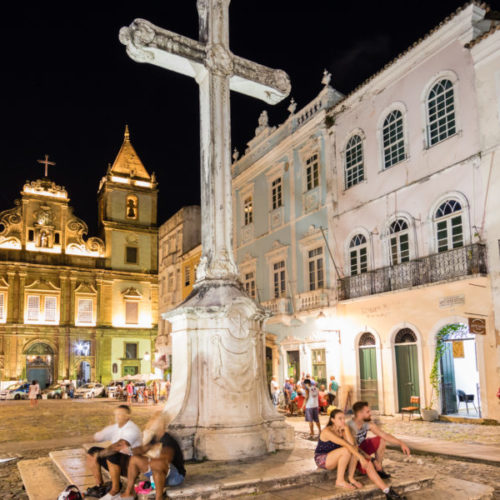 Church of the Rosary of the Black People
This is a peculiar Church: Catholic Religion, with Candomblé drums. Preserving its history linked to the enslaved people, the cult's liturgy makes use of music inspired by Candomblé's terreiros, to the sound of atabaques. In this church, a Catholic mass that incorporated some elements of African culture, such as singing and dancing, is celebrated every Tuesday.
Find out more at this link
Write it down for when you can visit
Masses: on Mondays and Sundays – at 9am. Tuesdays, Fridays, last Wednesday of the month and first Thursday of the month – at 6pm. Visitation: Mondays to Saturdays, from 8am to 12pm and from 1pm to 5pm. Contact: (71) 3421-5781.
Church of the Third Order of San Francisco
They say that this was Jorge Amado's favorite church. No wonder. Built between the 17th and 18th centuries, the Church of the Third Order of São Francisco has a washed sandstone facade decorated with high reliefs and is the only example in Brazil that refers to the Spanish Baroque. The project is by Gabriel Ribeiro, considered one of the pioneers of the Baroque in Brazil. The site also houses the only set of Portuguese tiles that represents the city of Lisbon, in Portugal, before the 1755 earthquake.
Find out more at this link
Church and Convent of São Francisco
Built between the 17th and 18th centuries, the Church and Convent of São Francisco are classified as one of the Seven Wonders of Portuguese Origin in the World and listed by the National Institute of Artistic and Historical Heritage (IPHAN). This Church is also known as the Golden Church and it can be visited, now, from the comfort of your home, through the 360 ​​° tour.
Find out more at this link
Write it down for when you can visit
Visitation: Monday, Wednesday, Thursday, Friday and Saturday, from 9am to 5:30 pm. Tuesday, from 9am to 5pm. Sunday, from 10am to 3pm. Admission: R$ 5.00
Now it really feels like having a homemade ice cream at Le Glacier Laporte, right next to the Church of San Francisco. It would be great to order any of their unique flavors such as Martinique, made with orange peel, rum and pieces of dark chocolate, sit on the tables outside and watch life go by.
What a desire to take that classic photo
There is no walk through Pelourinho without the classic photo in front of the big blue mansion, in Largo do Pelourinho, a place that has always been present in the life and work of the writer Jorge Amado. This is the Casa de Jorge Amado Foundation, a non-profit organization that aims to preserve, research and disseminate Jorge Amado's bibliographic and artistic collections and the art and literature of Bahia. The house promotes permanent debates on Bahian culture, especially the struggle to overcome racial and socioeconomic discrimination.
Find out more at this link
Write it down for when you can visit
Opening hours: Monday to Friday, from 10am to 6pm. Saturday, from 10am to 4pm. Price: R$ 5.00 (kids under 5 years old don't pay). On Wednesdays, admission is free for everyone. Pelourinho, Salvador – Bahia, 40.026-280. Phone #: (71) 3321-0070 / (71) 3321-0122
A refreshing juice
Suco de Limão com Coco. Pelourinho Salvador Bahia Foto: Amanda Oliveira.
Nothing better than a cold drink after a whole day walking through the stone streets of Pelourinho. Imagine mixing lemon with coconut. This juice, invented by Milton Cavalcante, is so Pelô, and just remembering it already brings back good memories.
We're longing to meet Milton with an apron, metal cups and his umbrella. Another good thing is that, while you drink the juice, you can also recharge your cell phone for the next photos: his cart has a solar plate that captures the energy needed to keep the famous juice cold, and of course, you can charge your cell phone. Things that we only see in Bahia !!!
African cultures
The Afro-Brazilian Museum of the Federal University of Bahia is one of the few in the country to deal exclusively with African cultures and their presence in the formation of Brazilian culture.
There are also objects of Brazilian origin, related to the Afro-Brazilian religion of Bahia, including a set of cedar carvings by Carybé – 27 panels representing the orixás of Bahia's candomblé. We miss sitting for hours in front of them and discovering new details in each visit.
If your nostalgia is too big, as soon as social isolation ends, spend the whole day going in and out of galleries and museums in Pelourinho. We have prepared a special itinerary for you at this link:
To sharpen the sensory and the imaginary, if you want to get to know a little of Salvador while at home, it is also possible. Several museums and collections in the city are available online. Check out our tips on this link
10 virtual exhibitions to discover Bahian art without leaving your home
Write it down for when you can visit
Address: Largo Terreiro de Jesus, Pelourinho. Opening hours: Monday to Friday, from 9am to 5pm. Phone #: (71) 3283-5540
We are Carnaval! We are folia!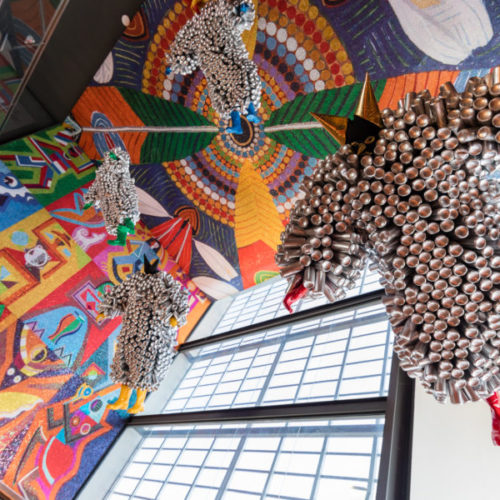 Casa do Carnaval - livros que contam a história dessa grande festa. Foto: Fábio Marconi
To finish the nostalgia of two things, the street and the carnival, put on your wish list a visit to Casa do Carnaval, a permanent museum that tells the story of the Bahian revelry. On four floors, it is possible to make a visual and sensory trip, with several thematic cuts of the party, recalling social transformations and the formation of Bahian identity.
Find out more at this link Casa do Carnaval
Write it down for when you can visit
Praça Ramos de Queirós, no number – Pelourinho, Salvador – BA, 40026-055. Open Tuesday to Sunday, from 11am to 7pm.
For when you get that hungry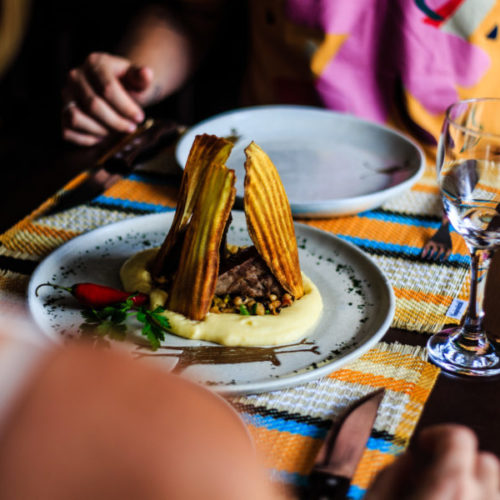 Cuco Bistrô Pelourinho Salvador Bahia. Foto: Amanda Oliveira.
In the middle of the tour, you get hungry. You are very lucky cause Pelourinho has great options everywhere. For a quiet meal, in a very cozy place, our tip is the Maria Mata Mouro restaurant. For the caipirinha lovers, the drink that is so Brazil, our suggestion is the Cuco Bistro, which has a special list of award-winning cachaças worldwide, in addition to the wonderful food, of course. However, if what you are looking for is a young and cool environment, go to Casarão 17. There, there is the Mariposa restaurant, which bet on a new concept in the Historic Center of Salvador. Worth knowing.
An ice cream at sunset
This would be the perfect evening after spending the day walking around. From the top of the Lacerda Elevator, there is an exuberant view of the All Saints Bay, perfect for a sunset. Complete the day with a coconut maltado from A Cubana ice cream shop. Another tip is to go to the Rio Branco Palace. From the balcony, you have a different view of the Lacerda Elevator. Take advantage of that golden light at the end of the day to make a beautiful picture of this tour.
Learn more about the Lacerda Elevator at this link
Write it down for when you can visit
Ticket: R$ 0.15 cents each ride in the elevator. Opening hours: Monday to Saturday, from 6am to 11pm. Sundays and holidays, from 7am to 10pm. Location: Lower City – Praça Visconde de Cayru, Comércio. From the Upper City – Municipal Square (Praça Tomé de Souza, no number, Centro Salvador -BA 40020-000), Historic Center, Salvador
Bar do Cravinho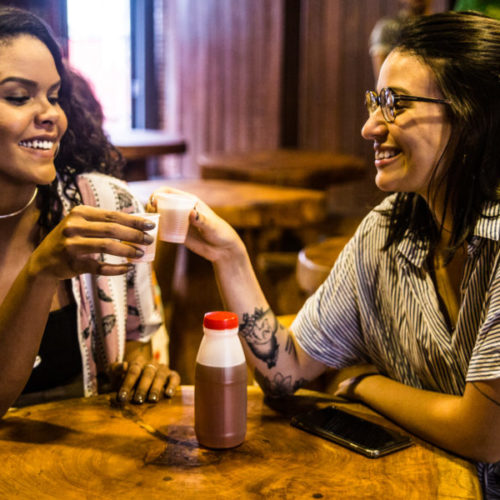 O Cravinho. Pelourinho, Salvador, Bahia. Foto: Amanda Oliveira.
Have you imagined the day that all this passes and we can arrange to meet for a good talk on the street, in the best Soteropolitan style? There might be no celebration in Pelourinho where Cravinho is not present. A trademark of largo parties, cloves and cinnamon bring a very full-bodied taste and aroma that, mixed with alcohol, form a curious infusion.
Find out more at this link
Also read about the peculiar drinks of Salvador
Write it down for when you can visit
Largo Terreiro de Jesus – Pelourinho, Salvador – BA, 40026-010. It is located in Terreiro de Jesus, Pelourinho, #3, next to the Basilica Cathedral, in the Historic Center of Salvador. Opening hours: Monday to Saturday, from 11am to 10pm. Sunday, from 11am to 6pm. Phone #: (71) 3322-6759 / 99314.6022
Largos and Squares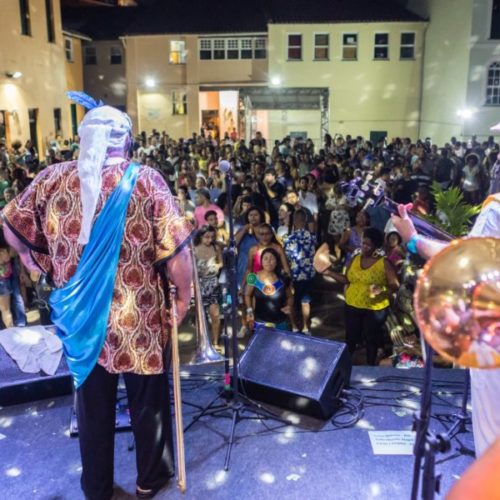 Salvador has a musical vibe present in every corner and, in Pelourinho, the Squares and Largos are meeting points for concerts, rehearsals, festivals and multiple cultural projects. The traditional squares of Pelourinho – Pedro Arcanjo, Tereza Batista and Quincas Berro d'água – engender this dynamic of the city, which occupies the spaces and fills them with music and joy, with people from different social classes, gender, color and creeds diversity. You can imagine the longing that this cauldron causes in the lives of residents and tourists, right?
Learn more at this link.
Largo Tereza Batista
Address: Rua Gregório de Matos, 6 – Pelourinho, Salvador-BA, 40026-010
Largo Pedro Arcanjo
Address: 010, Rua Gregório de Matos – Pelourinho, Salvador-BA
Largo Quincas Berro D'Água
Address: Rua do Açouguinho, 12 – Pelourinho, Salvador-BA, 40025-180
By Fernanda Slama
Content Coordinator