Must-see sights in one of the most visited places in the city
Largo do Pelourinho. Salvador Bahia Foto: Amanda Oliveira.
Tomé de Sousa, colonizer, arrived in Brazil in 1549 with orders from the King of Portugal to found a fortress city in the All Saints Bay. Thus was born São Salvador, the seat of the General Government, for many years the largest city in the Americas. Today, the Historic Center of Salvador covers much more than the area of ​​the old walled citadel. Due to its buildings richness, the Historic Center is a UNESCO World Heritage Site.
We have gathered the top 10 classics that you need to visit there. Once the Historic Center is one of the most visited tourist destinations in the city, it is worth planning so you won't miss anything. On this cultural tour, you will walk through the stone streets full of colorful and century-old mansions from the 16th to the 19th centuries, not to mention the ever present musicality: there are great chances for you to cross the pulsating drums of the Olodum Afro Block in an open rehearsal and also the Didá Banda Feminina. Come and mix it up!
Church of Our Lady of the Rosary of the Black People
This is a peculiar Church: Catholic Religion, with Candomblé drums. The Fraternity of Our Lady of the Rosary of the Black People was founded in 1685 and raised to the category of Third Order on July 2, 1899.
Preserving its history linked to slaves, the cult liturgy makes use of music inspired by the Candomblé terreiros, to the sound of atabaques. In this church, a Catholic mass that incorporated some elements of African culture – such as singing and dancing – is celebrated every Tuesday.
https://www.salvadordabahia.com/experiencias/igreja-nossa-s Senhora-do-rosario-dos-pretos/
Service:
Date: Masses, on Mondays and Sundays – at 9 am. Tuesdays, last Wednesday of the month, 1st Thursday of the month and Fridays – at 6 pm. Visitation: Mondays to Saturdays, from 8 am to 12 pm and from 1 pm to 5 pm.
Phone #: (71) 3421-5781.
Casa de Jorge Amado Foundation
Largo do Pelourinho has always been present in the life and work of writer Jorge Amado. Casa de Jorge Amado Foundation is located in the iconic blue mansion of the Historic Center. A non-profit organization, which aims to preserve, research and disseminate Jorge Amado's bibliographic and artistic collections and Bahia's art and literature. The House promotes permanent debates on Bahian culture, especially the struggle to overcome racial and socioeconomic discrimination.
Service
Casa de Jorge Amado Foundation – CaféTeatro Zélia Gattai
Opening hours: Monday to Friday, from 10 am to 6 pm. Saturday, from 10 am to 4 pm.
Price: R$ 5.00 (children under 5 years old don't pay).
On Wednesdays, admission is free for everyone.
Pelourinho, Salvador – Bahia, 40.026-280
Phone #s: (71) 3321-0070 / (71) 3321-0122
Museu da Misericórdia (Museum of Mercy)
More than 3,000 cataloged pieces contextualize an almost 500-year-old historical narrative
The imposing palace of the 17th century, located between the Municipal Square and Cruz Caída Square, holds an expressive part of the History of Bahia and Brazil. In each of the corridors and rooms of Museu da Misericórdia, there is something that recounts health, political and social events in the city of Salvador. The site once housed the Hospital da Caridade, the state's first health unit, which history begins in the same year that the Bahian capital was born, in 1549.
The collection, composed of more than 3 thousand cataloged pieces, contextualizes a historical narrative of almost 500 years. Highlight for the Pharmacy, the 1867 cabinet, exclusively built to store bottles of pharmaceutical substances from the Hospital da Caridade, and the first gasoline-powered car in Bahia and the oldest on display in Brazil. In addition, it has stunning views of the All Saints Bay.
Service:
Museu da Misericórdia
Address: Rua da Misericórdia, 6, Praça da Sé.
Opening hours: Monday to Friday, from 8:30 am to 5:30 pm. Saturdays, from 9am to 5pm. Holidays, from 9am to 1pm.
Tickets cost R$ 6 (normal) and R$ 3 (half).
School group visits need to be scheduled.
Phone #s: 71 2203-9830 / 9832.
Cafelier
When choosing a place to watch a beautiful sunset, Cafelier is an excellent place. Ideal for enjoying a good coffee with treats or for a chat with cold beer and snacks in front of All Saints Bay. Good atmosphere for romantic strolls, special occasions and families with children. The decor is cute, you will love this place.
See also: Tips about 6 places for coffee lovers – https://www.salvadordabahia.com/roteiros/dicas-de-6-lugares-para-os-amantes-de-cafe/
Service
Cafélier
Opening hours: Monday and Tuesday and from Thursday to Sunday, from 2:30 pm to 9:30 pm
Phone #: (71) 3241-5095
Service: to go; outdoor tables; places to sit; waiters; serves alcoholic drinks; full bar; wine and beer.
Cruz do Pascoal Bar
This is a classic bar with cold beer and the tastiest sun-dried meat with manioc pirão. Cruz do Pascoal Bar serves a regional menu in an informal atmosphere, in addition to maintaining original objects from the emporium time, with emphasis on a huge metallic cash register machine with buttons and keyboards. Founded in 1952 by the Spanish Porfírio Amoedo, the bar is famous for its cold beer, tasty snacks and the privileged and highly disputed view of the Lower City and the All Saints Bay. The bar is frequented by artists, bohemians, tourists and ordinary citizens. An icon of bohemian Salvador, Bar do Pascoal remains true to its own tradition!
Service
Cruz do Pascoal Bar
Address: Rua do Carmo, 2 – Santo Antônio Além do Carmo, Salvador – BA, 40301-405
Opening hours: Tuesday to Saturday, from 1:30 pm to 12:00 am.
Phone #: (71) 3243-2285
Church of the Third Order of San Francisco
Built between the 17th and 18th centuries, the Church of the Third Order of San Francisco has a washed sandstone facade decorated with high reliefs and is the only example in Brazil that refers to the Spanish Baroque. The project is by Gabriel Ribeiro, considered one of the introductors of the Baroque in Brazil. The site also houses the only set of Portuguese tiles that represents the city of Lisbon, in Portugal, before the 1755 earthquake.
Service
Church of the Third Order of San Francisco
Visitation: Monday to Sunday, from 8 am to 12 pm and from 1 pm to 5 pm.
Price: R$ 5.00
San Francisco Church and Convent
Built between the 17th and 18th centuries, the Church and Convent of San Francisco are classified as one of the Seven Wonders of Portuguese Origin in the World and listed by IPHAN. Its 18th century Portuguese tiles reproduce the birth of San Francisco and are adorned with wood carvings molded with powdered gold and with symbols of the Brazilian Baroque: leaves, pelicans, flowers, angels. This Church is also known as the Golden Church!
Service:
Visitation: Monday, Wednesday, Thursday, Friday and Saturday, from 9 am to 5:30 pm. Tuesday, from 9 am to 5 pm. Sunday from 10 am to 3 pm.
Admission: R$ 5.00
Elevador Lacerda (Lacerda Elevator)
The Lacerda Elevator was the first urban elevator in the world. When it opened in 1873, it was also the tallest, at 63 meters. It connects the neighborhood of Comércio to the Upper City, in a journey of approximately 20 seconds.
Up there, the view of the bay is spectacular. Take the opportunity to have a "coco espumante", also known as "maltado de coco", from the ice cream shop A Cubana. It's delicious! Do you think it's a coconut drink? No, it's not. But we are not going to tell you… You will have to go and try it!
Service
Elevador Lacerda
Admission: R$ 0.15 cents each trip.
Opening hours:
Monday to Saturday, from 6am to 11pm. Sundays and holidays, from 7am to 10pm.
Accessibility: route with difficulties and very high parapet for wheelchair users.
Place
From the Lower City: Visconde de Cayru Square, Comércio. From the Upper City: Municipal Square (Tomé de Souza Square, no number, Centro Salvador -BA 40020-000), Historic Center, Salvador.
Phone #: 71 3202-7655
Email: elevatorlacerda.secultssa@gmail.com
Mercado Modelo (Model Market)
A center of Bahian handicrafts, the Mercado Modelo is a summary of the Bahian culture and the origin of Brazil. It all started here! The place is surrounded by other city postcards. You can take advantage of Elevador Lacerda and visit the Historic Center, (in the Upper City), on the same day.
There are more than 250 stores of local handicrafts, souvenirs, clothes, sweets, cachaças, the famous ribbons of Bonfim and other gifts from Bahia! There are traditional restaurants such as "Maria de São Pedro" and "Camafeu de Oxóssi". There are also more modest options. Just go! There is a lot of history in that place!
Service
Mercado Modelo
Opening hours: Monday to Saturday, from 9am to 7pm. Sunday, 9am to 2pm
Free entrance
Bar do Cravinho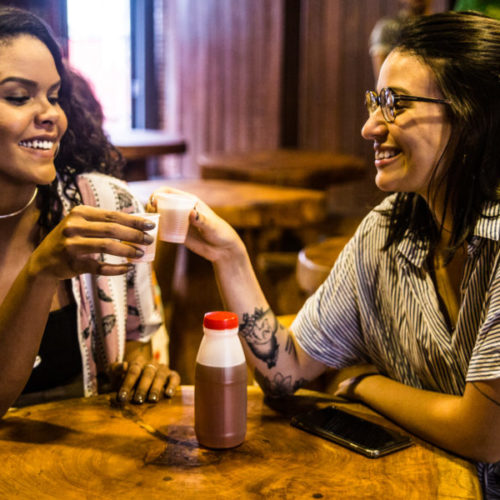 O Cravinho. Pelourinho, Salvador, Bahia. Foto: Amanda Oliveira.
There might be no celebration at Pelourinho where cravinho is not present. A trademark of the street parties, the cloves and cinnamon bring a very full-bodied taste and aroma that, mixed with alcohol, make a curious infusion.
In Pelourinho, there are 3 places that sell the drink so peculiar to Salvador. One of the most famous is the bar with the drink's name, located in Largo Terreiro de Jesus. Bar do Cravinho, in a tavern-style, is one of the sensations of the Historic Center, and in addition to the drink, it also serves a famous gizzard. There's also a small shop with several interesting items for tourists.
See also: https://www.salvadordabahia.com/bebidas-peculiares-de-salvador/
Service
O Cravinho
Largo Terreiro de Jesus – Pelourinho, Salvador – BA, 40026-010
It is located in Terreiro de Jesus, Pelourinho, # 3, next to the Cathedral Basilica, in the Historic Center of Salvador.
Opening hours: Monday to Saturday, from 11am to 10pm. Sunday, from 11am to 6pm.
E-mail: contato@ocravinho.com.br. Website: http://www.ocravinho.com.br
Phone #s: (71) 3322-6759 / 99314.6022