One of Salvador's classics, your faithful companion at Pelourinho's parties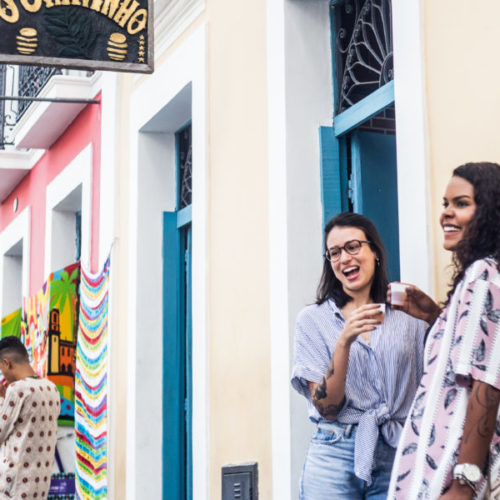 O Cravinho. Pelourinho, Salvador, Bahia. Foto: Amanda Oliveira.
There are those quirky Salvador drinks that are always in vogue. Cravinho is one of them. There might be no party at Pelourinho where cravinho is not present. A trademark of the street parties, the cloves and cinnamon bring a very full-bodied taste and aroma that mask the presence of alcohol, which is a danger.
One of the most famous places is the bar O Cravinho, named after the most famous infusion, and is located at Largo Terreiro de Jesus, in Pelourinho. The tavern-style bar is one of the Historic Center sensations, and in addition to the drink, it also serves a famous gizzard. Created in the early 80's, it has four indoor environments, one of them a little shop with several interesting items for tourists. All spaces of Cravinho are assembled and decorated in noble wood: Pau D'arco, Massaranduba and Gonçalves Alves. There are barrels full of drinks, each of which has a flavor written on a sign.
The place has a large amount of typical infusion drinks such as: the Cravinho (cachaça, cloves, honey and lemon), Canela (cachaça, cinnamon, honey and lemon) and Jatobá (cachaça, Jatobá shell, honey and lemon). To eat, very peculiar dishes are served such as Bahian Caviar Moqueca and the famous Chicken Gizzard, as well as "less adventurous" dishes such as Filet Appetizer, Batter Coated Fried Fish and Cod Dumplings.
Service
O Cravinho
Terreiro de Jesus Square – Pelourinho, Salvador – BA, 40026-010
It is located in Terreiro de Jesus, Pelourinho, #3, next to the Basilica Cathedral, in Salvador's Historic Center.
Opening hours: Monday to Saturday from 11am to 10pm. Sunday from 11am to 6pm.
Email: contato@ocravinho.com.br. Website: http://www.ocravinho.com.br
Phone #: (71) 3322-6759 / 99314.6022