An itinerary with 20 tips to make your July vacation unforgettable
This itinerary is for that kind of tourist that likes to feel the energy of the place and let things happen. He or she usually has an initial plan, but then just goes with the flow: unexpected experiences will always be the best option. In other words, alternative tourism or alternative routes are for those who want to mingle as much as possible with the residents of the city they are visiting, doing things as if they were local.
And, if you fit this profile, come spend your July vacation here in the capital of Bahia. Visit Salvador da Bahia has prepared some itineraries full of tips for tourists who come to spend 3 days in the city. It has suggestions for cultural tours, sights, restaurants, entertainment, outdoor walks and beaches for those who want to experience life throughout the day. Let's go?
First day
Morning
Start your vacation by getting to know the city from the sea, on a Hawaiian canoe tour. A great route is the one that starts from Preguiça beach, runs along the entire coast towards Porto da Barra, returning and ending at the "little beach" that forms at low tide at Forte São Marcelo.
Afternoon
Just like the canoe tour, this restaurant will be stuck in your memory. Lunch in Mônica's Bar and Restaurant, in Gamboa, can start with a fried fish and end with a nice moqueca. The place is practically inside the sea, with tables spread out on a concrete slab in front of the houses. Between a cold beer, good food and a dip in the ocean, you can still watch the sunset there. However, close by is the Solar do Unhão, with a privileged view, perfect for this late afternoon. Soon after, it is still worth visiting the exhibition at MAM, Museu de Arte da Bahia (Bahia Art Museum).
Night
Keeping the vibe, your night can start at Bar Velho Espanha, in Barris. Another option is to go to Mouraria, in Nazaré, and when you feel hungry again, try the classic local "lambreta" (clam).
Second day
Morning
Today, we're going to the Lower City. First, take a dip in the sea at Penha beach, in Ribeira. Then, walk to the nearby Municipal Nautical Terminal of Ribeira and cross by boat to Plataforma, to eat at the Boca de Galinha restaurant. The sea route is the daily route of local residents, and even so, you can enjoy the view and the calm of ​​the Bay of Itapagipe sea.
On the other side, you will pass by the old train station of Subúrbio Ferroviário, walk five minutes and that's it, you got there.
Afternoon
Return by boat until 16:00, have an ice cream at Sorveteria da Ribeira and run to Humaitá Lighthouse, to catch the sunset.
Night
A valuable tip for this tour: take a change of clothes, put on lipstick, throw on some glitter and you're ready for the next stop. The suggestion is to go to A.B.O.C.A Centro de Artes (Arts Center), in Santo Antônio Além do Carmo. In addition to the show and the gingerbread drink (gengibrinho), there is still a delicious pizza, with thin crust. There, the party starts and ends early (from 7pm to 10pm), so if there's still energy left in your body, your party can continue, by watching a drag show at ncora do Marujo bar, on Rua Carlos Gomes.
Third day
Morning
Today's cultural tour begins with the circuito RUA – Roteiro Urbano de Arte de Salvador (Urban Art Route circuit), an open-air gallery along the streets of Comércio. They are installations, sculptures, artistic interventions and graffiti by exponents of contemporary Bahian artists, designed to occupy specific spaces in the Comércio district. The works dialogue with the architectural environment and with the concepts related to the respective honorees. In addition, you can walk and shop at Mercado Modelo, also at Comércio.
Afternoon
In the afternoon, go up the Lacerda Elevator and take that classic photo of the All Saints Bay seen from above. Then, go along Rua Chile and Praça Castro Alves and have lunch in Dois de Julho: Porto Moreira, Caxixi and Líder are excellent restaurant options.
In Porto do Moreira, mocotó, meat and egg moqueca, tripe stew and liver baits are just some of the delicacies of this Luso-Bahian restaurant that continues to be part of the city's history and center.
The Caxixi Bar and Restaurant is one of the biggest representatives of the famous Malassado dish in Salvador. At Líder, the stars are the ham sandwich and the feijoada and maniçoba pastries.
Night
Definitely, this alternative route could not exist without a night out in the Historic Center of Salvador. The night starts in Pelourinho, where there are always cool shows in the squares and restaurants. Be sure to discover the nightlife at the bars and parties in the lower part of the Carmo district: Bar do Neuzão, Bar da Pri, Malembe and Bar A Marujada form the most trendy circuit in the region.
Service:
Hawaiian canoe tour
Monica's Restaurant and Bar
MAM – Museum of Modern Art of Bahia
Velho Espanha Bar
Bars and restaurants in Mouraria, in Nazaré
Penha Beach, in Ribeira
Boca de Galinha Restaurant
Sorveteria da Ribeira (Ribeira ice cream shop)
Farol do Humaitá (Humaitá Lighthouse)
A.B.O.C.A Centro de Artes (A.B.O.C.A Arts Center)
Âncora do Marujo Bar
RUA – Roteiro Urbano de Arte (RUA – Urban Art Route)
Mercado Modelo
Restaurante Porto Moreira (Restaurant)
Restaurante Caxixi (Restaurant)
Restaurante Líder (Restaurant)
Nightlife in Pelourinho (there are always nice shows in the squares and restaurants)
Bars and parties in the lower part of the Carmo district: Bar do Neuzão, Bar da Pri, Malembe and A Marujada Bar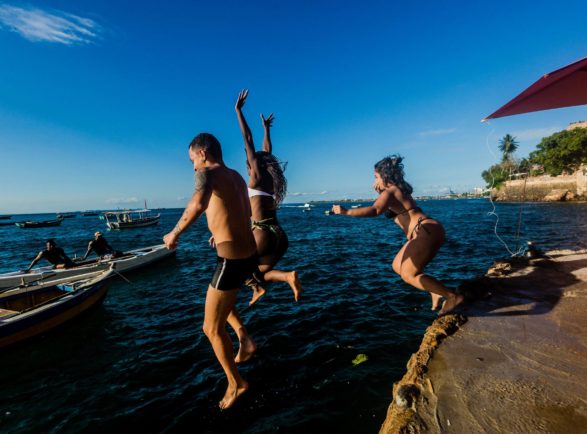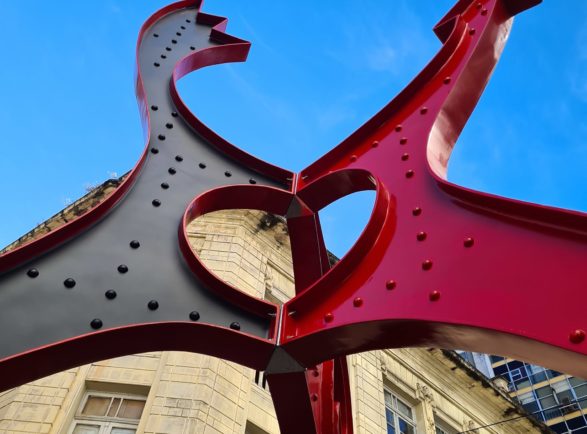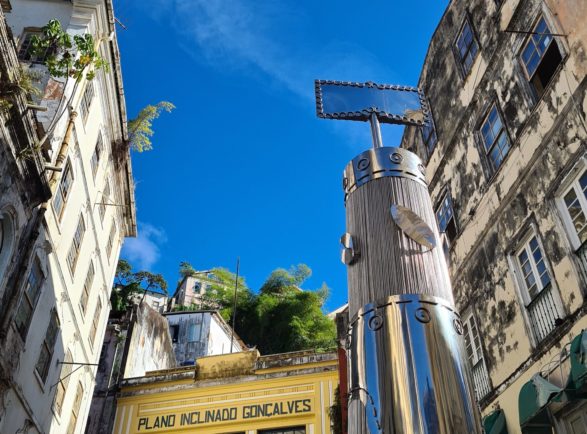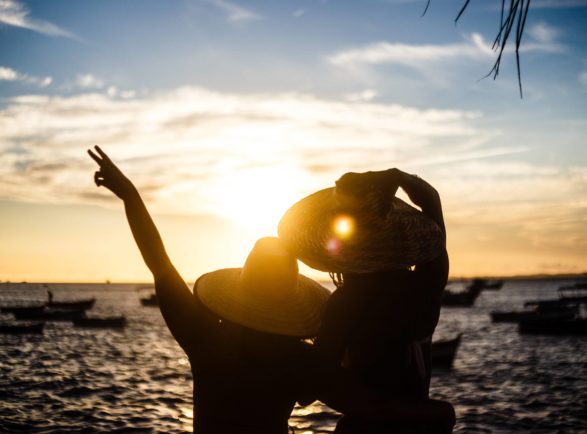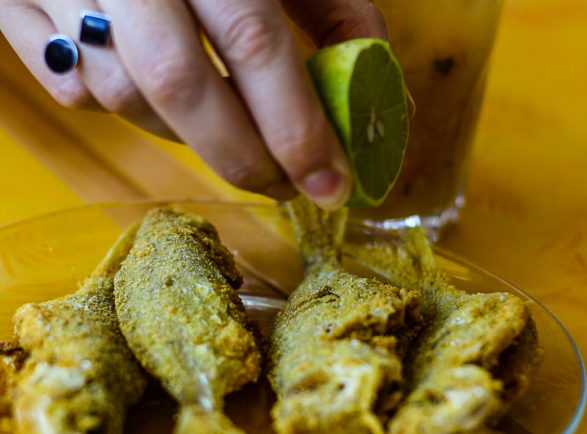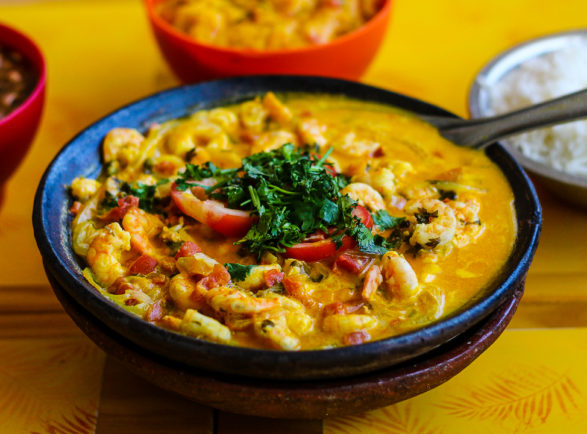 ABOCA Centro de Artes. Santo Antônio Além do Carmo Foto: Amanda Oliveira.