A stroll through the Comércio district, which is modern, revitalized and more beautiful
Experience the center of Salvador, explore places and exchange experiences. Comércio was the first planned neighborhood and the first economic center in Brazil, and it keeps a lot of history and memories of our country's first years. Have you ever thought about knowing things there? Security, good programming and conservation may have been some of the questions, but know that a lot has been changing in this part of the city.
Comércio is undergoing – like many other parts of the city – a process of modernization and revitalization, and is more alive, colorful and full of cultural activities. Improvements were made to infrastructure, mobility, enhancement of public assets, structuring equipment, as well as cultural actions. The streets of Comércio were occupied by fairs, concerts, artists' activations (old and new artists), graffiti and much more.
In this itinerary, we will take you to some places that represent a little of this new face of Comércio neighborhood in Salvador. The idea is to encourage residents and tourists to rediscover this region: its history, architecture, art, gastronomy and peculiarities. Are you in? So let's go!
Praça da Inglaterra and Miguel Calmon Street
This area, besides being beautiful, has been receiving a great cultural program, with craft fairs, gastronomy and concerts. Whenever there are activities happening there, don't miss it, as it is worth too much. Praça da Inglaterra has hosted free events such as Feira Criativa and Brechó Park, with excellent musical programming and activities for the whole family.
It is also worth leaving the agenda of SECIS – Secretariat of Sustainability, Innovation and Resilience of Salvador on the radar. The new building is in this area, on Grécia Street. The house, overgrown with vegetation, has already become a postcard in Comércio, with at least 10 species of vegetables planted in vases that adorn the entire front of the building. The place also has more than 20 sustainability items, including solar panels that generate clean energy.
The building also has an open-air auditorium on the terrace where the LaJe Talks project takes place: a chat with various actors in society, inspiring people, who talk about issues related to sustainability. After the conversation, there is always a happy hour for people to interact and exchange ideas. Yes, it is open to the public! It's free, but there is an early registration. Keep an eye on their networks for the full schedule. (instagram: @secissalvador). You can also take a guided tour of SECIS, just fill out the form at this link. (https://linktr.ee/secis)
Filé do Juarez
Are you hungry? Since 1955, Filé do Juarez is a gastronomic heritage for carnivores in the palm oil land. The peculiar way of preparing has become a secret that is part of the place myth. Black on the outside and red on the inside, the fillet holds legends about its preparation. Everything is very simple and the flavor is the signature of the place. If you love meat, go!
Service
Juarez Restaurant
Opening hours: Monday to Saturday, from 11:30 am to 3:00 pm.
Address: Tv. Frederico Pontes, 1 – Comércio, Salvador – BA, 40015-110
Phone #: 99922-3378
Important: they don't accept card
HUB Salvador
Today, Comércio is changing, and is getting ready to receive startups and technology-based companies, such as HUB Salvador, for example. It is an incredible collaborative workspace where Startups with an international reach and traditional businesses with successful cases are inserted in an innovation ecosystem. It also has space for events and a café.
The "futuristic" building, all made of glass, faces the All Saints Bay, in the Port of Salvador. The Hub has several types of plans for those who live in Salvador and are looking for a workstation. And there is also Day Use for those who are passing through the city and need a place to work. It is worth keeping an eye on the networks, as HUB Salvador also promotes events of connections, networking and quality content. It is open to receive workshops, events and lectures from people outside the network.
Service
HUB Salvador
Address: Av. Da França, 393 – 2nd floor – Comércio, Salvador – BA, 40010-010
Opening hours: Monday to Friday, from 8am to 8pm. Saturdays, from 8am to 12pm. It doesn't open on Sundays.
Phone #: (71) 3838-9990
Day Use – prices range from R$ 30.00 to R $50.00.
To learn more about the plans click on this link.
For more information, visit www.hubsalvador.com.br
Urban art
On the way to your next stop, you will notice that the route is filled with urban art. The works are part of the M.U.R.A.L. project, which took place there in 2016, and continue to color the streets of Comércio. Panels transformed the streets of Avenida da França into an open-air gallery.
Graffiti, painting and drawing were some of the techniques used by artists like Fábio Rocha, o Limpo; Rebeca Silva, Davi Caramelo, Éder Muniz, Devarnier Hembadoom, Nila Carneiro, Pedro Marighella and Marcos Costa. Research their work and, from now on, along the way, you will notice every detail of these gigantic panels.
The little beach of MAM
Crystal clear sea, stunning views of All Saints Bay and works of art. This is the summary of what has become the darling of the city's urban beaches. The beach works as a tourist spot and leisure area, as it is inside the Sculpture Park, with works by Carybé, Emanuel Araújo, Ivens Machado, José Resende, Mário Cravo, Mestre Didi, Tunga, Juarez Paraíso and Siron Franco, among others.
Access can be by land, and will be open or closed to visitors, depending on the maintenance of the place. This passage is a gate in a beautiful railing – which, by the way, is one of Carybé's most famous works – right on Avenida Contorno, at the entrance to the Museum of Modern Art (MAM). Another option is to go to Solar do Unhão beach and take a boat there and arrive through the water.
Service
Address: Avenida do Contorno, no number – Comércio, Salvador – BA, 40060-075
Attention, bathers! Remember that on this beach there are pieces of great artistic and cultural value! Let's take care of our heritage!
There is no parking.
Mercado Modelo (Model market)
If falling into the sea is not your cup of tea, take the opportunity to pass by Mercado Modelo. There are more than 250 stores of local handicrafts, souvenirs, clothes, sweets, cachaças, the famous ribbons of Bonfim and other gifts from Bahia!
You also have options to eat, like the traditional restaurants "Maria de São Pedro" and the "Camafeu de Oxóssi". On the balcony, the best option is to drink coconut water while taking a break. From there you can see the Nautical Tourist Terminal, the São Marcelo Fort and the 2nd Naval District.
Surrounded by other city postcards, you can take advantage of the Lacerda Elevator and go up to visit the Historic Center, in the Upper City, on the same day. Nearby is the Basilica of Our Lady of Conceição da Praia. There is also a 1.1 kilometer bike path that goes from the Mercado Modelo to the Pilar's Inclined Plane. On the way, there is also the Gonçalves' Inclined Plane, which leaves you at the door of Casa do Carnaval, in Pelourinho. That is: you can shop and still have several options for what to do next.
https://www.salvadordabahia.com/experiencias/basilica-nossa-s Senhora-da-conceicao-da-praia/
Service
Mercado Modelo
Opening hours: Monday to Saturday, from 9am to 7pm. Sunday, 9am to 2pm
Address: Praça Visconde de Cayru, no number – Comércio, Salvador – BA, 40015-170
A sunset and a good drink
The flavors of contemporary cuisine facing the All Saints Bay. If you were looking for a place to relax, enjoy the breeze and have a quiet chat, you just found it. Located in Bahia Marina, a safe and pleasant place, the Mar Gastronomia restaurant provides the ideal environment to live a sensory experience with colors, smells, sounds and flavors.
Try the shrimp or lobster sandwich, served with a green apple mayonnaise, it is nothing less than perfect. To accompany, pair with a white wine or one of the excellent drinks of the house.
Service
M'AR Gastronomia
@margastronomia
Address: Bahia Marina – Av. Lafayete Coutinho, 1010 – Comércio, Salvador – BA, 40301-110
Opening hours: Tuesday to Thursday, from 6pm to 11pm. Friday and Saturday, from 12pm to 3:30 pm, and from 5:30 pm to 12:00am. Sunday from 12pm to 6pm.
Capacity: 80 people seated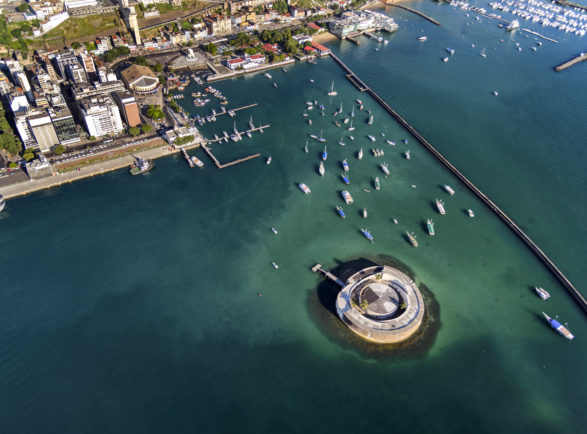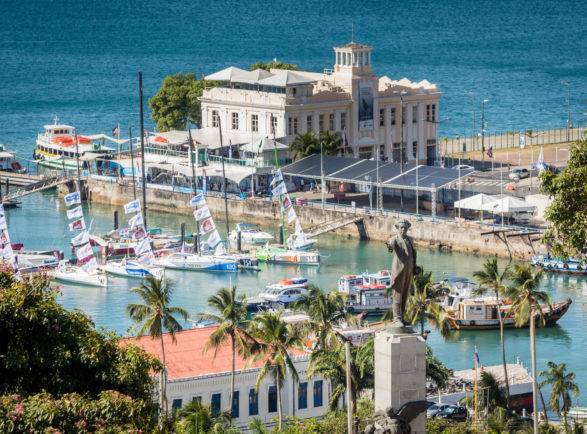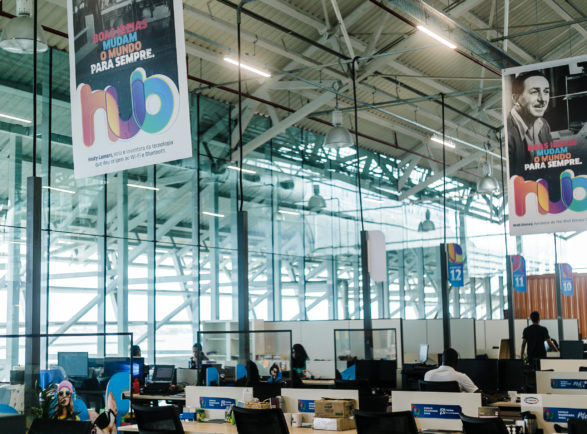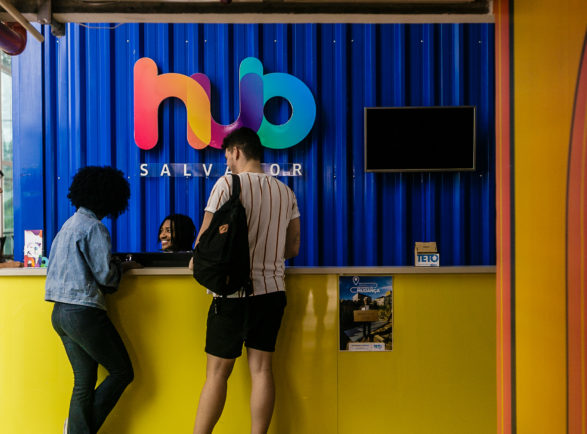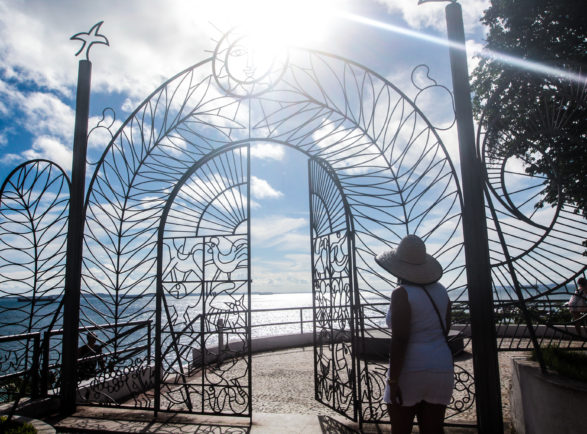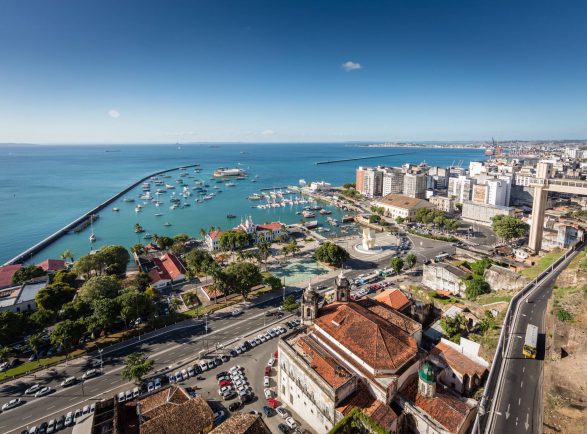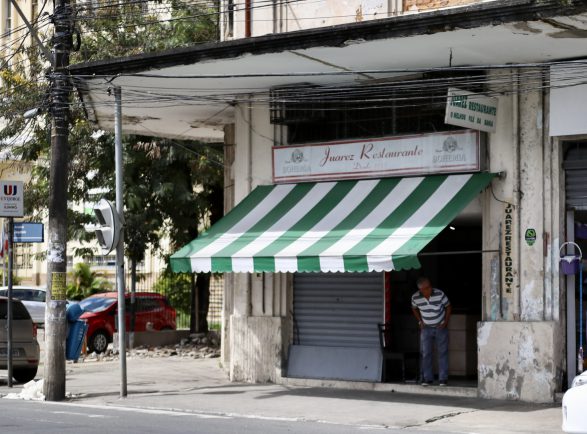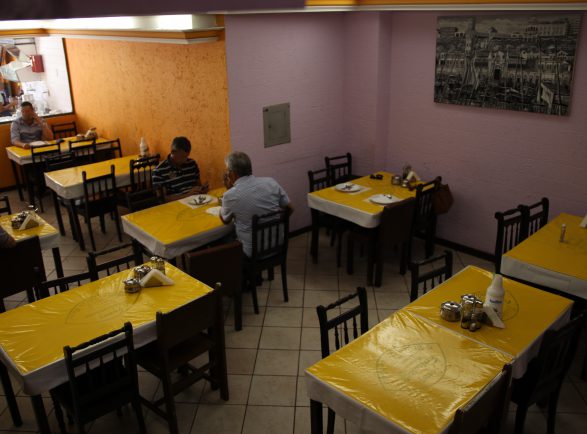 Forte de São Marcelo. Comércio Salvador Bahia. Foto Uiler Costa.