Sport and cycle-tourist tour, here we give you tips on the routes and what to do on the way
The use of bicycles as a means of transportation in the city, or just for sightseeing, is increasing all over the world. The expansion of the cycle lane network in Salvador has contributed to the movement of people, security of access to the roads, in addition to promoting health, mobility and socialization in the community.
In this itinerary, Visit Salvador da Bahia takes you through the streets of the Comércio district. There, in addition to a good ride on a bicycle, including an urban route of art on the way, you can also have lunch in a nice place and get to know some tourist attractions such as Casa da Música da Bahia, Doca1 and Mercado Modelo. Here we go!
Urban mobility and access to tourist attractions
Elevador do Taboão
Foto: Bruno Concha /Secom
For those who are passing through the Historic Center, in the Upper City, an easy way to connect to the Lower City is the Elevators and Inclined Planes of this area. Users can also take a bicycle per trip in the cabins, which allows for an even more comfortable and safe locomotion, avoiding the slopes that interconnect the regions.
In addition to the famous Lacerda Elevator, cyclists can also travel with their bikes on the Pilar and Liberdade inclined planes, since 2013, and on the recently renovated Taboão Elevator, which connects Pelourinho to Comércio.
For those who are more skilled on two wheels and have a map of the city in their heads, another way to start this tour is on the bike lane that starts at Avenida Contorno and goes to the Port of Salvador, passing through Praça Cairu.
Fun on the streets of Comércio
Praça Cairu revitalizada. Comércio. Salvador Bahia. Foto Max Haack Secom.
Your cycle-tourist tour today starts in the vicinity of the Model Market, in Cairu Square, which is beautiful after the renovation. Its entire surroundings have been transformed into a large patio where, in addition to being easy for cycling, it also offers strategic stops for photos at the Elevador Lacerda, the Nautical Tourist Terminal, the Marinha building and the Mercado Modelo itself.
Then, take the opportunity to go through Praça da Inglaterra (Inglaterra Square) and take a walk to Praça Marechal Deodoro (Marechal Deodoro Square), popularly known as Praça do Ouro (Gold Square) or Praça das Mãozinhas (Little Hands Square). There is a bike path on Jequitaia Avenue, following Travessa do Cais do Ouro, to Torquato Bahia Street, with good paving, accessibility, parking, bus stops, street furniture and landscaping.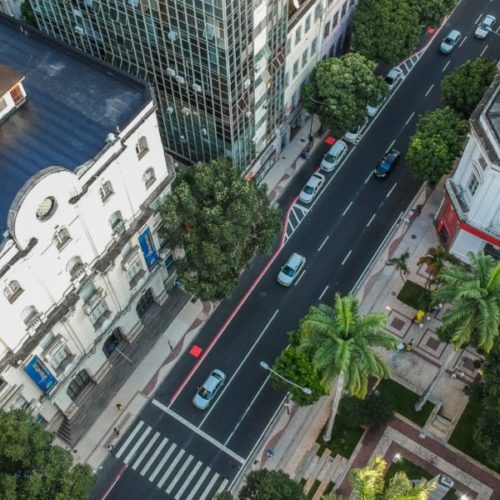 Nova Rua Miguel Calmon. Comércio. Salvador Bahia. Igor Santos Secom.
Worth a stop for coconut water and a photo in front of the Monument of Nations, better known as "Monumento das Mãozinhas" (Little Hands Monument), responsible for the popular name of this square.
Cyclists safely pass through shorter but interconnecting roads, such as Henrique Dias, Miguel Calmon and Frederico Pontes Avenue. It also has longer routes such as Avenida da França to São Joaquim, with 1.5 km; or Avenida Engenheiro Oscar Pontes to São Joaquim, with 1.85 km; or from Avenida Jequitaia to the Lower City (Comércio-Calçada), which is 3 km away.
Cycling and street art
An excellent option in the middle of the route is to visit the R.U.A. – Urban Art Route of Salvador, a true open-air art gallery. There are installations, sculptures, artistic interventions and graffiti by contemporary Bahian artists, designed to occupy specific spaces in the Comércio district. You can do the tour on foot or by bike.
The outdoor works of art are on Rua da Grecia (Grecia Street), Praça da Inglaterra (Inglaterra Square), Rua dos Ourives (Ourives Street), Rua Francisco Gonçalves (Francisco Gonçalves Street), Gonçalves Inclined Plane. The França Avenue and the United States Avenue, in addition to Miguel Calmon and Conselheiro Dantas streets, received new graffiti designs.
The artistic interventions were made by seven artists, according to the concepts related to seven other honored artists: Bel Borba honors Caribé; Ayrson Heráclito pays homage to Mestre Didi; Ray Vianna pays tribute to Mário Cravo Júnior; Lanussi Pasquali pays tribute to Joãozito; Lêda Oliveira honors M.B.O.; Zuarte pays tribute to Reinaldo Eckenberger; and Vinicius S.A. honors Rubem Valentin. In addition, visual artist and graffiti artist Bigod created "Conexão Grafite", with graffiti scattered along the path.
Write down this tip!
At the end of the R.U.A., right in front of the work of Vinícius S.A., on França Avenue, a large structure will immediately catch your attention: Doca 1, Pole of Creative Economy. Over the next few months, the structure will be equipped with recording studios, auditorium, training centers, gourmet space, restaurants, ateliers and stages, for carrying out activities and services such as training, consulting, content production, workshops, events and coworking. The site will also be open to the public and will promote activities such as lectures, courses and training.
The classics of Comércio gastronomy
Filé do Juarez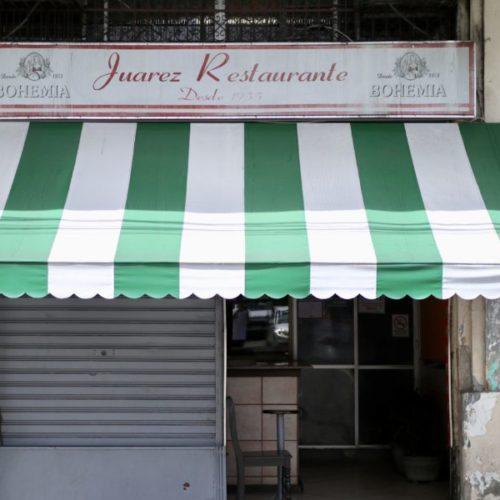 Restaurante Juarez. Foto: Thiago Sampaio.
The filet, which has a black crust on the outside and remains juicy and red on the inside, holds legends about its preparation, and Felisberto, the owner, does not give away the secret. In activity since 1955, Filé do Juarez is a gastronomic heritage for carnivores in the land of palm oil. The place offers the flagship in open and closed options, with simple and tasty side dishes: beans, rice and salad. The classic of classics!
Manolo Rei do Pernil
Ver essa foto no Instagram
Root gastronomy in the heart of Salvador's commerce, in the middle of one of the most frenetic shopping centers in the city. The house's tradition is the ham sandwich with iced mate, so much so that the name of this snack bar is Manolo Rei do Pernil (Ham King Manolo), which has been mixing the Spanish cuisine of the traditional well-crafted ham with Bahian seasoning since 1930.
Preto e Branco Café e Restaurante
Ver essa foto no Instagram
For those who want a cup of coffee with cake, your stop is Preto e Branco Café e Restaurante, where Chef Miza presents a happy way of cooking and making pies. There, you will find pudding, mini cake and sweets, among others. Our suggestion is the mini plum cake or the cassava cake with caramelized banana.
Bistrot Trapiche Adega
This is a space for those who love wine and a good restaurant. Bistrot Trapiche Adega has a menu full of outstanding labels from the main regions of the world, international cuisine and an exquisite drink menu. In addition to the excellent food, the restaurant has the view of the All Saints Bay as a backdrop. Our suggestion is the fish in a cashew nut crust with carrot puree and sautéed green beans.
Restaurante Amado
Amado restaurant, by Edinho Engel, has an atmosphere that is already a delight for the eyes. Different textures and walls compete with the view of the All Saints Bay and make the atmosphere even more welcoming. The food, from the couverts, fresh starters, to the main course, is fantastic, with pasta, seafood, poultry and wild game meat. The wine list offers perfect wines to pair with the dishes.
Bahia Marina restaurants
Bahia Marina, in the Comércio district, is visited by a diverse audience: people who go to restaurants, shops, boat trips or who enjoy the landscaping of the place and the sunset. Above all, the place is known for its beautiful view and fine dining restaurants, such as Lafayette, Lôro and Soho, which makes the marina also a route for good meetings.
At Lafayette, the big stars are the fish and seafood. In addition to an open kitchen and the main hall, the balcony has a hanging deck, which is the main attraction of the place.
The beach restaurant that became a hit among Bahians and tourists now takes the Lôro concept to the gastronomic complex of Bahia Marina, with all its competence, quality and recognition. The menu of the new Lôro Bahia Marina restaurant has starters, Lôro Fitness, sea spices and many drink options.
The Japanese cuisine restaurant Soho is the option for those who enjoy a sophisticated atmosphere and food made with care. The Orange Shrimp stands out, crispy shrimp with a spicy orange-based sauce; and Ebi Kani Fresh, kani with breaded shrimp, cream cheese and passion fruit sauce. https://www.salvadordabahia.com/experiencias/soho/
The Macelleria Quitéria restaurant, in Bahia Marina, is inspired by Italian butchers. The space specializes in prime cuts and special meats. The house is named after the Bahian heroine Maria Quitéria.
Ver essa foto no Instagram
The Latvian is a kind of "secret bar", opened in Bahia Marina. The establishment is inside the Macelleria Quitéria. The "speakeasy" concept is a unique experience with an exclusive menu, fumoir, cocktails developed by exclusive mixologists and one of the largest wineries in the city.
End the day with lots of culture and shopping
Cidade da Música (Music Museum)
Cidade da Música da Bahia. Comércio Salvador Bahia. Foto Betto Jr. Secom.
Your next stop is the Cidade da Música da Bahia, located in a historic mansion, built in 1851, in the Comércio district. Get ready for a true historical and cultural rescue of the music produced in the state. The entire collection of the museum is 100% audiovisual and the space offers free wi-fi service. The museum has information about the history of Bahian music and artists.
Also part of the list of attractions are three karaoke video clip recording studios, where visitors choose a graphic background and, at the end, have their video clip ready to post on social networks; "Rap and Trap" room, where visitors can recite their rap or poetry; quiz Game (questions and answers about Bahian music, based on the exhibition) and much more. Unmissable!
Mercado Modelo (Model Market)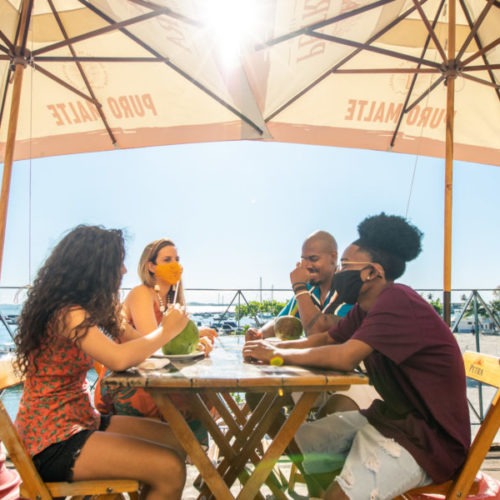 Varanda do Mercado Modelo. Salvador Bahia. Foto Tércio Campelo.
End the day shopping at Mercado Modelo and hydrating yourself on its delightful balcony. There are more than 250 local handicraft stores, souvenirs, clothes, sweets, cachaças, the famous Bonfim ribbons and other things from Bahia! There, you will also find traditional restaurants such as "Maria de São Pedro" and "Camafeu de Oxóssi". The upstairs balcony has a beautiful view, perfect for ending the day.
Service
Doca 1 – Pole of Creative Economy
Instagram: @doca1ssa
Av. da França, no number – Comércio, Salvador – BA, 40010-000 (next to the Nautical Tourism Terminal of Salvador)
Juarez Restaurant
Opening hours: Monday to Saturday, from 11:30 am to 3 pm.
Address: TV. Frederico Pontes, 1 – Comércio, Salvador – BA, 40015-110
Phone: 9922-3378
Important: no cards accepted
Manolo Rei do Pernil
Instagram: @manoloreidopernil
Opening hours: Monday to Saturday, 7am to 4pm (on Saturday closes earlier)
Preto e Branco Cafe and Restaurant
Instagram: @pretoebrancocafe
Address: R. Conselheiro Dantas, 11 – Comércio, Salvador – BA, 40015-070
Opening hours: Monday to Friday, from 8 am to 5 pm. Saturdays, from 9 am to noon. Closes on Sundays.
Bistrot Trapiche Adega
Instagram: @bistrottrapiche
Address: Av. Lafayete Coutinho, b. 496, Porto Trapiche Residence, Loja 09, Comércio, CEP: 40.015-160.
Phone: 2132-5509
Opening hours: Tuesday to Saturday, from 11 am to 9:30 pm. Sunday, from 10:30 am to 5 pm.
More information and requests: (71) 2132-5509 / WhatsApp (71) 99660-8064.
Amado Restaurant
Instagram: @restauranteamado
Location: Av. Lafayete Coutinho, 660 – Comércio, Salvador – BA, 40301-110
Opening hours: Wednesday to Sunday, from 10 am to 6 pm.
More information: 71 3039.5561 | 99231.4660 / 98101-0249 / 98145-5947
Restaurants in Bahia Marina
Address: Av. Lafayete Coutinho, 1010 – Comércio, Salvador – BA, 40015-160
Lafayette
Instagram: @restaurantelafayette
Phone: (71) 3321-4637
Lôro Bahia Marina
Instagram: @barracadoloro
Soho
Instagram: @sohorestaurante
Phone: (71) 3322-4554
Macelleria Quitéria and The Latvian
Opening hours: Wednesday to Saturday, from 7 pm to 11 pm.
Cidade da Música da Bahia
Instagram: @cidadedamusicadabahia
Address: Praça Visconde de Cayru, 19 – Comércio, Salvador – BA, 40015-170
Location: the emblematic Blue Tiled House is close to the Lacerda Elevator and next to Model Market, in Cairu Square, in the Historic Center of Salvador.
Opening hours: from Tuesday to Sunday, from 10 am to 6 pm (entry until 5 pm).
Ticket price: R$20 (normal rate) and R$10 (half) – the benefit of half price is extended to citizens residing in Salvador, upon proof of address.
Mercado Modelo
Address: Praça Visc. de Cayru, no number – Comércio, Salvador – BA, 40015-170
Opening hours: Monday to Saturday, from 9 am to 7 pm. Sunday, from 9 am to 2 pm.
Bicycles all over the place
Find out more details on how to rent bikes and about guidelines to reinforce the safety of cyclists at these links.
Salvador Vai de Bike Movement in this link.
Shared bike stations at this link.
Meet groups of cyclists around the city at this link.