Samba-reggae's live expression, of international prestige.
The group emerged from a carnival game on April 25, 1979 between friends Carlos Alberto Conceição, Geraldo Miranda, José Luiz Souza Máximo, José Carlos Conceição, Antônio Jorge Souza Almeida, Edson Santos da Cruz and Francisco Carlos Souza Almeida. What was supposed to be a momentary leisure option for the old Maciel-Pelourinho residents has won the world and became one of the most important Afro-Brazilian black culture institutions: the Olodum Afro Group.
The word "Olodum" is of Yoruban origin, a language spoken by the Yorubas that came from Nigeria and Benin to Bahia, in past centuries. The complete word is Olodumaré – the Creator God, the Lord of the universe, and represents, in Candomblé, a vital principle, the Supreme Fundamental Order – SFO.
The group gained different sonorities, transformed the African musicality based on percussion and gave rise to new rhythms, such as Ijexá, Samba, Alujá, Reggae and Forró. It has become a living expression of samba-reggae, rhythm idealized by Neguinho do Samba.
The colors that represent the band were not chosen at random. All together form the basis of Pan-Africanism, Rastafarianism and the Reggae Movement. They are the international colors of the African diaspora and constitute an international identity against racism and in favor of the African descendants. Green for the equatorial African forests; red for the black race blood; yellow for the African gold (largest producer in the world); black for the black race pride; and white for world peace.
One of the most important percussive groups worldwide
Olodum has become one of the most prestigious Brazilian musical groups, having performed in more than thirty countries on all continents. It has already touched artists such as Michael Jackson, Linton Kesey Johnson, Paul Simon, Julian Marley, Gal Costa, Caetano Veloso, Ivete, Gil, Tim Maia, Jorge Ben, Elba Ramalho, Daniela Mercury and Carlinhos Brown.
The group has started actions and programs, such as the Olodum School, the Olodum Band, the Theater Band, the Carnival Factory, as well as workshops, newspapers, books and researches on Africa, campaigns against violence and for peace, and also the international struggle against apartheid in South Africa and the Buzios Revolt of 1798.
Wherever Olodum drums play, Bahia's heart beats, with the positive vibration of a history marked by musicality and citizenship. The Olodum Band has revolutionized Brazilian music and Bahian carnival's language through the creation of Samba Reggae. It has conquered success, popular acceptance and critic's acceptance too.
We've prepared a perfect songs list for this experience. Listen now!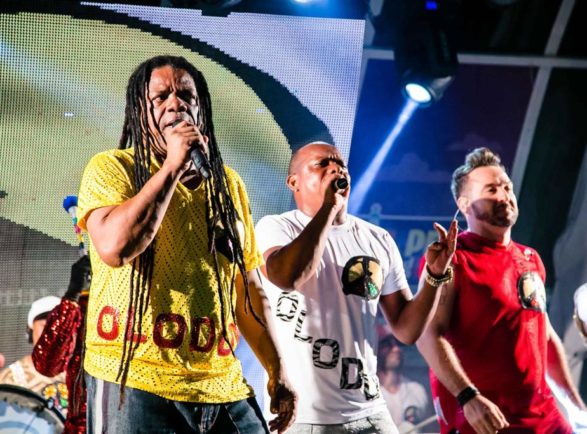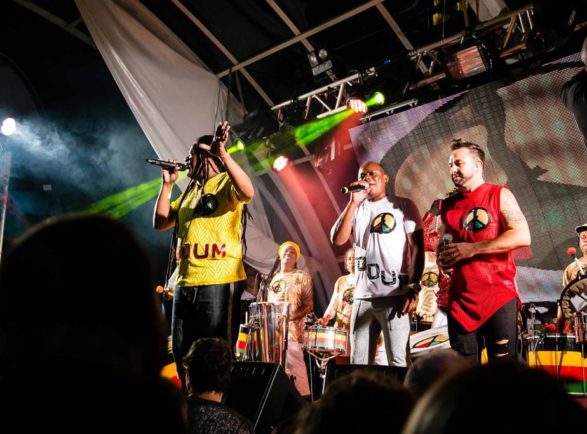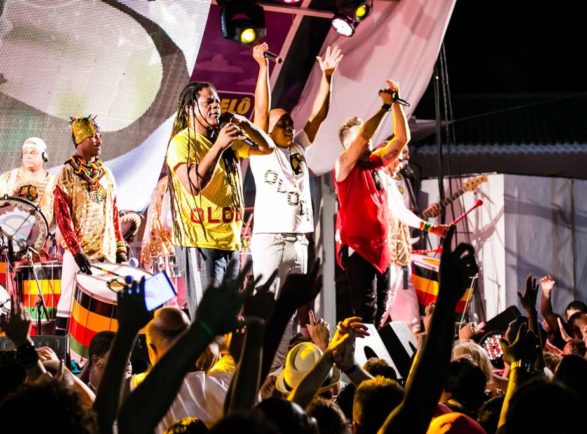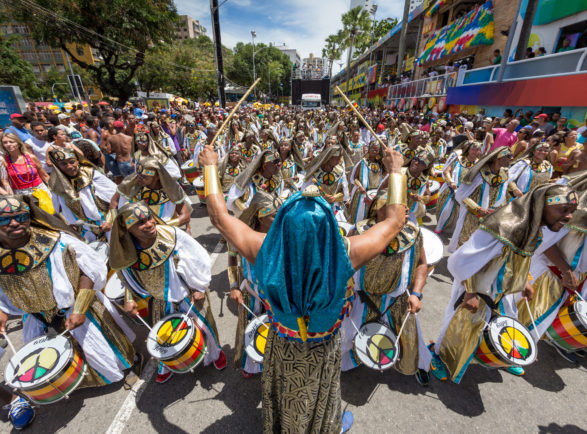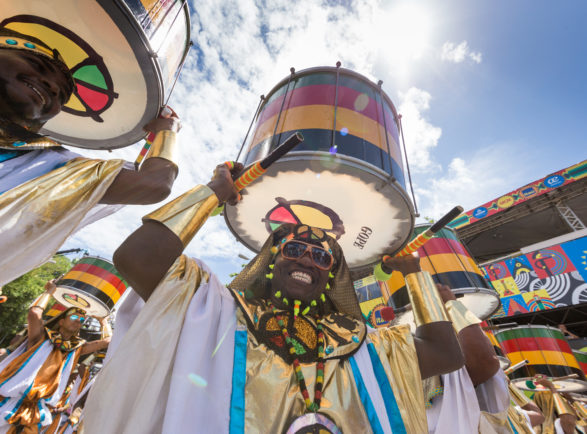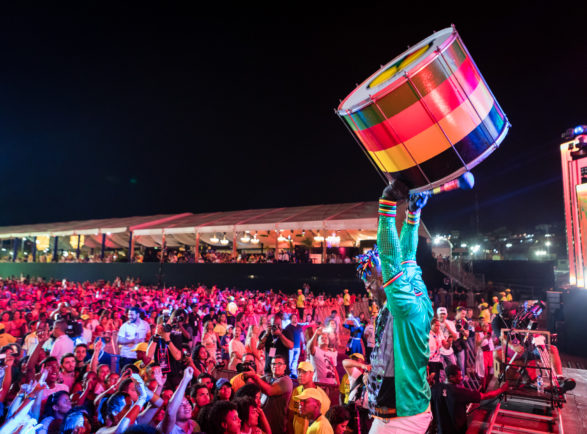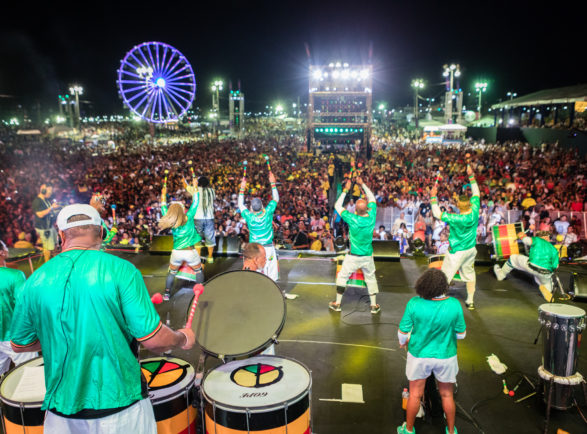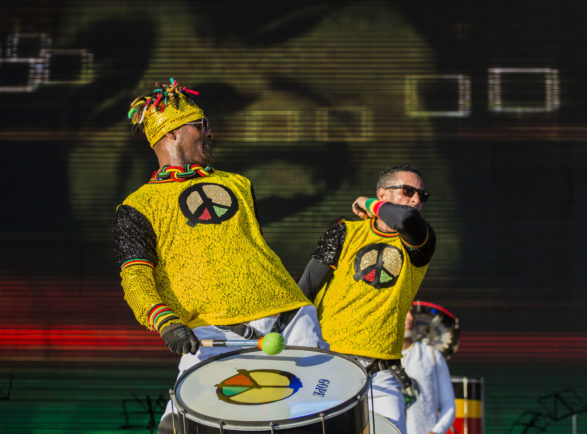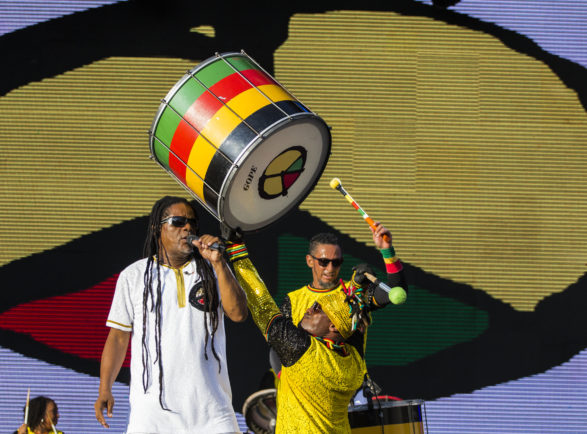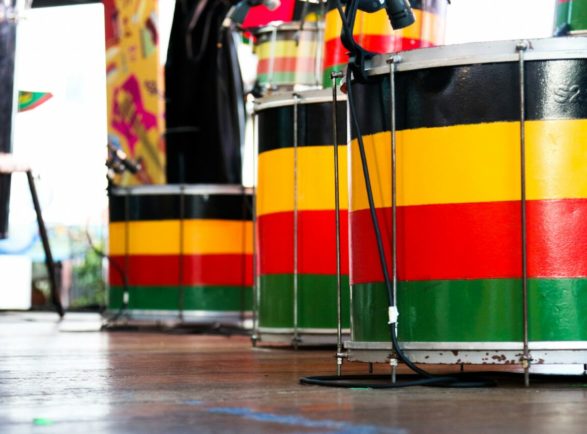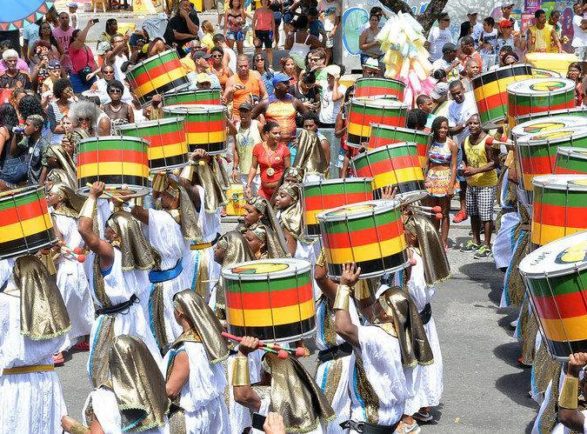 Banda Olodum Crédito Magali Moraes