For those who want to celebrate love all year round
This is a mini itinerary for those who want to do a lot of cool things, with places close to each other, and where you can do everything on foot. For that, we have chosen the Rio Vermelho neighborhood, and today you will discover what to do in the "most bohemian neighborhood" in the city in daylight.
Start with Mafé Café. Our tips are the beetroot hummus ciabatta toast, mixed leaves and caponata, or, for those who love a sweet treat, the vanilla cake with white brigadeiro and red fruit jelly filling. The space is close to Paciência Beach, so put your bathing suit in your bag, cause if the day is beautiful, it's worth a dip.
Then, walk along the waterfront, enjoying the beautiful view, take a photo at Casa de Iemanjá and head to Galeria RV, close to Largo de Santana. The space has a program dedicated to graphic arts and tangent languages, and there are always good exhibitions there.
The next stop is Canto, a restaurant/bar hotel and contemporary rooftop. The restaurant has an independent entrance for hotel guests, and the rooftop is perfect for happy hours and cocktails overlooking the neighborhood. The menu has breakfast, lunch and dinner options also for passers-by.
Watch the sunset facing the sea and, to end this delicious day, head to the Blue Praia Bar, in Buracão Beach. The setting is beautiful, with its latticed gazebos, balcony tables, beachfront lounges and Balinese beds. It was elected by Veja Comer & Beber 2019 as one of the best drinks' menus in Salvador, and there is always good programming there. One example is Cine Blue, perfect for a movie night under the stars. To top it off, the kitchen is open throughout the exhibition with a special curation of drinks and snacks.
Service:
Mafé Café
Instagram: @cafedamafe
Travessa Bartholomeu de Gusmão, 104 – Store B1 – Rio Vermelho, Salvador – BA, 41950-310
Tuesday to Saturday, from 8 am to 3 pm. Sunday, from 8 am to 1 pm
Galeria RV
Instagram: @rvculturaearte
Av. Cardinal da Silva, 158 – Rio Vermelho, Salvador – BA, 41950-495
O Canto
Instagram: @ocantohotel
Travessa Prudente de Moraes, 65 – Rio Vermelho, Salvador – BA, 41950-030
Blue Praia Bar
Instagram: @bluepraiabar
R. Barro Vermelho, 310 – Rio Vermelho, Salvador – BA, 41940-340
Visit Salvador da Bahia has put together 4 mini itineraries which are perfect for couples in love. Also read: Romantic routes for a couple with no routines; A day of love and tourism; A love of millions.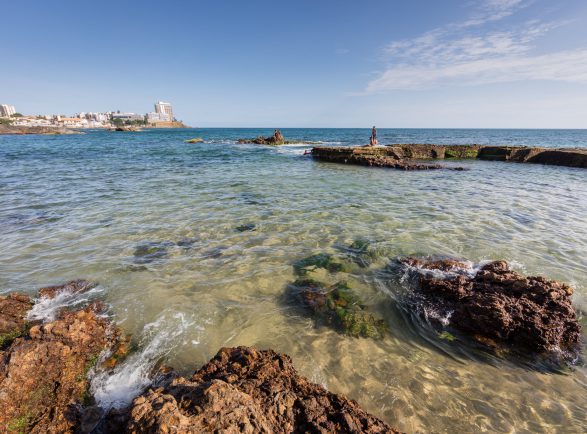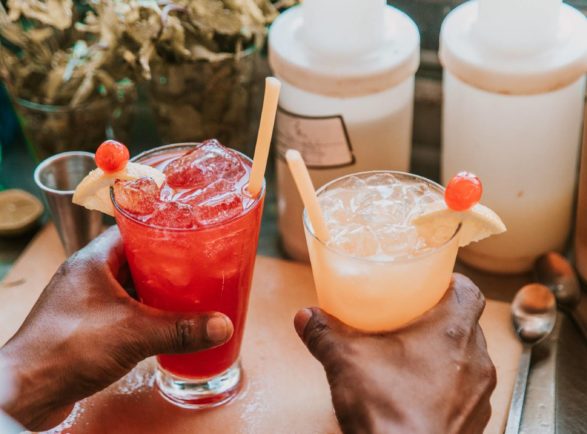 Praia da Paciência. Rio Vermelho, Salvador, Bahia. Fotos: Fábio Marconi