Get ready to see downtown from another perspective.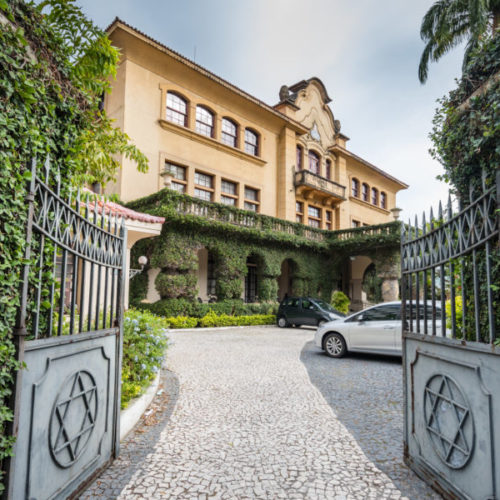 Leave home for an unusual ride, get ready to see the city with a sensitive look at the details. Let's walk through places that you've always passed by, but has never stopped to enter, observe or even knew they were open to the public.
There are many places like these in the city. We will talk about some here like Geological Museum, Women's Institute and Portuguese Reading Office. Have you ever been to any of them? So come with us.
Rocks, minerals, precious stones and fossils.
Did you know that the Geological Museum has one of the largest collections of rocks, minerals, precious stones and fossils from Bahia? Among the curiosities, there is a replica of the largest meteorite found in Brazil, in the municipality of Monte Santo in 1784 and many other curiosities about our subsoil richness. You can also have a coffee in the shade of a centennial mango tree, with a view to the beautiful artist Juarez Paraíso's mural. If you want to know more, click on this link. There is also an art room with the exhibition of great national and international movies.
Museu Geologico da Bahia. Foto: Amanda Oliveira.
From there, take a car or a bus and get off in Campo Grande. Before visiting the next place, cross Campo Grande Square on foot. This is one of the places in the city that many people know but have never walked inside. The Square is richly adorned, in the middle of a dynamic cultural center. It is also known for being the starting point of Salvador Carnival most traditional circuit, the Osmar circuit.
Campo Grande. Centro. Foto: Amanda Oliveira.
The square has centennial trees, great monuments commissioned in France, evoking the heroes from Independence of Bahia struggles. In the center of the square there is the Monument to Caboclo, also called Monument to the Two of July. It is a tribute to the Independence of Bahia, to "The Caboclo" figure, but also including allegories in reference to São Francisco River, Paulo Afonso Waterfall and Paraguaçu River. Were you surprised by such beauty? So keep walking to another amazing place.
Princess Isabel's dress and the Portuguese Reading Office
Women's clothing memories. In 1923 was founded the Women's Institute of Bahia, which houses the Museum of Costume and Textiles. There, you will have access to the prom dresses collection and other period pieces. In addition to the dance-clothing, furniture, crystals and silverware collections, one of the most beautiful surprises is being able to see closely the dress worn by Princess Isabel when she signed the Lei Áurea (the Law that decreed the end of slavery in the country). It is an excellent source of studies for fashion researchers, designers and architects. Delicacies kept in a sumptuous building downtown.
Instituto Feminino. Foto: Fábio Marconi
Keep walking along Sete de Setembro Avenue, admire the mansions, watch people walking back and forth, pay attention to the classic colorful coffee carts that pass by you with a loud sound. A little ahead, in a busy square, stands one of the Portuguese architecture treasure in the city: the Portuguese Reading Office.
Gabinete Português de Leitura. Foto: Amanda Oliveira.
On the outside, a typically Portuguese construction, full of delicate details. Inside, imposing and loaded with history. The facade also includes shields and coats of arms that complete the architectural style and show Portuguese patriotism. The main objectives are to gather, organize, catalog and preserve the bibliographic collection existing in the Portuguese Reading Office. The place gathers approximately 25,000 volumes, including books, leaflets and periodicals that are undergoing reorganization. In addition to the visitation, Grammar and Writing courses are offered weekly. Learn more at this link.
Gabinete Português de Leitura. Foto: Amanda Oliveira.
Finish the tour with a late lunch at Adamastor Restaurant at the fabulous Fera Palace Hotel. Impeccable décor, gentle and helpful service, sophisticated drinks, are signatures of this Hotel that rescues the 1930s glamor and charm under a contemporary look. Located on Rua Chile, at the entrance to Salvador Historic Center, with some of the city's main postcards around: Castro Alves Square, Lacerda Elevator, Igreja da Ajuda, Municipal Council and Architectural Complex of Misericórdia.
Fera Palace Hotel. Foto: Assessoria
If you are not a hotel guest, you can still have breakfast, lunch or dinner and enjoy a beautiful sunset at the Lounge bar on the terrace. The tip to finish this itinerary is to have a delicious meal in the restaurant and then go upstairs to say goodbye to the day contemplating Bahia's beautiful sky, with the breathtaking view of All Saints Bay. As many parties happen in the place, you can even get lucky and finish the tour with a beautiful soundtrack.
Service
Bahia Geological Museum
Opening hours: from Tuesday to Friday, from 1 pm to 6 pm, Saturday and Sunday from 1 pm to 5 pm.
Address: Av. Sete de Setembro, 2195 – Vitoria, Salvador
Free entrance
Important: guided visit under schedule.
Phone: (71) 3336-3498.
Largo do Campo Grande
Address: Praça 2 de Julho, s/n – Campo Grande, Salvador – BA, 40080-121
Open 24 hours to public
Women's Institute of Bahia
Address: Rua Politeama de Cima, 2 – Politeama, Salvador – BA, 40080-136
Opening hours: Tuesday to Saturday, from 2 pm to 6 pm.
Admission: R$ 2,00
Portuguese Reading Office
Opening hours: from Monday to Friday, from 9 am to 5 pm.
Address: Praça da Piedade, s/n – Dois de Julho, Salvador – BA, 40070-010
Next to the Lapa subway exit, in front of Lapa Shopping Center.
Phone: 71 3329-5758
Website: www.gplsalvador.com.br
Fera Palace Hotel
Address: Centro Histórico – Rua Chile, 20 – Comércio, Salvador – BA, Brazil
Schedules:
Breakfast – Monday to Friday, from 7 am to 10 am. Saturdays, Sundays and holidays until 11 am.
Lunch – Monday to Friday, from 12 pm to 3 pm. Saturdays, Sundays and holidays, from 12:30 pm to 3 pm
Dinner – every day from 7 pm to 10 pm.
Lobby Bar – every day from 12 am to 11 pm.
Lounge bar (Terrace) – from 4 pm to 9 pm. Price: Monday to Thursday, R$ 80.00 per person. Friday, Saturday, Sunday and holiday, R$ 120,00 per person.
Phone number: reception (71) 3036-9200.
We've prepared a perfect playlist for this experience. Listen now!