A full day of breathtaking scenery, diving in crystal clear waters and good food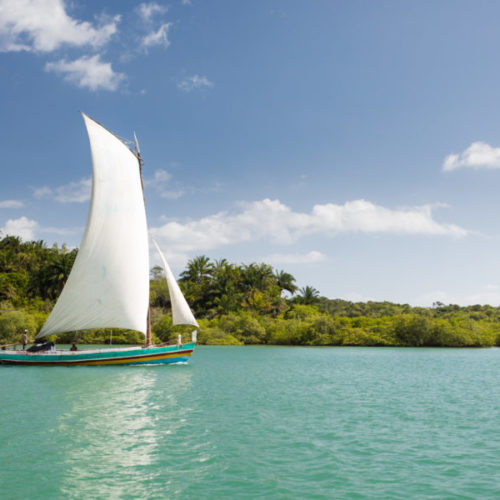 Cruzar as águas tranquilas da baía e ainda ver um dos 20 Saveiros que restauram, é uma experiência inesquecível.
There are some good things to do in this city, but a beautiful boat trip is among the unmissable ones. The best option is to bring together a good group of friends, choose the soundtrack and go through this beautiful bay, stopping the boat to enjoy the view or for a swim.
Nothing better than a table with good food to gather a group of friends. So call your friends to start the day with a breakfast at Pousada do Boqueirão, a small charming hotel located in the historical center, in Carmo neighborhood. The hotel has a view to the All Saints Bay. The table is full, with fresh fruit and handmade bread.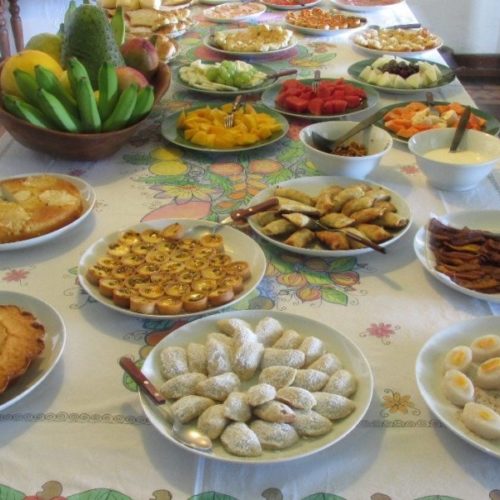 Pousada Boqueirão. Foto: Assessoria
From there, drive to Bahia Marina to take the private boat. From Carmo until there, you will pass by the Model Market, Lacerda Elevator and Contorno Avenue, only beautiful things on the way. Those who woke up late and missed the coffee can wait next to the boats. The place is beautiful, organized and safe.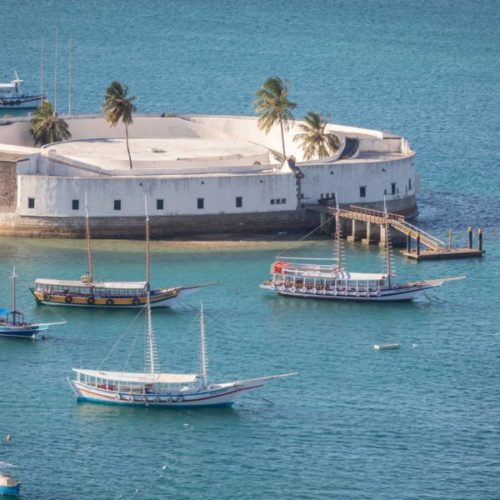 Forte de São Marcelo. Foto: Fábio Marconi
Most boats can take 9 people, but there are other options of boats for more passengers. It's better to check the capacity with the sailor. Put the drinks in the ice, turn up the volume: the fun begins there. The whole city seashore has beautiful places! You will see São Marcelo Fort nearby. You will also get another view of the Lacerda Elevator, Model Market, the upper city, Humaitá Lighthouse and Ribeira seashore, as you will see them from the water.
Great dip in the sea and tasty meal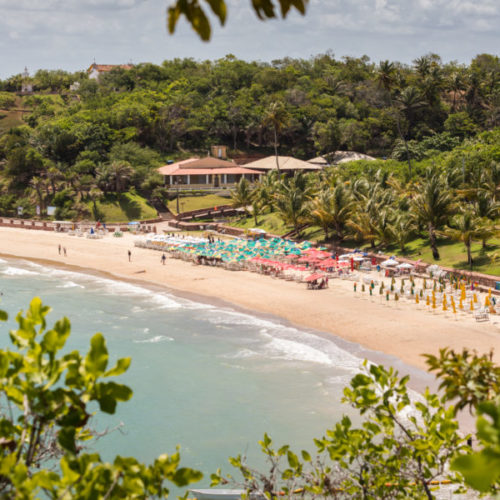 Dois mirantes na Ponta de Nossa Senhora de Guadalupe, Ilha dos Frades. Foto: Fábio Marconi
Go straight to Ilha dos Frades, at Ponta de Nossa Senhora de Guadalupe. All requalified, the beach has just won the Blue Flag. It's all beautiful, organized and super-clean. The locals are proud and take good care of the place, making everything even more charming. Before docking, don't forget to stop at Viração beach for a swim. Then go to the Maritime Terminal. If you want to know everything about the Blue Flag, check in this link.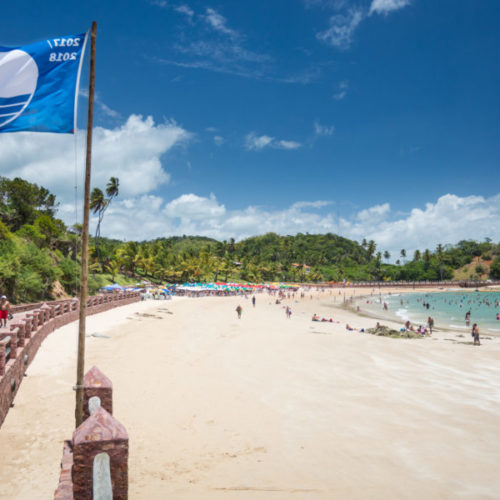 Praia de Ponta de Nossa Senhora de Guadalupe, entre as cinco praias de Bandeira Azul do Brasil. Foto: Fábio Marconi.
At one end of the beach, there is Nossa Senhora de Guadalupe little church, built by the Portuguese in Ponta de Nossa Senhora in the 17th century. At the top of the hill where it is located, an observation deck was installed. At the other end of the beach, another observation deck gives an overview of the All Saints Bay. From there, you can walk to Viração beach by land. This strip of sand is much more deserted and has no tents or vendors, so if you're going there, take whatever you need, but don't forget to leave everything clean when you leave: preserve it!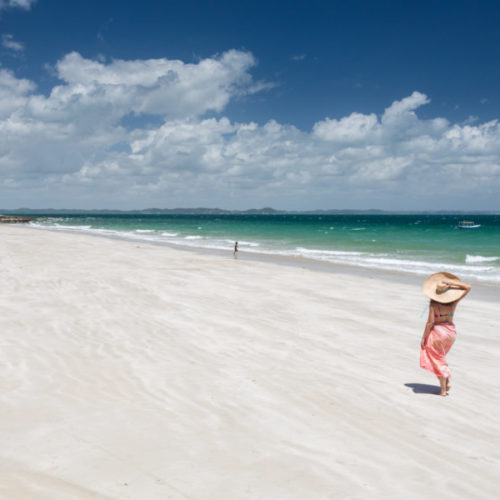 Praia de Viração na Ponta de Nossa Senhora de Guadalupe, Ilha dos Frades. Foto: Fábio Marconi
At this time you will already be hungry. How about having a nice meal and also eating with your eyes? Restaurant da Preta is your destiny, one of those hiding places in All Saints Bay. The place is beautiful, all decorated with antiques and crafts. Be sure to try the shrimp and octopus moqueca, the green coconut with tapioca ice cream and cane juice with ginger. Do you want to know everything about the place? Click on this link.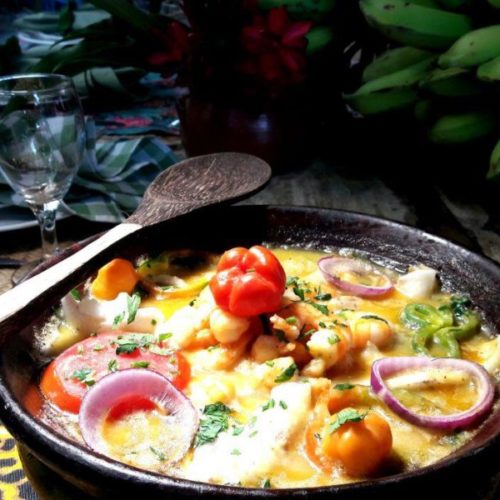 Restaurante da Preta. Moqueca dos deuses e deusas! Foto: Angeluci Figueiredo / Divulgação
On the way back, a sunset on the sea
And to top it off, leave in time to watch the sunset from the sea. The ones who live here will be sure they are in the right place. Those who don't live here will want at least to return, and return and return… Arriving at Bahia Marina, Lafayette Restaurant is a good idea.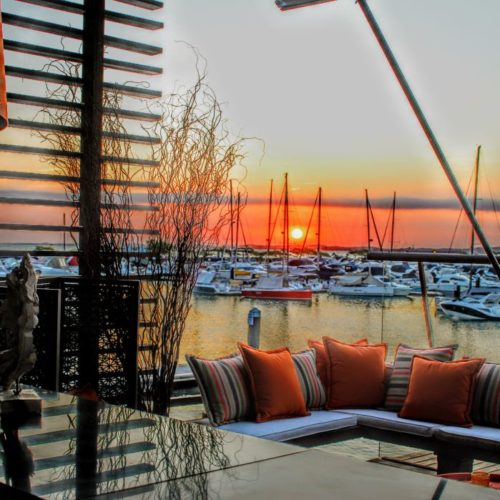 Lafayette. Ambiente. Foto: Mr White.
It has Mediterranean inspirations, faces the bay and has tables under a large tree. Very charming. For those who don't want to eat, the house wine list has more than a hundred labels. Great option for a last drink before the farewell or before "I'll see you later at the party"!
Service
Pousada do Boqueirão
Address: Rua Direita de Santo Antônio, 48 – Santo Antônio Além do Carmo, Salvador-BA, 40301-280
Phone: (71) 3241-2262 (call before to make a reservation for breakfast)
Ponta de Nossa Senhora de Guadalupe
Maritime terminal.
It's important to know that visitors pay a fee of R$ 10.00 to enter the island, and the pier is open from 9am to 4pm, but you can land right on the beach in different times, at points where there are no protection buoys for bathers.
Restaurante da Preta
Address: Praia de Ponta de Nossa Senhora de Guadalupe, Ilha dos Frades, Salvador.
Phone: (71) 99326-7461 – only with reservations.
Lafayette Restaurant
Opening hours: from Monday to Thursday from 12pm to 3pm and from 6pm to 12am. Friday and Saturday from 12pm to 1am. Sunday from 12pm to 10pm.
Address: Avenida Lafayete Coutinho, 1010, Bahia Marina, Comércio, Salvador
Important: access for disabled, wi-fi, air conditioning and parking area.
How to get to the island?
Important: try to schedule at least 72 hours in advance.
For special rides
Boats, yachts and catamarans: more intimate rides, romantic, for family or small groups.
Sailor Rafael.
He organizes everything and makes the tour in the most appropriate way for your group
Rafael: 71 99403-0560
Bahia Passeios
www.bahiapasseios.com.br
Boats, yachts, schooners and catamarans rentals.
Phone: (71) 99900-7741 / (71) 3179-1718
Nautical Charter
www.charternautico.com.br
Phone: (71) 99146-5870
The sailboat is private, it was designed for Charter. It has modern equipment and comfortable facilities. Rent a manned sailboat with a master, so you will only care about enjoying the view and the sailing.
We've prepared a perfect playlist for this experience. Listen now!