A sea of sensations…
The most special way to get to know the islands and to stroll through the Bay of All Saints is to form your own group and go around by boat. On the way out of Salvador, the view from Lacerda Elevator and São Marcelo's Fort is beautiful. Therefore, besides embarking with more tranquility, you can spend as long as you want in the islands and finish the tour at Preta's Restaurant. You will want to stay forever floating in the clear waters of Ilha dos Frades, believe me! If you want to land at Ilha dos Frades, you need to pay R$ 6.00 of environmental preservation fee. Arrive early. It's better to schedule to be there at 8:30 am to leave at 9:00 am.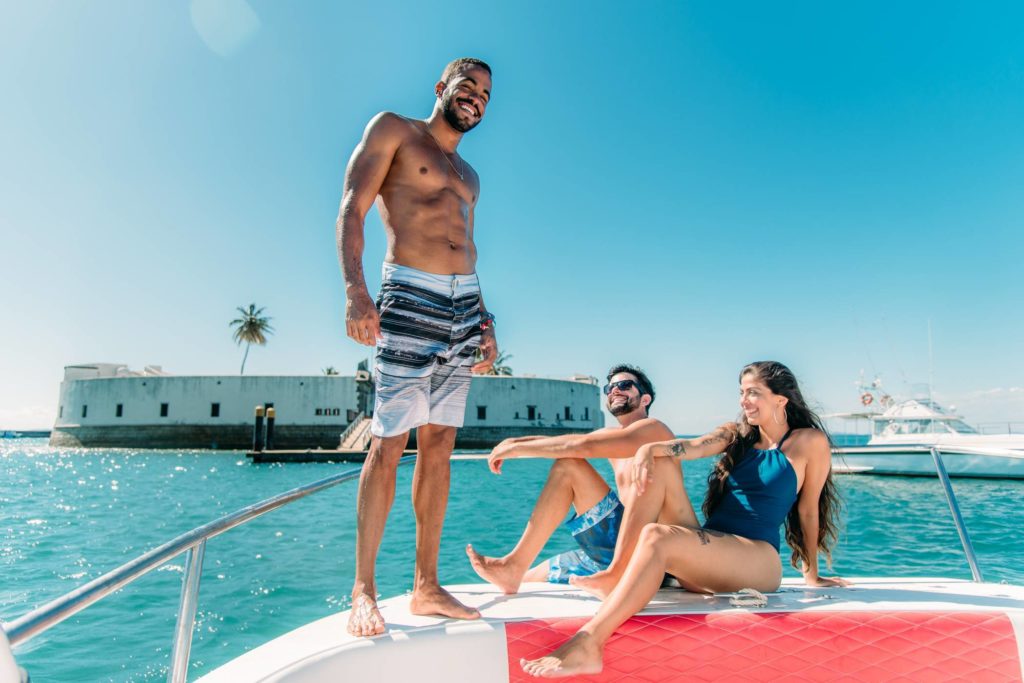 Sound experience on high seas
The boat trips around the Bay of All Saints are already a classic for those who know what is good in life! From the cheapest, to the group tours, to the VIPs in luxury boats, all are unanimous: the coastline and the islands are something stunning.
We did a research about more intimate rides that we put for you in the end of this text, in the service part, with lots of affection. They are personalized tours for those who want to enjoy the sun and listen to the noise of the sea but don't like to make tours with groups of unknown people, only with the closest ones.
The season news, and already loved by the well-informed people in the city, are the tours that offer an experience designed for each group of friends. They are rides that, besides doing paradisiacal itineraries, still think about how to turn them into your best memory of Salvador.
The Schooner Sound System promises to be the sensation of summer. The intention is to make a touristic and sonorous experience. There are schooners with a capacity of 100 people, but they accept a maximum of 65, since the idea is to have a party on the high seas.
"… need space for anyone who wants to dance"
…says Thais Muniz, idealizer and organizer of the tour / party. She lives on the air bridge Salvador-Dublin, where she lives part of the year. Thais is also the creator of the Turbante-se project, aesthetic, anthropological, political and artistic experience recorded through the experiences and research of the designer.
A personalized experience
Have you ever imagined you and your friends on a tour in the bay waters combined with a wonderful song? Well, that was Thais' idea, transforming what may even be commonplace for some Salvador residents, but that is very hard to organize if you have a few days here.
"We have a sound personality, a trademark. There are Brazilian songs, tropical beats, Afro-Baiana, African and Jamaican rhythms…"
The team traces experiences according to the groups, in authorial editions. They choose the DJ most suitable to the client.
"We bring the DJ, the most appropriate selector to the group. Our signature is good music at high sea",
adds Thais, who explains that the service can have a plus: a photographer and video maker to record the memories of this magical moment in the Bay of All Saints.
Eat & Drink
The tour has to be scheduled with at least 72 hours, and leaves from the Maritime Terminal. They make packages with a smaller number of people as well. "We had a client who preferred to put only 30 guests", she says. The menu is according to each client. There is a special one with "Bahia snacks": beijus with grated parmesan cheese, pãozinho delícia (soft little breads), miniabarás, typical fruits. And drinks: Gin tonic, beer, water and 3 juice options, which varies from group to group. It can also include coconut water and drinks like caipiroskas.
The tip is to talk to her about the options and budgets. Everything is adaptable! There are also formats in which people take their own drinks and another, which has a bar where people can buy whatever they want to consume.
The lovely Maré Island's charms
It is located in the center of the Bay of All Saints, near Aratu's Port. To get there, you will take boats from Salvador, on São Tomé de Paripe beach, or at the Maritime Terminal. The main beaches are: Itamoabo, das Neves, Praia Grande, de Santana and do Botelho or Oratório of Maré. It is formed by small villages, it's rich in vegetation, but there's no fresh water.
Maré Island is a remnant of quilombos that shelters paradisiacal beaches. The community is mostly made up of shellfish woman and fishermen, the typical handicrafts are the balaios, baskets and other objects made with cane straw. There are still some seaside holiday homes.
One of the most charming beaches is the Neves Basin or Beach. It is to the south of Itamoabo Beach, and it hosts the Chapel of Our Lady das Neves, from the 16th century, with a colonial style. The waters are calm, great for diving and for water sports, and there are also rock formations in the sands.
How to get there?
Important: It's better to schedule at least 72 hours in advance.
For special tours
Boats, Yachts and Catamarans
More intimate, romantic, family or small group tours
Bahia Passeios
www.bahiapasseios.com.br
Boats, yachts, schooners and catamarans rentals.
Phone: (71) 99900-7741 / (71) 3179-1718
Charter Náutico
www.charternautico.com.br
Phone: (71) 99146-5870
The sailboat is private, it was designed for Charter. It features modern equipment and comfortable facilities. Rent a crewed sailboat with a commander, so you'll only care about enjoying the view and the sailing.
For parties and gatherings
Schooners
Our suggestion here is for those who want to have a party or a celebration. The smallest schooners hold about 78 visitors. Which is already a lot of people!
Scuna Sound System
Thais Muniz is the one who organizes it – Instagram @escunasoundsystem
Phone: (71) 99645-6635
The schooners have capacity for 100 people, but they accept a maximum of 65. They leave from the Maritime Terminal. They also organize packets with a smaller number of people. There are 5 support people on board.
Bahia Escuna
www.bahiaescuna.com
In this one you organize your own party – Rent of schooners for tourism and nautical services in Salvador-BA.
Phone: (71) 99629-9715 / (71) 98852-3545
General information:
Centro Náutico da Bahia | Cidade Baixa, Salvador, Bahia, Brasil
Phone: (71) 3243-2207
By Fernanda Slama
Content Coordinator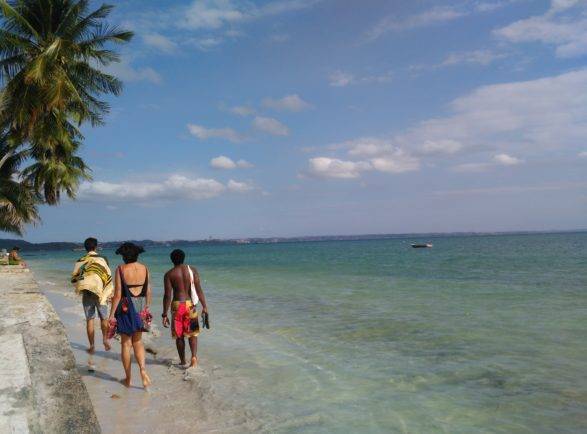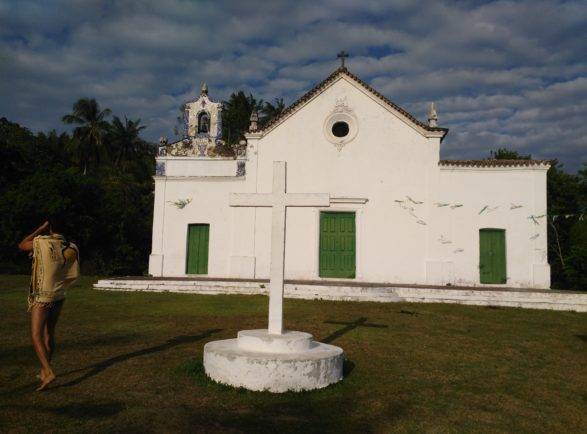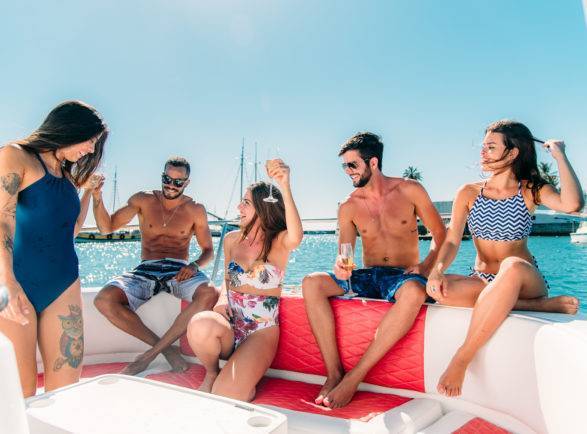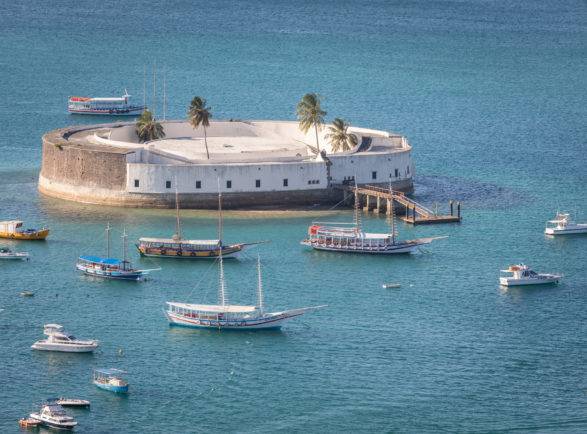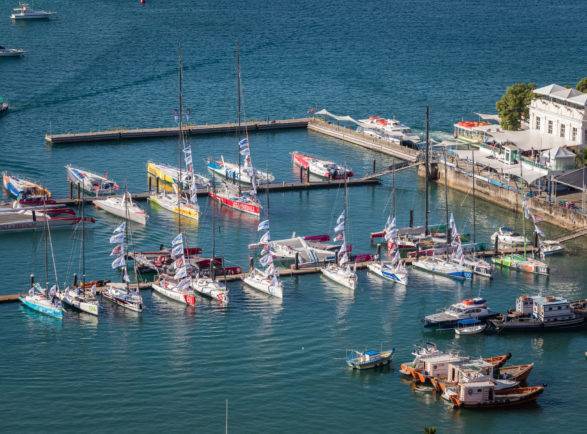 Ilha de Maré. Foto: Fernanda Slama