Perfect ride to release the endorphins and get to know the city by cycling
The use of bicycles as a means of transport in the city, or just to cycle around, is increasing more and more around the world. The expansion of the cycle path network in Salvador has contributed to the displacement of people, the security of access on the streets, in addition to promoting health, mobility and socialization of the community.
And the stimulus to pedal appears for several reasons. One of them is the search for a better quality of life, one of the great benefits of cycling for anyone. A good ride also reduces stress and anxiety, not to mention it is the perfect ride to release endorphins and get to know the city even more, with another point of view.
Porto da Barra to Rio Vermelho
An excellent tour option is the seafront that goes from Porto da Barra to Rio Vermelho. Rent a bike and have fun, in addition to being able to take beautiful photos. Stop at Farol da Barra, Morro do Cristo and Ondina. At that last stop, go to the Monument "As Meninas do Brasil", also known as "As Gordinhas", take a photo with the three bronze sculptures by the artist Eliana Kértsz. Then, head to Rio Vermelho, stop at the lookout and at Casa de Iemanjá.
Comércio neighborhood is beautiful
Other bike paths that are worth a look are those in the Lower City. Starting with Comércio, take a stroll through Praça Cairu, from Mercado Modelo, which is beautiful after the renovation.
Take advantage of the tour and stroll through Praça da Inglaterra until Praça Marechal Deodoro, popularly known as "Praça do Ouro" or "Praça das Mãozinhas". There is a cycle path on Jequitaia Avenue, following Travessa do Cais do Ouro, until Torquato Bahia Street, with good paving, accessibility, parking, bus stops, urban furniture and landscaping.
It's worth a stop for coconut water and a photo in front of the Monumento das Nações, better known as "Monumento das Mãozinhas", responsible for the popular name of this square.
Amaralina Seafront
Take advantage of the cycle path tour on the Amaralina seafront to make a stop and visit Largo das Baianas, which has accommodation for ten baianas de acarajé, as well as space for capoeira circles. In honor of the baianas de acarajé, a sculpture that symbolizes the profession was installed. The statue, made by artist Bel Borba, measures four meters in height and weighs 16 tons.
Spend an afternoon on the Itapuã bike path
If you like long distances, the good thing is to go from Amaralina to Itapuã. Both neighborhoods have large sections already revitalized and delivered, which will make your tour even better.
You will pass by the edge of Pituba, Jardim dos Namorados, Boca do Rio, Praia da Armação, Jaguaribe and Piatã. In this way, there are good beaches for surfing, kitesurfing, and you can even pass by joggers, runners and even a crowd flying kites. A profusion of outdoor activities.
There are more than 17 kilometers away from Amaralina to Itapuã. Do you think it's too much? Well, but didn't you want a sun burning your skin and a sea spray hitting your face? So, play hard and send the laziness away!
The Itapuã bike path is beautiful! Take the opportunity to take many photos on the road that looks more like a "red carpet" and at Itapuã Lighthouse. And don't forget to eat a classic acarajé.
Parks: the kids will love them!
Grassy area, trees, bike lanes, amphitheater, Parque da Cidade is great for the whole family. It is located between the neighborhoods of Santa Cruz and Itaigara and is visited by those who enjoy leisure, culture, sport and nature. The park has almost 4 thousand meters of track, good for cycling, rollerblading, scooter, skateboard and the like.
Officially, the municipal parks of Salvador have been reopened since September 28th with some restrictions. Operation during the pandemic is from Monday to Friday, from 6 am to 5 pm; picnics, soirees and other events are not allowed; the sale of food, beverages and other types of products is prohibited as well as the practice of group sports; the playground is still closed; among other rules.
Another great option is Parque dos Ventos. The space is a must for those who enjoy everything from contemplation to the most radical adventures. The park has a three-kilometer bike path, in addition to a skate street, which composition simulates street obstacles such as stairs, ramps and handrails; a pump track – a cycle track with a continuous circuit, speed bumps, rounded hills and slightly inclined curves; and a place dedicated exclusively to the practice of parkour. It's fun for sure!
Lower City
In Ribeira, our suggestion is to start the tour in the Church of Bonfim, tie a ribbon and continue along the shore, looking at the sea. You will pass by the Penha Church and you can end the tour by having an ice cream at Sorveteria da Ribeira or at the Ice Cream Museum, at Solar Amado Bahia.
From Campo Grande to Vitória
There are also the provisional cycle lanes from Corredor da Vitória to Praça Castro Alves (1.7km). You can go through the entire Sete de Setembro Avenue (toward Comércio), reaching the Historic Center. Prefer to go on weekends, thus avoiding the large flow of vehicles, usual on this route.
On the Campo Grande x Vitória path, you have shade from beginning to end, with century-old trees that make a true natural tunnel. Finish the tour at one of the most charming lookouts in the city.
Important precautions
With the covid-19 pandemic, the capital of Bahia has been adapting to this new normal. Cyclists must pay attention to the use of the mask, 70º alcohol, keep a safe distance from other people and safety equipment to avoid contamination and accidents.
This is the Plan of Resumption of activities. Understand all the operating protocols in this link.
Bicycles everywhere
Currently, there are 281.8 km of bike paths, bike lanes and cycle tracks in total. You don't have a bike to enjoy it all? Don't worry! Salvador is full of bicycle stations that work in a sharing system, the "Bike Salvador" through the "Movimento Salvador Vai de Bike". Currently, there are 50 stations and 400 bicycles, with 710 spaces available in the entire system.
Service
Movimento Salvador Vai de Bike on this link.
Bike stations on this link.
Meet groups of cyclists around the city at this link.
Rent your bike at this link.
By Fernanda Slama
Portal Content Coordinator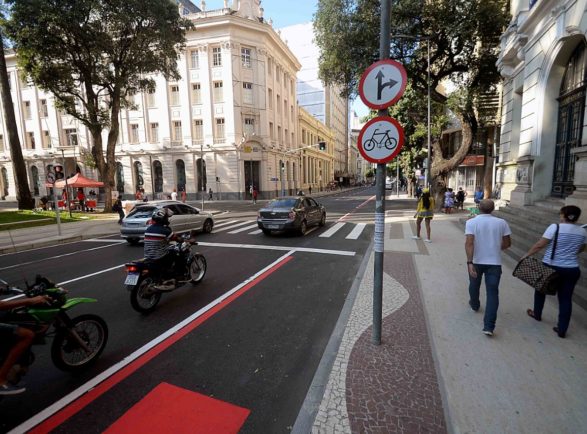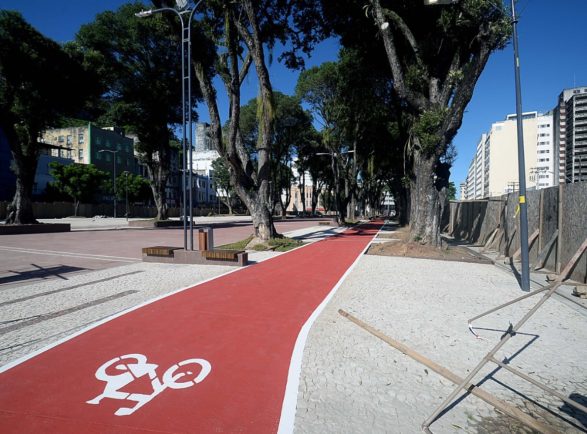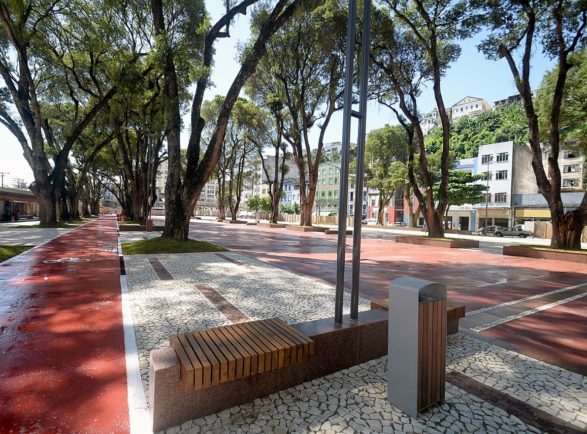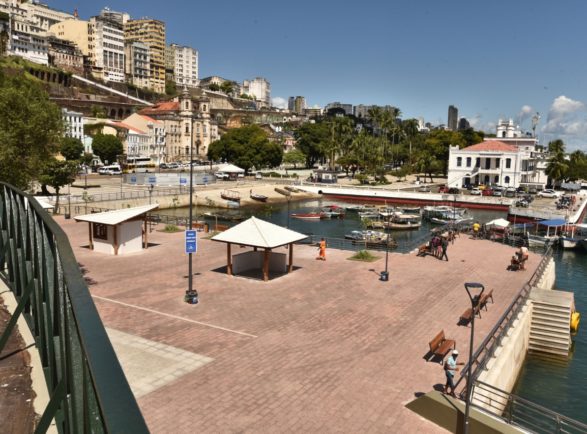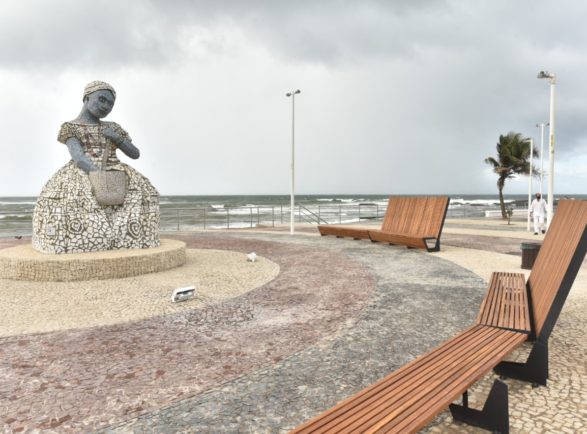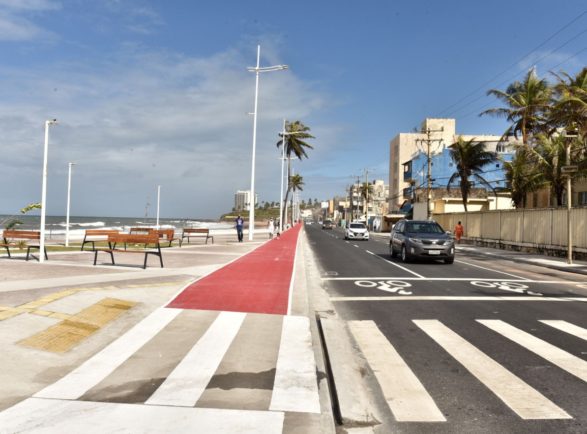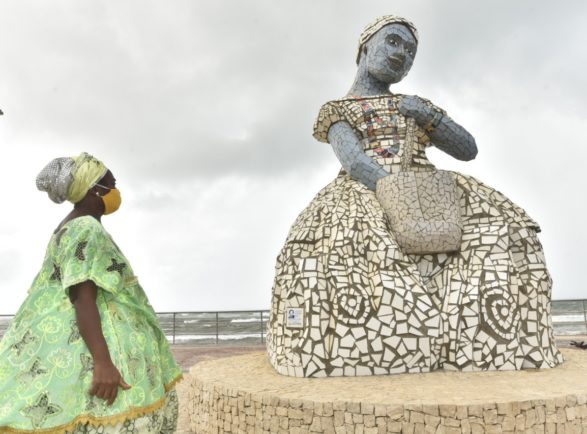 Orla de Ondina. Salvador Bahia. Foto Abel Baião.