A tour of Bahia's musical history through 20 vinyls
The vinyl record didn't die. On the contrary, the love and the desire to have "physical music" in your hand only grows. This worldwide trend is explained by many reasons: be it the sound quality, the search for new influences or the taste for classical music, vinyls make many people look for specialized stores. In the last 5 years, research has shown that the consumption of LPs is increasing more and more, and even old vinyl machines, some from 1954, are working again.
As very well written in the article "Vinyl Record: from old to darling", we discovered that it is not only alive but immortal. The album is a complete work, bringing together graphic art with the selected repertoire and arranged in a certain order, forming a discourse larger than the minutes of a song performed in shuffle.
"Vinyl is smell, feeling, touch, it's bass. Extremely sensory. It is not just an audio. On vinyl, you know who recorded, who played, who produced, who made the cover"… explains Telefunksoul, DJ, music producer and vinyl collector.
Salvador, City of Music by Unesco, which won this title for being the musical birthplace of Brazil, always had a pulsating musical production. Many classics of national music are of Bahian origin and, for this reason, the amount of vinyls of the great names found in second hand stores and bazaars around the country, are from here.
And what do you think about taking a real exciting and passionate tour of this universe? Exciting because it's intense and covered with curious facts. Passionate because it is very likely that when you finish reading, you will be the next great LP collector in your group of friends.
For this mission, we invited DJ and music producer Mauro Telefunksoul, precursor to the Bahia Bass music movement. He is a DJ for "Coletivos Pragatecno" and "Nobreza Vinyl Sessions", resident of "Festa Onda" and "#Foveragem". He will take us for a tour of Bahia's musical history through 20 vinyls chosen by him. Here we go! This is Mixtape Salvador by Telefunksoul.
After this list, we talked about the paths of Bahian music production, the return of vinyls to the market, and he explained a little about vinyl hunt and where to buy in Salvador. It's really cool!
We have prepared a list of perfect songs for this experience. Listen now! Available on Spotify and Deezer
VisitSSA: The mission was to trace the Bahia's musical history. What did you think to make this list? What was your motto?
Telefunksoul: It's incredible how everyone who thinks of a "Bahia" playlist thinks only of samba-reggae and axé. Then they choose 10 types of axé records, as if the axé were the only representative of Bahia, but axé was a movement. In Bahia there is reggae, there is rock, there is classical music, electronic music, rap, forró, there is samba. Then it seems that the "top 10 of songs" is the "top 10 of axé that was successful", and it turns out that we forget about songs and other movements that we have had in Bahia.
Check this list
1. The Tincoãs
The Tincoãs
Label: Odeon – SMOFB-3792. Format: Vinyl, LP, Album. Country: Brazil. Released: 1973. Genre: Jazz, Latin. Style: Samba, MPB. Source.
"This is candomblé music that has become pop. Not because they wanted to, but because of the other artists who found themselves represented and started playing the songs. At Timbalada, if you look at most of Carlinhos Brown's songs, they are from Tincoãs."
2. Afros and afoxés from Bahia
Various – Afros E Afoxés Da Bahia
Label: Polydor – 837 658-1. Format: Vinyl, LP. Country: Brazil. Released: 1988. Genre: Latin, Folk, World, & Country. Source.
"This album includes Olodum, Ilê, Malê, Filhos de Gandhy and many others. It was a record made by Edil Pacheco.
I made an album, Afroxé BAss, in honor of this album by Edil Pacheco. A tribute to every afoxé in Bahia, that's why Afroxé BAss (BA from Bahia and SS from Bass, from the electronic music style), a Frankenstein of words, just like my music is, a great mix, an open format."
3. Bahia Jamaica – Jorge Alfredo and Chico Evangelista (there is a dedication)
Jorge Alfredo, Chico Evangelista – Bahia Jamaica
Label: Copacabana – COLP-12574. Format: Vinyl, LP, Album. Country: Brazil. Released: 1980. Genre: Reggae, Latin. Style: Reggae. Source.
"This album was difficult to buy, it was the introduction of reggae in Bahia, already with a Bahian sound: reggae Bahia – Bahia reggae, a new sound. If you listen to Curumim today, this record, Bahia Jamaica, is a total influence. This record, in fact, was a general influence, songs that talk about the city, about Amaralina, he mentions the neighborhoods, he talks about soccer, the beach matter.
At the same time, Gilberto Gil was singing Bob Marley, so it was a very reggae time. Bahia Jamaica is an album that I always listen to, it came with a beautiful poster, it is very well recorded and is a total reference for any Bahian. For me, this is one of the most important records."
4. Gilberto Gil – Refavela
Artist: GILBERTO GIL. Album: REFAVELA. Genre: MPB. Media: Vinyl / LP 180 grams (01 unit – 10 songs). Rotation: 33 1/3 RPM. Label: Polysom. Country / Pressing: Brazil (in stock). Original Release Date: 1977. UPC / EAN: 7898324314544. Source.
"For me, this record is wonderful and completely Bahian. In fact, I wanted to put all of Gil's! (laughs)."
5. Caetano Veloso
Hold this heavyweight re-launch! Third Man Records, Jack White's North American record company, announced the vinyl reprint of the classic Caetano Veloso (1968), a landmark of the tropicalist movement. Source.
"Tropicália, in a pre-dictatorship period, Caetano wanting to talk about the thing and being forbidden. So today, with so many worshipers of the dictatorship, unfortunately… This record is so current."
6. Eu sou negão – Gerônimo
"This represents street music, electronic music, because it is already the introduction of mid back, where productions in Bahia are now computerized, with electronic drums, a keyboard, all programmed. So "Eu sou negão" is a new sound for Bahia, a watershed, that comes from the organic. Producers start to make electronic axé music, but without even knowing it is electronic.
Gerônimo also brought the accents of the street to the music. When a person comes to another and says: 'sup bro, don't slipup, I'm boca de zero nove'*. He already used the slangs, because, until then, they were lyrics talking about everyday life, about the black protest, about the stories of Ifá, of the Pharaohs. And then comes Gerônimo, in a mocking reading, saying: I want my space, I am brown*, I like this kinda music and you let me play."
7. Acabou Chorare – Novos Baianos
Paulinho Boca de Cantor, Moraes Moreira, Baby do Brasil (at the time Consuelo), Luiz Galvão, Pepeu Gomes, Dadi Carvalho and Jorginho Gomes created a unique work: "Acabou Chorare" (1972). Source.
"This one, I don't even need to explain why I have chosen it! It is what most represents Bahia in pop rock music, crazy, music without barriers."
8. Massa – Raimundo Sodré
Label: Polydor – 2451 144. Format: Vinyl, LP, Album. Country: Brazil. Released: 1980 Genre: Latin. Style: MPB, Forró. Source.
" 'Massa' and the album 'Filho do Povo' represent the country side of the state, samba de roda, recôncavo, macumba, viola music, street sung music. In 'Massa', the lyrics are by Jorge Portugal and Raimundo Sodré, it couldn't be missing. 'Filho do Povo', Walter Queiroz, a wonderful composer with influences from candomblé and umbanda, revering the saints ".
9. Filho do Povo – Walter Queiroz
Filho Do Povo (Vinyl, LP, Album) album cover
Label: Philips – 6349 332. Format: Vinyl, LP, Album. Country: Brazil. Released: 1977. Genre: Latin. Source.
10. Frutificar – A Cor do Som
Frutificar (Vinyl, LP, Album) album cover
Label: Atlantic – BR 30,107. Format: Vinyl, LP, Album. Country: Brazil. Released: 1979. Genre: Rock, Latin, Pop. Style: MPB, Pop Rock, Experimental. Source.
11. Viver, Sentir e Amar – Lazzo
Viver, Sentir E Amar (Vinyl, LP) album cover
Label: Pointer – EP 005. Format: Vinyl, LP. Country: Brazil. Released: 1983. Genre: Reggae, Latin, Funk / Soul. Style: Bossanova, MPB, Reggae, Funk, Disco, Soul. Source.
" 'Do jeito que seu nego gosta', for me, is one of the most beautiful reggaes ever produced. This is Lazzo's first official album. Before, there was a compact called Jamaica, which was also included in reggae, only the way he sings it seems that you are listening to MPB, something more romantic. It's like a reggae from Maranhão, that of dancing very close to each other, kind of Caribbean, Latin music. Lazzo has this: one foot in Bahia and the other in Jamaica."
12. Faraó – Djalma Oliveira and Margareth Menezes
Label: Epic – 60,019. Format: Vinyl, 12″, Single, Stereo. Country: Brazil. Released: 1987. Genre: Latin. Source.
"This record is a milestone because it was the first Axé Music recording to become a big hit. The music of Dodô and Osmar already existed, as well as the carnival, the samba reggae. But they were the axé itself. Because Luiz Caldas, at that time, was considered 'deboche': before axé, 'deboche', fricote, samba reggae, reggae, all influenced the turn of the axé movement. Axé Music is not a style, but a movement that encompasses several styles."
13. Capoeira, arte e ofício – Mestre Eziquiel (there is a dedication) Very rare???
Learn more about Mestre Eziquiel at this link.
"This one, Eziquiel himself photographed when he donated or sold the record. He already sold like that. This was an independent production, very important, rare and expensive. It was one of the first capoeira records to be recorded, if it was not the first capoeira angola in Bahia. So, it was a short run. Such a record costs no less than R$ 700.00, and it is likely that all of them will be signed."
14. Luiz Caldas e Acordes Verdes
O Beijo / Como Um Raio (Vinyl, 7″) album cover.
Label: Not On Label – 526,101,245. Format: Vinyl, 7″. Country: Brazil. Released: 1983. Genre: Latin. Style: MPB, Axé. Source.
"I chose it because it was Luiz Caldas' first band, where Carlinhos Brown was a percussionist. Now imagine: Brown and Luiz Caldas in one band. Imagine that sound, what a beautiful thing. And you can already hear in the music the turns that Brown invented and played for Timbalada.
This album brings a new moment for the trio elétrico: before it was Fubica and Bahian guitar. After that, it became 'normal' guitar, it became percussion, it became tribal, it became axé. It became World Music."
The percussionist Tony Mola, one of the founders of Axé Music, was part of the original formation of the legendary band "Acordes Verdes" and was also the founder of Bragadá. He passed away recently, in 2019.
15. Barraca do Chocolate – Chocolate da Bahia (from Mercado Modelo da Bahia) – there was a "measure" of Senhor do Bonfim inside
Barraca do Chocolate (Vinyl, LP, Album)
Label: Som Livre – 403.6122. Format: Vinyl, LP, Album. Country: Brazil. Released: 1977. Genre: Latin, Funk / Soul. Style: Samba. Source.
"Chocolate da Bahia is a unique figure. I studied with his son and then I met him. He was a salesman and had a stall at Mercado Modelo, the Chocolate Stall (Barraca do Chocolate). The story they tell is that, in this coming and going of people, in a capoeira circle – he was a capoeirista – there was one of the big guys from the Som Livre label, who ended up feeling bad. Chocolate took care of the guy, gave him some medicine. And then the guy got better. As a thank you, Chocolate da Bahia had its album recorded, the first of its kind on vinyl in Brazil to be released by a major label. This album was produced by Guto Graça Mello."
16. Timbalada
Label: Philips – 518 068-1. Format: Vinyl, LP, Album. Country: Brazil. Released: 1993. Genre: Latin, Funk / Soul, Folk, World, & Country. Style: Afrobeat, Soul, Batucada. Source.
"This shows a lot of tribal music, sensuality, the painted body. It has an indigenous, African, caboclo accent. These are the things that Timbalada proposed to us. The black empowerment, a band only of black people, with a chief in front, a black Indian. Carlinhos Brown is all that, an entity, like Gilberto Gil."
17. Bahia Bass – The Finds & Mauro TelefunckSoul
The Finds & Bahia Bass – Telefunksoul selection (Special edition)
Mauro Telefunksoul – The Finds & Bahia Bass
Label: Polysom ​​- 001. Format: Vinyl, 12 ", 33 ⅓ RPM, Shape, Compilation, Special Edition, Stereo. Country: Brazil. Released: 2016. Genre: Electronic. Style: Bassline, Experimental. Source.
"Bahia Bass is not a style of sound, it is a movement that includes the electronic pagode, the electronic samba-reggae, the electronic samba circle. Everything you do with the Bahian sound and the Bass Music sound."
In 2019, the vinyl collection "The Finds & Bahia Bass Selekta Telefunksoul" was born, a partnership with the multi-brand The Finds, curated by Mauro Telefunksoul and mastered by master Arthur Joly. There are 8 tracks.
The collection is mostly composed of local Bahian artists, and the purpose is to show the new movement and the new sound called BAHIA BASS.
18. Úteros em Fúria (Wombs in Rage)
Úteros em Fúria – Wombs in Rage
Label: Natasha Records – 0684279041. Format: Vinyl, LP, Album. Country: Brazil. Released: 1993. Genre: Rock. Style: Hard Rock, Glam, Alternative Rock, Heavy Metal. Source.
"We (Bahia) have always been known for having the first rock bands, with the Panteras, Raul Seixas and others, you know? But it wasn't through Raul that I started listening to rock. I started with Wombs in Rage. Salvador had a great scene with Lisergia, Crack, Dois Sapos e Meio. Then there was Inkoma (Bahian singer Pitty's first band) and Injuria, which were bands that ruled the alternative scene.
All these bands have already come up with the end of vinyl. The last one to have a vinyl was exactly the Wombs in Rage. Until 95, vinyls were still available in Brazil. This vinyl is considered rare, because it was one of the records that ended the period of vinyl in history, being the last circulation and in very small quantity, in part because the CD was already being sold – the golden eggs of the time.
Wombs in Rage was influenced by Seatle's rock, the grunge. Do you remember the grunge era, when people wore clothes from São João? (lots of laughter). It was a mixture of you being able to listen to hip-hop, together with funk music from the 70s, rock'n'roll, with heavy metal guitars, but with swing, not just metal hard core. And there was that mix of rap and groove. Wombs represented for this reason, for its mixture."
19. Bloco do Prazer – Armandinho and the Trio Elétrico Dodô e Osmar
Armandinho E Trio Elétrico Dodô & Osmar & Moraes Moreira – Viva Dodô E Osmar
Label: Continental (3) – 1-01-404-210. Format: Vinyl, LP, Album. Country: Brazil. Released: 1980. Genre: Latin. Source.
"This represents the trio elétrico, the fubica, the Bahian guitar, the carnival music. How it all began."
20. Os Orixás – O poeta, o compositor e os Orixás. (art by Carybé)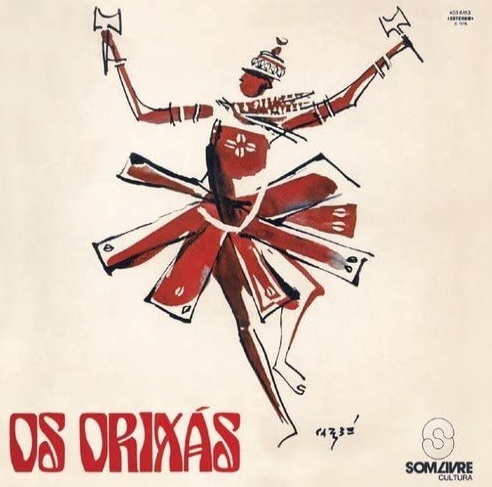 Learn more about this LP at this link.
"This album is by Ildazio Tavares, with text on the back cover by the writer Jorge Amado and cover by the artist Carybé. This record became a TV show, and a very important album to demystify candomblé for most of the population."
The people involved were spokespeople for that wisdom, the way to bring that musicality to the record.
Tell me more…
VisitSSA: When we look back, and look at this list, the mentioned records represent a range of national music.
Telefunksoul: Bahia has always been present at all times. Many of the great artists who nationally showed their sound were from Bahia. Until today, Bahia has been representing the top 10 in years, since the 80's, 90's, 2000, there is Bahian music among them. Gilberto Gil is already present in all the decades.
VisitSSA: What about rock in your life?
Telefunksoul: From rock, I can connect Raul; "Mar Revolto" – which was a progressive rock band from Bahia where Carlinhos Brown played (imagine that); and I can connect to Pitty. I would also include the album "Pop Chumbado" by Márcio Melo, a style he created, a pop rock, with groove and guitar influences. I have already had a band called "Porcos Falantes" myself.
VisitSSA: Tell us a little about the 90s
Telefunksoul: The sound of the 90s is unique. Bahia was a sensational source, everyone was watching Bahia. But there was no internet, we traded demos. And in the 90s, there was a fight between rock and axé. In the end, some rock musicians ended up playing axé (laughs). And it is not without reason that the musicians of the axé bands were excellent, because they all came from metal.
VisitSSA: When did you start researching the subject and curating your own?
Telefunksoul: Since always! I've been collecting vinyl since I was 12 years old. I kept the school lunch money to buy records. I came home full of records and my mother said: 'study, son!'. But I heard: 'studio!'
VisitSSA: you teach a music class; you know a lot and research a lot. Tell us a little about your findings during life.
Telefunksoul: At the same time that I liked rock'n'roll, I started working with carnival block, with block's director (look how crazy!). Then I started listening to samba-reggae (93/94), I was enchanted by
Timbalada (which still wasn't called that way), I went to rehearsals in Barro Vermelho, which wasn't even the famous Candyall Guetho Square (in Candeal).
There was "Black Panters", "Serpentes do Candeal", then Timabala came up and burst, with that thing of body painting. Then came Bragadá, with Tony Mola (one of the founders of Axé Music, who died now, in 2019), playing visceral music. That's when I started to be enchanted by percussion.
And that's when I started to go back (to the roots) and realize that Olodum was good, Ilê, Muzenza… Everything was rock. And why is axé good? Because it is exactly that mixture, of samba reggae, rock, salsa, it is the mixture of Africa. It all came from African music, street music, percussive music. I was enchanted. I started noticing the musicality of axé.
Luiz Caldas was a rock musician and became axé, Durval Lelis, from Asa de Águia, had a rock band influenced by Pink Floyd. This was the market trend. And that was when I opened my horizon for music.
Then there was reggae too, through a friend who lent me five Jamaican reggae records. I stayed at home wondering what the f*@# is this?! Then I heard Congos, Gregory Isaacs and it began to influence me at the same time that I started to listen to, Diamba, Adão Negro, Marrom Fumegante, Sine Calmon, Nego Vieira, among many others.
VisitSSA: Rock, percussion, reggae, electronic music. Your music is a combination of good Bahian music.
Telefunksoul: And then I started meeting musicians and joined Negra Cor, which was Black with percussion. I started playing in São Paulo, Rio de Janeiro, Brasília, Minas Gerais. There I opened concerts for Lenine, Simone in São Paulo, Júlio Barreto. Then I met everyone, Tatau, Ivete, Claudia Leitte, I recorded with Daniela Mercury, with Carlinho Brown, with many people from Brazilian and Bahian music.
Then my horizons opened up. That's why today my sound is so mixed, because I got to know rock, percussion, reggae, axé, electronic music, pagode. I include in my work all the music I like, this is my sound. That is why this list is so diverse.
Where to Buy Vinyls in Salvador
1. Zambabem vinyl store, Santo Antônio Além do Carmo
2. Bazaar 3, located in Barroquinha, near the end of line.
3. Bazar do Big, in the sector's events at Mercadão CC, in Rio Vermelho.
4. And with Telefunksoul himself
The digging
Telefunksoul doesn't just travel to buy vinyl. He takes advantage when playing in a city, inside or outside the country, and ends up digging for them, researching stores and buying.
He explains that those who really like digging, do not go after the famous, but after the not known ones, because the interesting thing is to find in a second hand store something that almost nobody knows.
"I love when I find a record that is short on circulation, that someone recorded here in Bahia, that has just come out here. An album like that is rare, so you buy it. In fact, I like dark things."
After this inspiring chat, I already see you buying vinyls or even calling family members to recruit your old collection. Put the record player on and turn up the sound!
By Fernanda Slama
Portal content coordinator
Notes:
About the slangs:
'Sup bro, don't slipup, I'm boca de zero nove'* – in a free translation, it would be: a way to warn someone to think before acting, because otherwise he will hear the truth or being snubbed for not doing something right.
"I'm brown" * – way of dressing and acting that emerged in Salvador. An aesthetic positioning.
---