About the tour
SUP class and a relaxing swim in Itapuã and Pedra do Sal
Brand new
We start at Itapuã. The seashore was all requalified with new stands, bike lane and amphitheater, all brand new! The Rehearsals of Malé Debalê happen there. Stay tuned in our "Vai Rolar" so you don't miss any programming. If you are in the city on February 2, in this part of the city there is a beautiful celebration for Yemanjá. It's very exciting.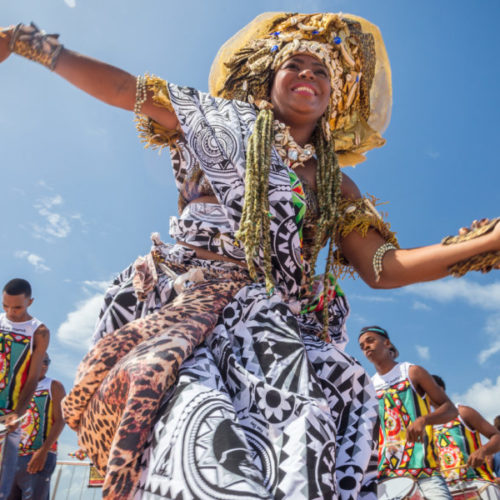 From there, a very good idea is to go to K Street and see some of Bel Borba's works, a plastic artist famous for his public interventions in the city with the mosaic panel technique. In addition to the open-air gallery, SUP classes and practices are also held there. Salvador fosters the practice: it has warm, calm and crystalline waters, mainly in this part of the sea.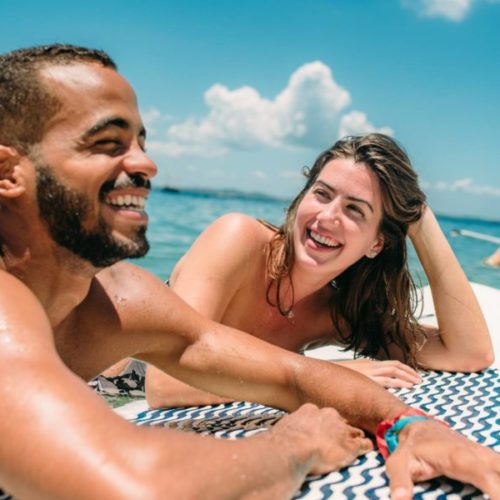 After a few hours of pure fun, continue walking along the sand, pass under the fortification in arches of the famous Lighthouse of Itapuã, take that photo and go ahead. In this region, called Pedra do Sal, up to Stella Maris, small pools are common at the beach. These formations happen in the dry tide. So, you better leave your house already knowing the schedule, then you won't miss this experience of staying in a natural, relaxing Jacuzzi. Don't forget the sunscreen: it's normal to see people looking red like a shrimp at the end of the day, as the relaxing atmosphere by the sea and the constant breeze make you forget about life!
Another must-see: the beach stands.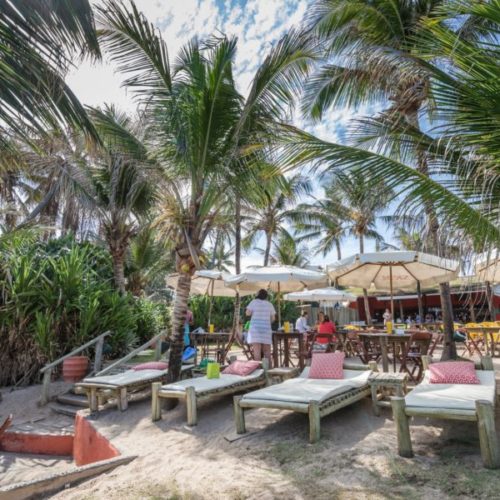 These "foot on sand resorts" structures are common in Salvador. In this way, we suggest the Bora Bora stand, which is between two rocky formations, making a small cove. There you can choose among loungers, mattresses, chairs and comfortable tables for groups, with lawn, shade of coconut trees and fresh water showers. Relax! This place is to spend the day, getting a tan, resting to the sound of the wind and the waves. If you want to know about other tours around the city, click on this link.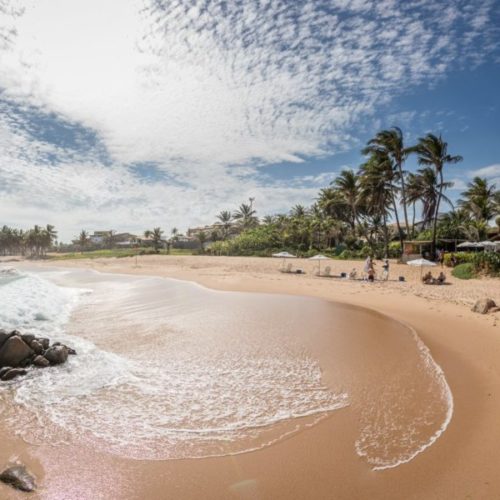 Service:
SUP on K Street
SUP Babi Brazil School – Stand Up Paddle Classes: tours and SUP classes
Two addresses: Porto da Barra and K Street, Itapuã
Phone: (71) 99147-1195
CTS – Surfing Therapy Center: Stand Up Paddle classes, initiation and improvement
More information: lessons on the beach of K Street in Itapuã. Single lesson options, 3 hour basic course and class packages.
Phones: (71) 99148-5817 / (71) 98233-0053
Bora Bora Stand
Address: Caramujo Street, 192 – Itapuã, Salvador-BA, 41301-110
Opening hours: every day from 9:00 am to 5:00 pm.
Phone: (71) 3023-5018
By Fernanda Slama
Content Coordinator
Photos: Fábio Marconi