Surf Beaches by Armando Daltro
Tips from a World Surf Champion about beaches for Beginners, Intermediate and Advanced
World Champion Armando Daltro began surfing in the summer of 1984/85, at the age of 11, at Piatã Beach in Salvador. In 1990, he was consecrated Bahia's champion in the junior category, 2nd in open and 4th in the professional (Bahian Ranking). After competitions around Brazil and the world, in 98 he had already competed in the most important circuits in the world, winning the most valuable stage, the one that distributed the most points in the WQS (Hang Loose Pro Contest) held in Brazil. He got third place in the Brazilian competition, 6th in the WQS and 41st in the world first division.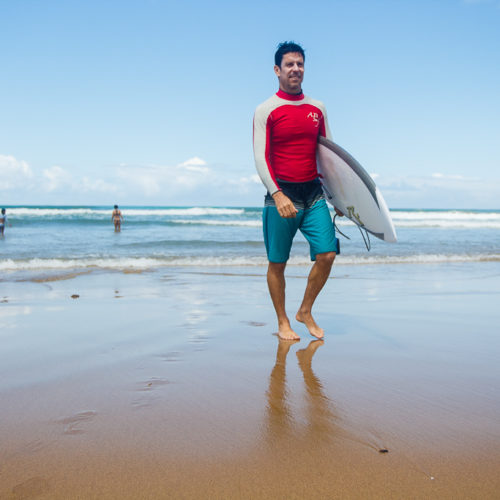 Escola de Surf Armando. Salvador Bahia Foto: Amanda Oliveira.
In 2003, due to personal problems, he had to return to Brazil, finishing the year with a special 2nd place in the Triple Crown in Hawaii, 13th in the WQS world surfing ranking, and qualified for WCT 2004. Armando Daltro already has a 14-year-old road as a surf school teacher, and eight years ago he opened a surf school that bears his name. He is the one who gives the tips in this itinerary of the best beaches to surf in Salvador.
Jaguaribe, Piatã, Praia do Flamengo, Stella Maris, Aleluia, Ipitanga, Barra Vento and Corsário.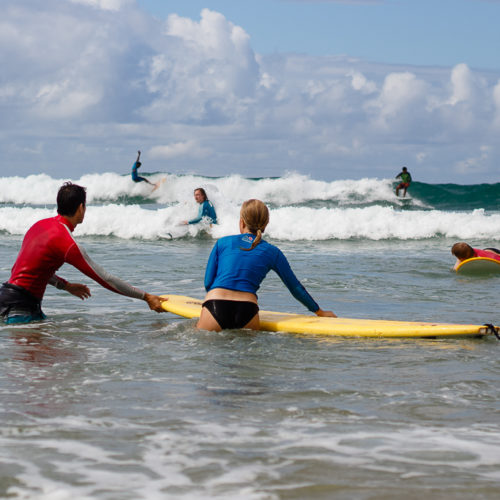 Escola de Surf Armando. Foto: Amanda Oliveira.
According to the World Champion Armando Daltro, the indication is certainly Jaguaribe and Piatã beaches. They are the best beaches for beginners, the safest ones and where the waves have the best formation for this surfers level. For surfers who come to the city for tourism and look for tougher beaches, we have: Flamengo Beach, Stella Maris, Aleluia, Ipitanga (these last two, near Pipa Beach Stand) and Villas do Atlântico (Lauro de Freitas).
If you are looking for a beach inside the city, with tough waves and good water quality, more suitable for advanced surfers, Salvador has Barra Vento beach (on Barra Avenue, between the Christ and Barra Lighthouse, closer to Morro do Cristo , next to Barra Vento restaurant). Not suitable for beginners or intermediate.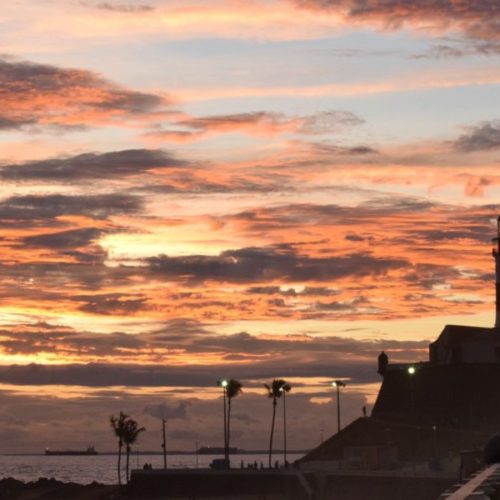 Na caminhada para o Cristo, a vista do Farol da Barra Foto: Thiago Sampaio
Corsário beach is more similar to Jaguaribe, suitable for both advanced surfers and intermediaries. Corsário is also known as Praia dos Artistas (Artists Beach). Leaving Avenida Jorge Amado, which connects Imbui to the seafront, this beach is behind the tennis courts, next to a BR gas station.
Near Salvador, there is also the North Coast which is very rich in beaches with excellent surf conditions for those who are already surfing and have an intermediate or advanced degree. There are coral benches and stronger waves. They are: Guarajuba, Itacimirim and Praia do Forte.
Do you want to know more about Armando Daltro surf school? Click this link.
Service
Surf School Armando Daltro
Jaguaribe Beach (Main point)
Landmark: at the height of the Shell Gas Station.
Phone: (71) 2137-8190 Whatsapp: (71) 99185-0064
Duration: 1 hour and 15 minutes.
Age range: from 4 years old on, but it is necessary for a responsible person to enter the water along with the child.
Opening hours: Monday to Friday: 6:00 a.m., 7:30 .am., 9:00 a.m., 10:30 a.m., 4:00 p.m. Saturday and Sunday: 6:30 a.m., 8 a.m., 9:30 a.m., 11 a.m.
Important: a personalized class costs R$ 109,00. Other schedules only on request.
Investment group class: full amount R$ 65,00 per class, or a package of 4 lessons for R$ 229.00.
www.escoladesurfarmandodaltro.com.br
We've prepared a perfect playlist for this experience. Listen now!