Discover the charms, beauties and flavors of the Lower City by bike
See list of places to visit with access by cycle paths and cycle lanes
Have you ever thought about getting to know the Lower City in Salvador in a different way? Cycling grew 61% in 2022 in the capital of Bahia, according to a survey by Bike Salvador. The study also showed that 76% of Soteropolitans want to use bicycles more as a mode of transport. Not only for work, but also for touring, it is clear that the bike has been gaining more and more space in the city.
In this itinerary, you will get to know the streets of the Lower City by bicycle, and which neighborhoods have streets and avenues with cycle lanes and cycle paths so that your locomotion is possible. In addition to cycling, we will make some stops at restaurants, bars, museums and beaches in the region. After all, cycling in Salvador is an invitation to know a little more about its history, flavors and aromas. So, let's take a bike tour through Salvador!
Bicycle points in the Lower City
You can organize a group to cycle and get to know the Lower City on guided tours such as those offered by Bike Tour Panorâmico. The ride takes place in Ribeira, with stops at the Ice Cream Museum (Museu do Sorvete), Penha Church (Igreja da Penha), appreciation of the waterfront, Baixa do Bonfim, community of Pedra Furada, Ponta do Humaitá, Monte Serrat Fort, Largo de Roma, Irmã Dulce Memorial and the Church of Senhor do Bonfim. The beginning and end of the tour are at the Ice Cream Museum, in Ribeira. The route has 11 km and the tour lasts, on average, 4 hours. (More information at this link) .
If you don't have a bike or are walking around Salvador, there are places where you can rent bikes before starting your tour, such as the newly opened free bike rack in the Ribeira neighborhood. The structure is next to the Ribeira Maritime Terminal/Platform and the neighborhood's Bus Terminal and is open from 8 am to 6 pm, from Tuesday to Sunday. (See more information about renting a bike at the end of this text).
In 2013, Salvador won the "Movimento Salvador Vai de Bike". At the time, the city had only 30 km of bike paths. Currently, there are 360 ​​km of bike paths, 50 bike stations with at least 500 bikes available for rent. Recently, a new connecting road was opened between Pedra Furada and Porto da Penha, with a bike path, which is located around the famous Bonfim Church.
Below, we've listed 18 streets and avenues that have cycle lanes and cycle paths in the Lower City, according to the Superintendence of Traffic in Salvador (Transalvador). Try to take the tours when the sun is low, and don't forget to bring water, sunscreen and willingness to ride and get to know Salvador even more.
1. Beira Mar do Lobato Ave., in Lobato;
2. Porto dos Mastros Ave., in Ribeira;
3. Tiradentes Ave., on Caminho de Areia;
4. Porto dos Taineiros St, Ribeira;
5. Tamarindeiros da Penha St, Ribeira;
6. Luís Tarquinio Ave., Ribeira;
7. Imperatriz St, Ribeira;
8. Beira Mar Ave., Ribeira;
9. Largo da Ribeira;
10. Luiz Maria St, in Uruguay;
11. Jequitaia Ave., in Comércio-Calçada;
12. Fernandes Vieira St, on Calçada;
13. Fernandes da Cunha Ave., on Calçada.
14. Frederico Pontes Ave., Água de Meninos;
15. José Martins Tourinho St, in Mares;
16. Imperador St, in Mares;
17. Largo dos Mares;
18. Largo da Calçada.
Tips for when you get hungry!
Discover the gastronomy on this route
Koisa Boa Bar and Restaurant
The tour starts at Beira Mar Ave., where cyclists have access to bike lanes. It is there that you can stop at Koisa Boa Bar e Restaurante to, in addition to ordering a sole moqueca or a "casquinha de siri", enjoy the view of the Ribeira sea and, of course, try to catch the sunset. The establishment has several very typical Bahian dishes, such as shrimp with farofa and vinaigrette, sun-dried meat with fries and sururu broth. And, to drink, the place has a list of roskas with many flavors.
Service:
Opening hours: Tuesday to Sunday, at 11 am
Address: Porto dos Tainheiros St, n° 9 – Ribeira
Instagram: @restaurantetijupa
O Bombordo Restaurant
On Beira Mar Ave., the Bombordo Restaurant claims to have the best view of Ribeira, so you need to go there to check it out. The establishment has been operating since 1997 and is a classic in the region. In addition to food, drinks and a different view, cyclists who decide to stop there on a Saturday can enjoy live music, always at 7pm.
Service
Opening hours: Monday to Sunday from 11 am to 11:30 pm
Address: Beira Mar Ave., 340 – Ribeira
Instagram: @obombordo
Tijupá Restaurant
Still in Ribeira, and also accessible via the bike lane, but now on Rua Porto dos Tainheiros, you can stop at Restaurante Tijupá. There, you can enjoy good live music, regional cuisine and, of course, don't miss a cold beer. And the view from the place is also privileged. Customers can eat and admire the breathtaking view of Enseada dos Tainheiros.
Service:
Opening hours: Tuesday to Sunday, at 11 am
Address: Porto dos Tainheiros St, 9 – Ribeira
Instagram: @restaurantetijupa
Recanto Encontro Com O Mar Restaurant
On the bike path of Afrânio Peixoto Ave., in Subúrbio Ferroviário, you will access a restaurant from where you can visit Praia Grande. The place is run by a former bus driver who is now a chef and guarantees to make the best moqueca in town. The dish is considered by customers as "of the gods". Among other accolades, the establishment is also known for its pleasant and cozy atmosphere and attentive staff.
Service
Address: Almeida Brandão St, 14 – Praia Grande
Opening hours: every day of the week, except Tuesday, from 11 am to 8 pm
Instagram: @encontrocomomar
Varanda Baiana Restaurant
If you are passing through the cycle lane of Fernandes da Cunha Ave., it is worth stopping at Uruguay Street, on the same street as the Outlet Center Mall and Dubai Magazine, for a meal at the Varanda Baiana restaurant, which has a menu with Brazilian, Northeastern and Bahian food.
Service
Address: Uruguay Street, 44
Opening hours: Tuesday to Sunday, 11 am to 5 pm
Instagram: @varandabaianacbx
Tourist attractions
São Joaquim Fair
Are you cycling along the bike lane at the beginning of Jequitaia Avenue? How about crossing the lane to Engenheiro Oscar Pontes Avenue and stopping at the most famous street market in Salvador? There, you can find a little bit of everything: gastronomy and religious items, various types of delicacies, handicrafts and seafood. On Sundays, the fair also welcomes, from 12pm to 6pm, at least three thousand people to dance samba on the pier in the new wing at the place. It's called "Samba da Feira".
Service:
Address: Eng. Oscar Pontes Avenue – Água de Meninos
Opening hours: every day from 5 am to 5 pm
Sanctuary of Santa Dulce dos Pobres
Continuing through the Calçada neighborhood, along the cycle lane of Frederico Pontes Avenue, in Água de Meninos, you arrive at Largo de Roma, where the sanctuary dedicated to Saint Dulce of the Poor is located. From Bahia, Dulce is the first genuinely Brazilian saint. It is in the Sanctuary that the relics (term used to designate the body or part of the body of the blessed or saints) of the Good Angel of Brazil are deposited, in a space called "Capela das Relíquias" (Relics Chapel) – a circular room, with triple height, in which center is the tomb that holds the remains of the Mother of the Poor.
Service:
Address: Dendenzeiros do Bonfim Ave., 161 – Largo de Roma, Salvador – BA, 40415-000
Opening hours: open to visitors daily, from 7 am to 6 pm.
More information: santuario.imaculada@irmadulce.org.br / (71) 3310-1394
Bonfim Church
Behind Beira Mar Avenue, in Largo do Bonfim, is the site of another religious and tourist stop. Built in 1772, the Church of Senhor do Bonfim is one of the most famous temples in Salvador, a symbol of the Bahian faith. In the same year it was built, the tradition of washing the church's steps (Lavagem do Bonfim) also began. The Church has neoclassical architecture and a rococo façade, following the model of Portuguese churches of the 18th and 19th centuries, with frescoes and tiles. The distance from Sister Dulce Sanctuary to Bonfim is approximately 2 km.
Service
Hours: Monday to Thursday and Saturday: 6:30 am to 6:00 pm – Friday and Sunday: 5:30 am to 6:00 pm
Address: Praça Sr. do Bonfim – Bonfim
More information: https://www.santuariosenhordobonfim.com
Solar Amado Bahia – Ice Cream Museum
The heat in Salvador doesn't give a break, and there's nothing better to do on a hot day than having an ice cream, right? Your next stop is Solar Amado Bahia, Ice Cream Museum and Cultural Space located in the Ribeira district. Listed by the National Institute of Artistic and Historical Heritage (Iphan) in 1981, the manor underwent renovation and started operating brand new in 2019. After being restored, the place became the ice cream museum, with historical and playful references to the manufacture of ice cream, in addition to having a space that contains the history of the manor as well. Leaving Jequitaia Avenue to the Museum, it is approximately 12 km with cycle lane stretches that go to the Calçada neighborhood and start again at Mares and Bonfim.
Service
Address: Pôrto dos Tainheiros St, 80 – Ribeira
Opening hours
Ice Cream Museum: Monday, Thursday, Friday and Saturday from 1 pm to 9 pm and Sunday from 10:20 am to 9 pm
Sorvete Real da Ribeira Stores: Monday to Saturday from 1 pm to 9 pm and Sunday from 10 am to 9 pm
Açaí Real Store: Monday to Saturday from 1 pm to 9 pm and Sunday from 10 am to 9 pm
Bicycles all over the place
Find out more details on how to rent bikes and about guidelines to reinforce the safety of cyclists at these links.
Salvador Vai de Bike Movement in this link.
Shared bike stations at this link.
Meet groups of cyclists around the city at this link.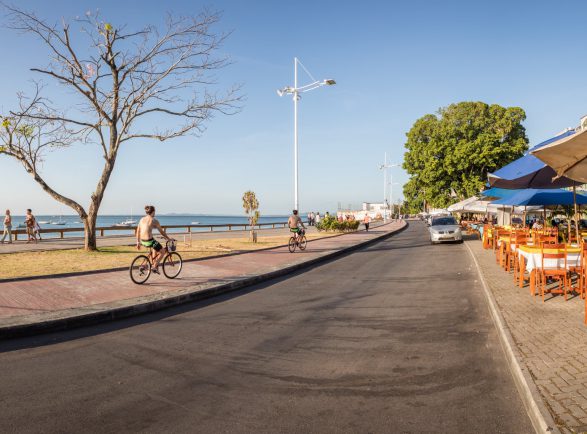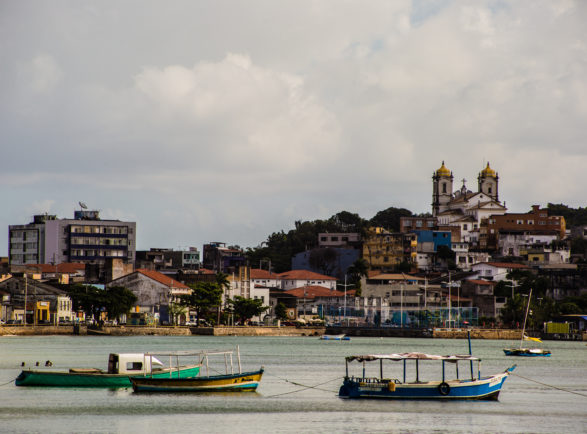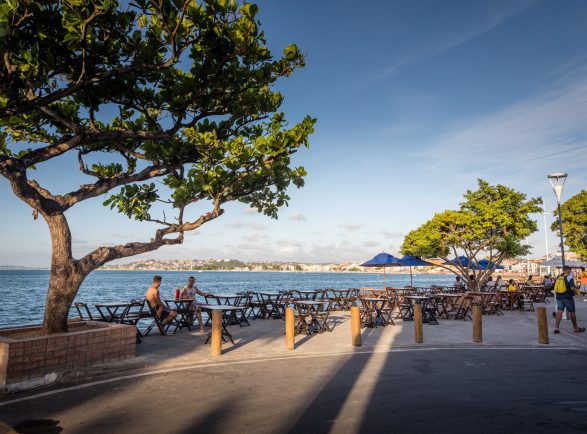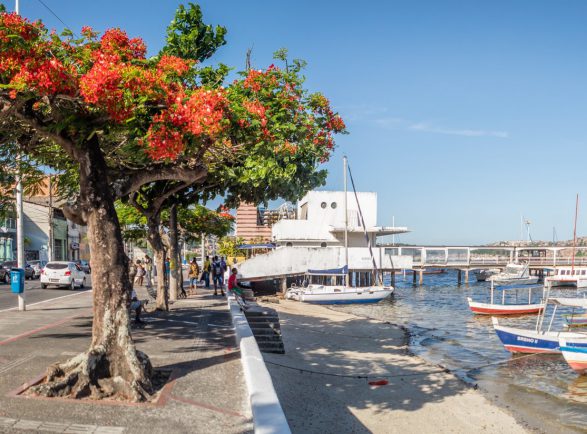 Ribeira. Foto: Fábio Marconi.