Everything you need to know about the restaurants in this web series.
Knowing Salvador through its rich and diversified gastronomy makes you understand much of our own country's history. With the purpose of telling these and other stories, the web series "Desafio Cozinha Raiz" is on display, a project that mixes gastronomy, music and a lot of fun!
"Cozinha Raiz" fosters gastronomic challenges where renowned chefs from the Soteropolitan kitchen invite digital influencers with little or no skills in the kitchen to prepare dishes that are famous for being one of each chef's signature. The web series is shown on YOUTUBE.COM/SALVADOR channel.
There is a perfect playlist joining the web series, which is called "Cozinha Raiz", created at Spotify, in the profile Visit Salvador da Bahia. The idea is to turn sensations into songs. In this script, we tell a little of each restaurant in the series, so you will want to try each of these fabulous dishes.
In the first episode, Chef Beto Pimentel, from the restaurant Paraíso Tropical, and Marcio Vitor receive Gominho to cook Dandá de Camarão.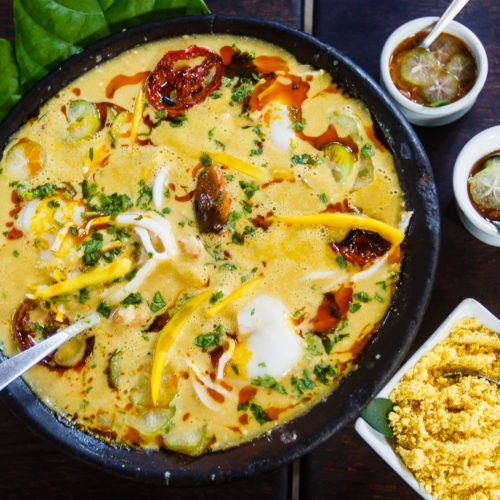 Paraíso Tropical. Moqueca de camarão e frutas. Foto: Amanda Oliveira.
Paraíso Tropical Restaurant is known for its recipes that turn the fruits into main course, always thinking about the medicinal characteristics and nutritional properties. The program's signature dish is Dandá de Camarão. The dish created by Beto includes, among other ingredients, VG shrimp, peanuts and grated ginger, as well as a delicious manioc cream, joining the flavors of green coconut milk and dry shrimp. Learn more at this link.
In the second episode, Chef Tereza Paim, from the restaurant Casa de Tereza, and Ju Moraes invite Ju De Paula to cook Moqueca de Camarão.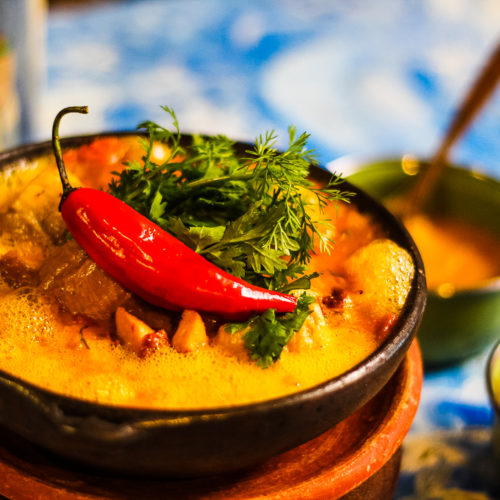 Restaurante Casa de Tereza. Rio Vermelho Salvador Bahia. Foto: Amanda Oliveira.
When Chef Tereza Paim left the country, her intention was to seek international techniques that could value the best of Bahian cuisine. Tereza dedicates her work and research to local ingredients, developing a Bahian cuisine legitimized by the knowledge and tastes of her land, influenced by Spain, Portugal and Italy. Her moqueca is practically a tourist spot, and her coconut rice is delicious. Learn more at this link.
In the third episode, Chef Lucius Gaudenzi, from the restaurant Du Chef, and Aline Ramos, along with Lincon Sena, invite Foquinha to cook the Grilled Lobster with herbal butter and Saffron and Bottarga Risotto.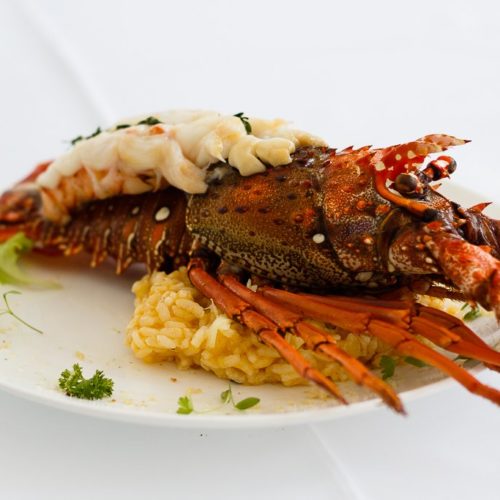 Restaurante DuChef. Lagosta Jericoacoara. Foto: AmandaOliveira
Du Chef Arte e Gastronomia By Lucius Gaudenzi has a seasonal menu where the Chef, graduated by Le Cordon Bleu Paris, always looks for the best products available at the time. The restaurant's story has love as its main ingredient, a pinch of 'fate' and a delicious dreams convergence between Chef Lucius Gaudenzi and his wife and sommelier of the house, Roberta Gaudenzi. In this episode, you will know the dish Jericoacoara! A lobster grilled in fine herbs butter served with saffron risotto. Learn everything in this link.
The 4th and final episode will still be recorded and the participants are still being set. Just wait!
Do you want to know everything about Desafio Cozinha Raiz? Click this link.
Service
Desafio Cozinha Raiz
What it is: web series that promotes culinary duels between influencers.
Exhibition: episodes are aired on Mondays, Wednesdays, Fridays and Saturdays. New episodes every Monday.
Paraíso Tropical
Address: Rua Edgard Loureiro, 98-B – Cabula – Salvador
Opening hours: Monday to Saturday, from noon to 10:00 pm. Sundays, from noon to 5:00 p.m.
Phone: 3384-7464.
Restaurante Casa de Tereza
Opening hours: from Monday to Wednesday, from noon to 11:00 pm. From Thursday to Saturday, from noon to midnight. Sundays, from noon to 9:30 p.m.
Address: Rua Odilon Santos, 45 – Rio Vermelho, Salvador – BA, 41940-350
Phone: 71 3329-3016
Du Chef Arte e Gastronomia By Lucius Gaudenzi
Opening hours: From Tuesday to Thursday, noon to 11:00 pm. Friday and Saturday from noon to 1:00 a.m. Sundays, from noon to 5:00 p.m.
Address: Rua Afonso Celso, 70 – Barra, Salvador – BA, 40140-080. Next to Barra Lighthouse.
Phone: (71) 3042-4433
We've prepared a perfect playlist for this experience. Listen now!