A logbook of Salvador's revelry full of culture, tradition, art and party, lots of partying!
Party in Bahia is something else… Mix it up!
This is practically a logbook of Salvador revelry. It contains valuable information, tips "for life" that will make you want to return every year in different times. We will prove you that here is, in fact, carnival the whole year.
1 – Summer Rehearsals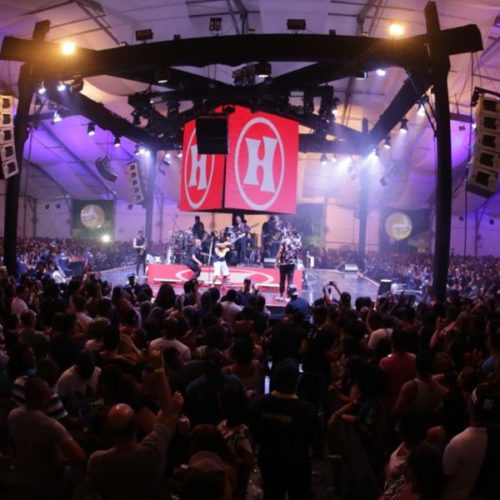 A Melhor Segunda Feira do Mundo. Salvador Bahia. Foto Sercio Freitas.
Is at the rehearsals that carnival begins to be "drawn". That's where you learn the songs that are going to rock at carnival. It's also a time to try new rhythms, and the public who has never being to carnival can adapt to the intense days to come. At Pelourinho, there are "Terça da Benção" by Olodum; Gerônimo; Cortejo Afro rehearsals, and sambas all around the Historic Center. Stay tuned to Malê Debalê official agenda, which includes rehearsals and the Malê Black Man and Black Woman Competition. Ilê Aiyê, besides the rehearsals, has the Black Music Festival and Black Beauty Night, which are unique experiences of cultural expression. You need to go.
Besides that, you can't miss the shows promoted by artists like Saulo, Margareth Menezes and the new sensation, the Àttooxxá band. There are still parties such as The Best Monday of the World (A Melhor Segunda-Feira do Ano), Baile da Santinha and Bailinho de Quinta, which, with different kinds of public and musical style, have stolen locals and visitors hearts. Learn more about Popular Festivals and Summer Rehearsals.
2 – Party for Iemanjá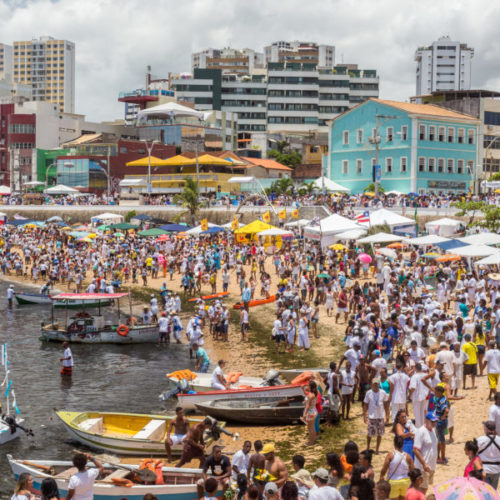 A festa para Iemanjá no Rio Vermelho. Cada ano mais bonita!
It's not carnival, far from it. But Salvador popular festivals are like a landmark, when people go to the streets to express their faith and joy. Here in Bahia, faith and festivals are linked, as well as good food and good music. The tip here is Iemanjá Festival because it's closer to carnival. The celebration is on February 2nd, but the tip is to arrive the day before. The party begins on the night of February 1st, with street shows, and it is at dawn that people who "fulfill vows" and religious ones arrive with big baskets in the head to leave their offerings at the House of Iemanjá in Rio Vermelho.
On February 1st, in the morning, there is Lavagem of Itapuã. On the 2nd, the two most popular celebrations are: the one in Rio Vermelho and the one at Dique do Tororó. The Rio Vermelho one is the largest. It is from there that the offerings for the Queen of the sea leave. Around 4:00 p.m., the boats full of flowers leave to the sea. You have 3 options: 1 – get as close to the seashore as possible to see this departure; 2 – to be in some building and see the spectacle that happens in that cove from above; 3 – to "stick" to one of the boats and see the offerings delivery from very close.
3 – FUZUÊ and Furdunço: a beautiful revelry tasting like old times!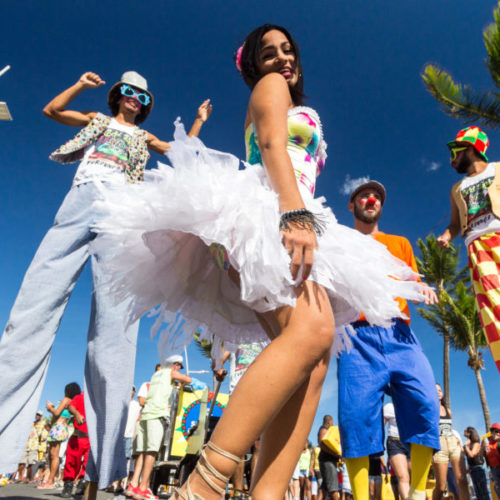 Furdunço 2017 - Foto: arquivo da Prefeitura
Who said that Salvador Carnival is made only by trio elétrico (the big musical truck)? For the misinformed ones, marching and wind instruments bands, or "chupa catarro", have gained much space in the Bahian revelry again, especially in pre-Carnival. In the days before the official carnival, the party happens in Ondina, in Orlando Tapajós Circuit (Ondina – Barra).
On February 23, 2019 is Fuzuê day!!! The first day of pre-carnival tastes like old carnival, with bands and folkloric groups that show the Bahian recôncavo traditions in parades, with the giant dummies of Mamulengo da Bahia and the "terrible" masks of Caretas do Acupe, men dressed with scary papier mâché masks.
Then you may think you're going to rest… but no! Soon afterwards comes Furdunço, right next day!!! Surrender to the trios elétricos early days, when minitrios, trios and artists parade as close to people as possible. You can see Armandinho's, Dodo and Osmar's classic fobica, "pranchão" of Alavontê, the Navio Pirata (Pirate Ship).
4 – Pipoco
Usually, on Monday, carnival gives you a break… but only this day, because on February 26 you already return to the street for Pipoco! It also happens at Orlando Tapajós Circuit, when the first trio elétrico, one of the big, enters the avenue under the command of great artists that go from Ondina to Barra, killing it!
In Barra, in front of the lighthouse, there is always a big event. It was there that, on top of a tower, DJ Alok has already made an electronic party. The craziest thing is that, the next day, Barra is usually invaded by groups accompanied by wind bands. Gravata Doida, Habeas Copus, Xupisco, Barca Tricolor! It's hard to explain, isn't it?!? Everything can happen in Bahia.
5 – The Afro Groups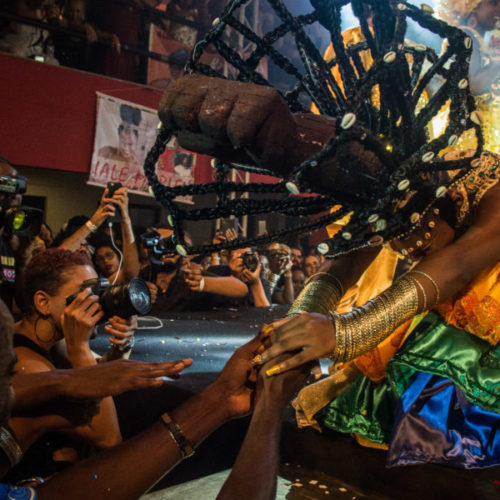 Ilê Aiyê. Noite da Beleza Negra. Jéssica dos Santos. Foto: André Frutuôso
You have to go to Ilê departure (Saída do Ilê) – where thousands of the group's admirers meet in Liberdade neighborhood. One of Brazil's oldest and most famous Afro groups leaves from Senzala do Barro Preto and runs along the main streets of Curuzu. From there, the group goes to Campo Grande. Another one that makes a very symbolic "departure" is Olodum, which, before going to Campo Grande, goes through the streets of Pelourinho "calling" the revelers.
Write in your notepad, in the "must-see" part, the Afro Groups. They are the key point of Salvador Carnival. Coming to Salvador and not seeing Ilê, the agogôs of Filhos de Gandhy, the irreverence of Cortejo Afro and Olodum's tradition is the same as not coming. They are the ones who tell our carnival story, who have created it all, all this joy. Try to learn more about Timbalada, Malê Debalê, Didá, Os Negões, Muzenza. It's amazing.
6 – Carnival in the Historic Center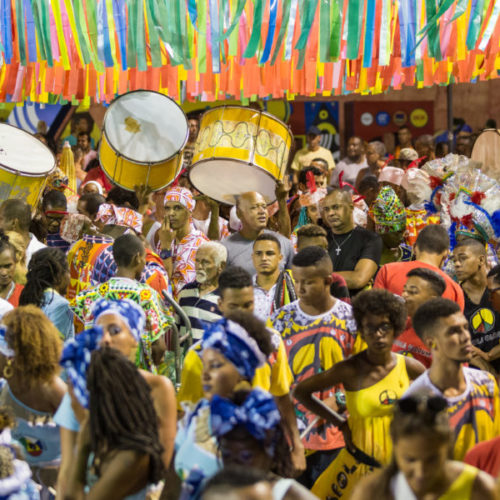 Praça Municipal. Salvador, Bahia. Foto: arquivo da Prefeitura.
At the other end of the city, in the Historic Center, little groups invade the slopes at Pelourinho towards Carmo. It's time to put on your costume and fill the streets with confetti, streamers and glitter! The Batatinha circuit (Pelourinho), is an alternative circuit of Salvador Carnival. There are no trios elétricos and people have fun with marching bands, marchinhas and small groups. It is also in the Historical Center that the "Costumes Parade in the Municipal Square" takes place, and where the Multicultural Stage is. There are concerts, carnival groups, small groups and also orchestras and samba, a loooot of samba. Go and enjoy the street!
7 – The Circuits – Carnival Groups, Ropes and Popcorn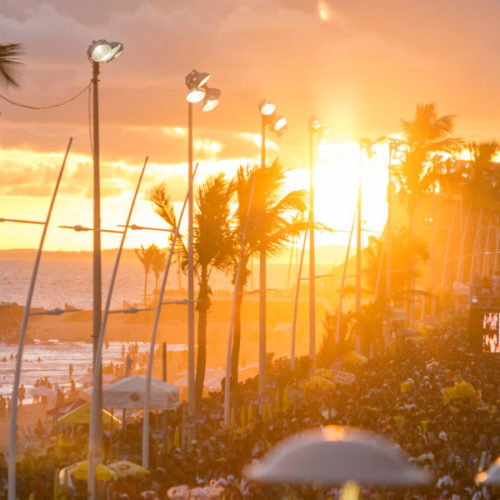 Orla da Barra durante o Carnaval. Foto: arquivo da Prefeitura
Getting your abadá, customizing it, looking for your trio elétrico… feeling your heart in your mouth in the first chords of the music, getting goose bumps when passing by Barra Lighthouse to the sound of Brazil's greatest artist's music. Those who go in a carnival group (bloco) during Salvador Carnival go through this ritual. Then you decide: with rope or without rope? In popcorn ("pipoca" – the way we call those who chose not to pay to go in a carnival group inside the ropes and prefer to enjoy carnival in the streets outside the ropes), the best of all is to be able to follow all the groups that you wish, going from one to the other nonstop.
The Osmar circuit (Campo Grande) is the most traditional one, with a course of about 4km, and it's a bit narrow. There, the trios elétricos of great artists pass by, with and without ropes. Furdunço, which we have explained in tip #3, also happens in Campo Grande for a whole day.
The Dodô circuit (Barra/Ondina) is one of the most popular and touristic ones. This circuit has about 4.5km and the trios elétricos begin to play near Barra Lighthouse. This is a wider circuit and the most famous carnival cabins are concentrated there.
8 – Carnival Cabins
The party inside the party. This is the best description for the carnival cabins. With all the structure that the cabins of Dodô Barra-Ondina circuit have, you can spend hours inside and you still won't get to do everything. There are at least nine options of cabins that offer an open bar system (drinks included) and some others that have an all-inclusive system (drinks and food included).
The top cabins have huge structures of great restaurants, bars with the best drinks, a place for abadás customization, as well as air-conditioned areas. Some even have masseur and beauty salon. And, of course, a nightclub and shows with very good bands inside. So you have the trios elétricos right there, very close, and inside, the greatest DJs in the world come to play for you.
9 – Carnival for Children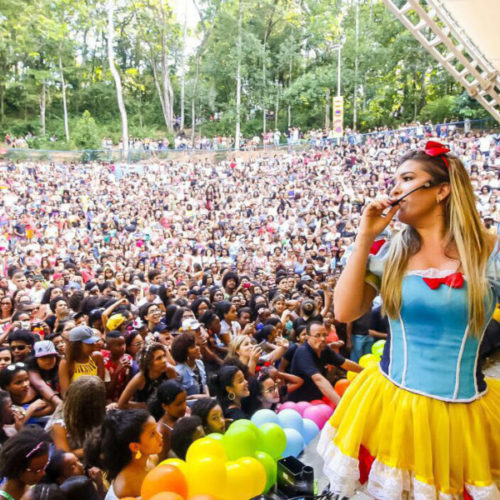 Baile Infantil no Parque da Cidade.
From open and free carnival dances, carnival groups and even children's carnival cabins, Salvador has programming for revelers of all ages. The Expressinho 2222 cabin has already happened, with its first edition in 2018. Carla Perez makes the "Pipoca Algodão Doce" in Campo Grande – a carnival group for the whole family.
There are fixed carnival dances in different parts of the city as Campo Grande, Pelourinho, Graça, Santo Antônio Além do Carmo, Periperi lookout, São Tomé de Paripe at the Seashore Square, Cajazeiras X and Nazaré with marching band, playful, recreational and sportive activities, trampoline, paint workshop and more.
10 – Security Tips
Try to change your jewelry by glitter and purses and backpacks by "dolar holders" or preferably fanny packs inside the clothes. Put documents, cell phones and money inside them. Avoid getting into streets other than the main ones. In the circuits there are signage plates with very visible numbers and letters. If you get lost, send a message to your friends telling them which of these plates you are close to, so it makes life easier for everyone.
We've prepared a perfect playlist for this experience. Listen now!