Many options for you to enjoy with your eyes and taste
Going to the Basilica of Nosso Senhor do Bonfim is one of the symbols of the Bahian capital. To make this tour even more enjoyable, Visit Salvador da Bahia brought together 10 restaurants near the Church of Bonfim. Before or after your trip to the sanctuary, we give you nice gastronomic options to make your tourist day complete.
1. Cantina Juliu's
If the idea is to eat before going to the Church of Bonfim, our tip is Cantina Juliu's. The canteen, located in Largo de Roma, is a cozy place, with tables indoors, on the veranda and also spread out on the sidewalk. In the best canteen style, with a simple look, the restaurant has already been awarded for its well-served and tasty dishes.
Seafood is the house specialty. The famous octopus salami (practically a carpaccio) is the most requested starter. And the best part: you can order it to be taken and cut at home. Shrimp fillet, seafood spaghetti and the award-winning gherkin, octopus and shrimp skewer are also worth it.
Service
Cantina Juliu's
Address: Rua da Galileia de Cima, Salvador, Bahia 40444-300, Brazil
Contact: (71) 3489-2935
2. Humaitá Restaurant
If you want a comfortable place with good food that can provide you with incredible visual experiences, Ponta no Humaitá is the place. At the Humaitá Restaurant, you can enjoy many delicacies such as moquecas, lambreta, fish and other regional dishes.
If you and your group are finishing the tour at the Church of Bonfim and everybody is hungry, you can call the restaurant's Whatsapp and place your order before arriving there, and they will prepare the food. Each wall of this building tells 400 years of history and the sunset there is one of the most beautiful in the city.
Service
Humaitá Restaurant
Instagram: @humaitarestaurant
Address: 54 Mont Serrat Street – Box 1 – Monte Serrat, Salvador – BA, 40425-550
Contact: (71) 99171-0724
3. Encantos da Maré
The Encantos da Maré restaurant, one of the delicious points of Bahian cuisine, is the result of the determination of chef Deliene Mota, known as Deli. The place is next to the Church of Nosso Senhor do Bonfim, in a colonial mansion, and from its balcony you have a breathtaking view of the Ribeira sea.
Among the most popular starters are shrimp breaded in tapioca and pineapple jam with pepper, made at the restaurant. The main dishes most requested are Terra e Mar – manioc puree with curd cheese, where on one side is shrimp with sauce and on the other is sun dried meat with onions in bottled butter – and seafood feijoada, a dish created by Deliene herself, which is a success with the public.
Service
Encantos da Maré
Instagram: @encantosdaare
Address: Rua Teodósio Rodrigues de Faria, 27 – Bonfim, Salvador – BA, 40415-085
Contact: (71) 98772-6375
4. Vila Criativa
The space, located in front of the Senhor do Bonfim Basilica square, has a craft shop, restaurant and café. The restaurant specializing in regional food is a great option, especially as it is close to the Church. At Café Literário, you have several book titles that tell the history of Bahian culture.
Service
Vila Criativa
Instagram: @vilacriativa
Address: Praça da Senhor do Bonfim Basilica
Contact: (71) 3011-0847
5. Dona Lili
Lili Almeida is a Bahian chef-communicator who presents, through food and words, the incredible flavors of Bahia. In her restaurant, she serves an authorial menu, and she also owns "Lili Almeida", a company that today embraces the Aula-Tour project at the São Joaquim Fair, where she teaches Afro-Brazilian culinary culture and inspires people through its history.
"For me, it's wonderful that my restaurant is in my house and I can receive my friends and my new friends in these different times, you know?", says Chef Lili Almeida.
Casa Dona Lili is located in a part of the Ribeira neighborhood that has been experiencing a moment of nostalgia, receiving more and more visitors. Currently, the sidewalk near the restaurant has been revitalized. For an exclusive dining experience at Dona Lili's restaurant, reservations are required.
Service
Dona Lili Almeida's Restaurant
@cheflilialmeida// cheflilialmeida@gmail.com
Address: Avenida Beira-Mar. Ribeira edge
Contact: for reservations – Whatsapp (71) 99984 3364 or Phone (71) 3487 7897
6. Recanto da Lua Cheia Bar
Top-quality food, facing the sea, great for groups. The fish is always very fresh, the beer is cold and the moquecas are always a good choice.
Recanto da Lua Cheia Bar. Rua Rio Negro, 2 – Monte Serrat, Salvador-BA, 40325-250
Contact: (71) 3315-1275
7. Pietro's Bar
There, you will find the natural beauty of the city and the delicious typical Bahian cuisine. Try to arrive early to get an oceanfront table! The patio has trees, making everything more pleasant.
Pietro's Bar. Rua Rio Negro, 6 – Pedra Furada – Monte Serrat, Salvador-BA
Contact: (71) 3316-3395
8. Caranguejo do Baiano
The Caranguejo do Baiano bar and restaurant, located on Praia da Boa Viagem, offers a wide menu of Bahian cuisine. This is an unmissable option in the Lower City, overlooking the Monte Serrat Fort, facing the sea. Open during lunch, happy hour or dinner hours. It has high quality music programming and feijoada on Sundays.
Service
Caranguejo do Baiano – Boa Viagem
Instagram: @caranguejodobaiano
Address: Rua da Boa Viagem, 219 – Monte Serrat, Salvador – BA, 40301-155
Contact: 71 99282-3719
9. Tijupá Restaurant and Bar
The restaurant is located at Saveiro Clube in Ribeira, a place with easy access. The environment is simple and pleasant, airy and with a beautiful view. We recommend the shrimp and crab moqueca with pirão, dendê farofa and rice as accompaniments. Tijupá is a 5-minute walk from the famous Sorveteria da Ribeira (Ribeira Ice Cream Parlor).
Service
Tijupá Restaurant and Bar
Instagram: @restaurantetijupa
Address: Rua Porto dos Tainheiros nº 9 | Saveiro Clube da Bahia, Salvador, Bahia 40421-580, Brazil
Opening hours: Tuesday to Sunday, opening at 11 am
Contact: 55(71) 3312-6536
10. Marina do Bonfim Restaurants
On the side of the Church of Bonfim, there is a slope that leads to Porto da Lenha Beach, on Avenida Beira-Mar. The bars and restaurants are very simple, but the view over the sea and the cuisine are top notch. At Marina Belvedere or Marina do Bonfim, one of the most famous dishes is sun dried meat with cassava pirão. The place, which is also known as Estaleiro do Bonfim, is shaded by almond trees, making it perfect for a beautiful evening.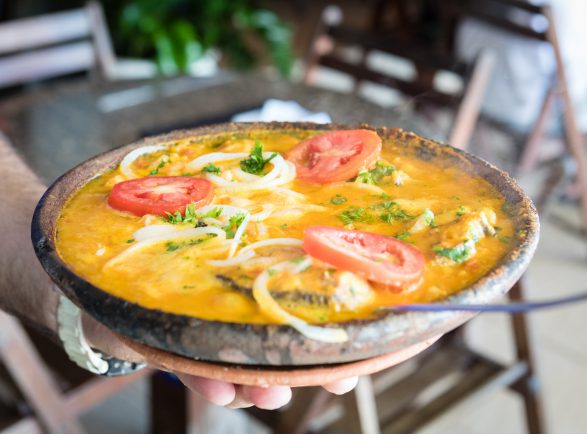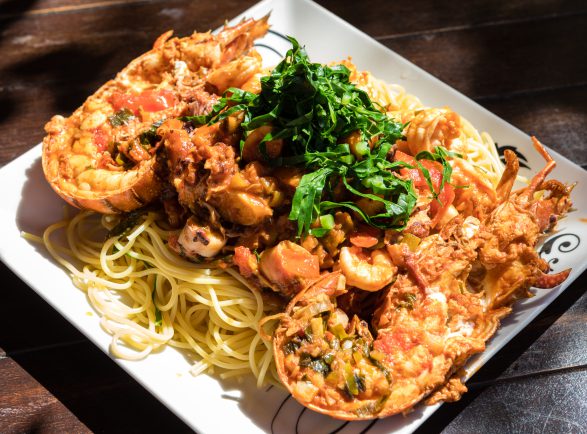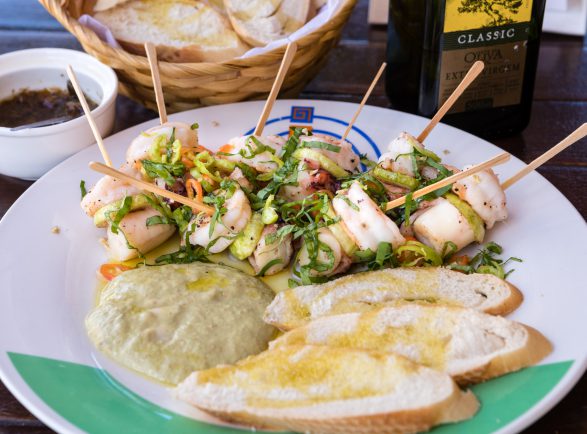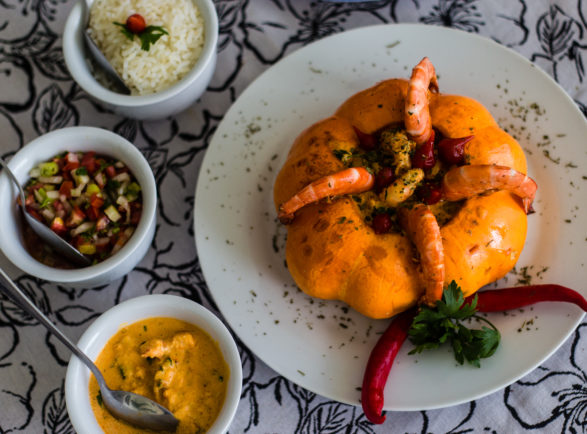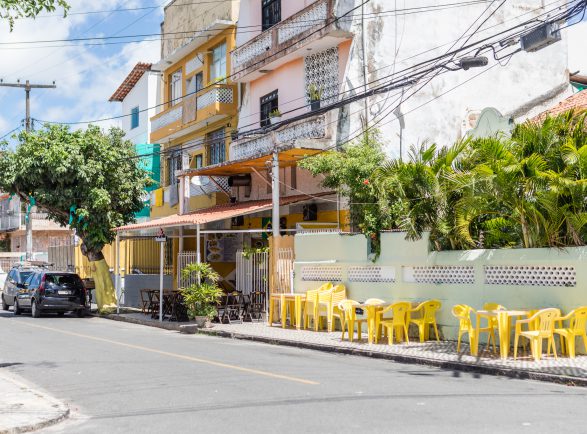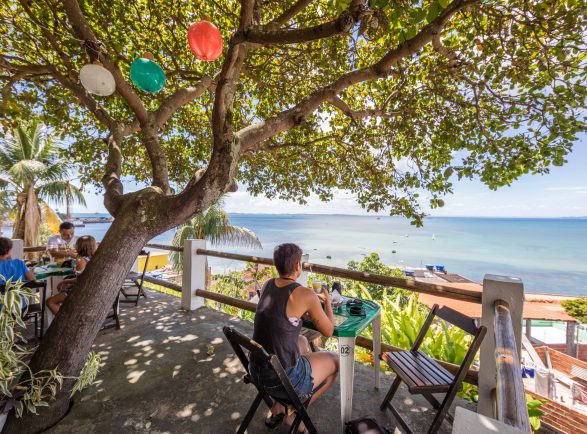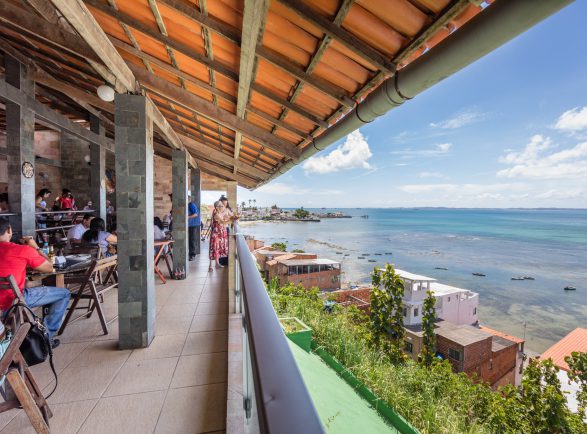 Moqueca. Pedra Furada. Foto: Fábio Marconi