The gastronomic (and ethylic) diversity of the Historic Center of Salvador
When we start organizing a perfect tour, it is normal to put on the list which museums, churches and cultural facilities we want to visit, which exhibitions we want to see, the facades to be photographed and even mentally program where we want to be at sunset. Of course there are those people who simply choose the neighborhood and go exploring, going from door to door and letting surprises guide them.
But there is one thing that is practically unanimous: always having a nice place to eat and hydrate. For some, sitting comfortably in a safe place is almost as important as the flavor of the chosen dish. For others, having good shade, chairs on the sidewalk and a cold drink is enough. There are still those for whom what really matters is the history of the place.
Here is a list of 10 bars and restaurants in Pelourinho, one of the most visited places in the city. Here you have from the most classic to the most recent, those serving Bahian food and international food. But, above all, pleasant places that show the gastronomic (and ethylic) diversity of the Historic Center of Salvador.
1. O Cravinho
Ver essa foto no Instagram
There are those peculiar drinks from Salvador that are always a trend. Cravinho is one of them. If you are in Pelourinho, you have to try it. A hallmark of open-air parties, this drink has cloves and cinnamon that bring a very full-bodied taste and aroma, which mask the presence of alcohol. So be careful with excesses.
One of the most famous places is the O Cravinho bar, named after its most famous infusion, located in Largo Terreiro de Jesus, in Pelourinho. The tavern-style bar is a hit of the Historic Center, and, in addition to the drink, it also serves a famous gizzard dish. Created in the early 1980s, it has four indoor environments, one of which is a small shop with various interesting items to tourists.
Service
O Cravinho
Largo Terreiro de Jesus – Pelourinho, Salvador – BA, 40026-010
It is located in Terreiro de Jesus, Pelourinho, 3, next to the Cathedral Basilica, in the Historic Center of Salvador.
Opening hours: Monday to Saturday, 11am to 10pm. Sunday, from 11am to 6pm.
E-mail: contato@ocravinho.com.br. Website: http://www.ocravinho.com.br
Phone: (71) 3322-6759 / 99314.6022
2. Zulu Bar and Restaurant
Ver essa foto no Instagram
The Zulu Bar and Restaurant is in the heart of the Historic Center to prove that the gastronomy of Pelourinho is not all about moqueca. Kidding! The moqueca is served here – and, by the way, it's very good. But our tip is the original and generous 100% handmade Burgers – which fillings and bread are produced in the restaurant's kitchen, as well as a wide variety of craft and special beers. Choose a table in the street and enjoy the best of Pelô: people here and there, going up and down.
Service
On Wednesdays at the bar, DJ Amar's performance, from 6pm to 10pm.
Rua das Laranjeiras, 15, Pelourinho
Facebook: https://www.facebook.com/barzulu/?rf=1623603167877281
Phone: (71) 98784-3172
3. Boteco do Pelourinho
Ver essa foto no Instagram
The biggest specialty of Boteco do Pelourinho is to serve ice-cold beer. With the tables on the sidewalk, the customer can also enjoy eating the most famous dishes of the place (moqueca, acarajé and sundried meat), while enjoying the view of one of the most famous neighborhoods in the city. You can take really cool photos with the Church of São Francisco in the background or the colonial mansions. Oh! Even though it's outdoors, you don't need to worry as they have an umbrella for each table.
Service
Address: Largo do Cruzeiro de São Francisco, 5 – Pelourinho, Salvador – BA, 40026-010
Opening hours: Wednesday to Sunday, from 12:00 to 21:00
Instagram: @_botecodopelourinho
More information: (71) 99989-1394
4. Cuco Bistrô
In Largo do Cruzeiro, one of the symbols of the Historic Center of Salvador, is Cuco Bistrô: a charming and elegant restaurant known for its sophisticated menu of regional cuisine. Just enter to feel the atmosphere of the place. Works of art by various popular artists are scattered on the walls.
Try the Vaquejada do Sertão dish: sun dried meat, rump heart, curdled cheese puree and black-eyed beans are part of this exclusive combination signed by João Silva. For caipirinha lovers, Cuco Bistrô has a special list of award-winning cachaças around the world, hand-selected by the Spaniard, owner of the establishment, José Iglesias.
Cuco Bistrô has a menu for trying out doses from other labels of this drink that is so Brazilian. Tourists from all over the world go there to try them out. You're not going to stay out of it, are you?
Service
Cuco Bistrô
@cucobistro
Largo do Cruzeiro de São Francisco, 6 – Pelourinho, Salvador – BA, 40020-280
Phone: (71) 3321.8722
Reservations are accepted. Good for events.
Opening hours: Monday to Saturday, from 11am to 11pm. Sunday from 11am to 5pm.
Accessibility: access ramp indoors, from the first hall to the second.
5. Mariposa Pelourinho
The Mariposa Pelourinho restaurant is located inside Casarão 17 (@casarao17), a multifunctional space that brings fashion and gastronomy together. This space from the Mariposa chain, known for offering light and tasty food, was designed to make an impression on the customers from the beginning to the end of their experience. It has a contemporary and sophisticated menu, with varied options for lunch and dinner and all tastes can be catered for.
Are you craving some Japanese food in the heart of Pelourinho? Right away! At Mariposa, you can also enjoy great options of Japanese cuisine on the menu. Want juice? Choose the "Refrescante": orange, pineapple, kale, honey and ginger. A true elixir of a healthy life. If the tour is in a group, you can opt for the Pout-Pourri, a board with all the entries in the house, ideal for sharing. For vegans and vegetarians, the house also has a menu designed for this audience.
Service
Mariposa Pelourinho (coffee, food and music)
@mariposapelourinho
Largo Terreiro de Jesus, 17 – Pelourinho, Salvador – BA, 40026-010
Phone: (71) 3321-3749
Opening hours: Sunday to Tuesday, from 11:30 am to 4 pm. From Wednesday to Saturday, from 11:30 am to 9 pm.
6. Pelô Bistro at the Casa do Amarelindo hotel
Even with all the cultural excitement around, the Casa do Amarelindo hotel offers its guests the privilege of staying in a true haven of tranquility and comfort. In a relaxed atmosphere during the day and charming at night, the restaurant – also open to passers-by – proposes tasty tropical-inspired cuisine with a French touch.
Local ingredients are always highlighted, especially fish and seafood dishes. The wine list gives preference to South American labels, with a focus on Chilean and Argentine wines. It's also open for breakfast, from 7am to 11am.
Pelô Bistrô is located on the ground porch, with two patios of tropical vegetation illuminated by natural and indirect light. Before the pandemic, the panoramic terrace was transformed into a rooftop bar, excellent for a drink at sunset. We really hope the terrace opens to passersby again soon.
Service
Pelô Bistrô at the Casa do Amarelindo hotel
Opening: every day from 7 am to 9:30 pm.
Rua das Portas do Carmo, 6, Pelourinho. Salvador, CEP 40026-290, Brazil
Contact: +55 71 3266-8550 / 98890-2086 / info@casadoamarelindo.com
Phone: (71) 3266-8550
7 and 8. Pelourinho has famous moquecas
Ver essa foto no Instagram
The Odoyá restaurant, located in Largo de São Francisco, is a mandatory stop for anyone visiting the Historic Center. The place has a spacious and pleasant environment, in which customers have an inside view of the kitchen and can see the chefs preparing the dishes that will be served. The individual moqueca can easily serve two people.
Another option in Pelourinho is the Sorriso da Dadá restaurant, run by Dadá, one of the most famous cooks when it comes to Bahian food. The mahi mahi moqueca is one of the most requested in the restaurant, garnished with rice, farofa and pirão.
Service
Odoya Restaurant
Address: Largo do Cruzeiro de São Francisco, 1 – Pelourinho, Salvador – BA, 40020-280. Phone: (71) 3322-7892
Sorriso da Dadá Restaurant
Address: Rua Frei Vicente, 5 – Pelourinho, Salvador – BA, 40026-030
Phone: (71) 3321-5819
9. Restaurante Escola Senac (Senac School Restaurant)
Considered one of the best buffets in the city, at the Senac School Restaurant you can taste the best dishes of Bahian cuisine in a colonial mansion, located in one of the most visited tourist spots in Salvador: Largo do Pelourinho, a listed region in the Historic Center of Salvador. There are 40 dishes, 12 different desserts and coffee included.
There you can find the Museum of Bahian Gastronomy, an initiative of Senac-Bahia, which seeks to value the different food systems of Bahia in historical, cultural, social and gastronomic contexts. Its mission is to inform, value and publicize the food of Bahia in its most varied contexts, with a focus on the heritage view added to the gastronomy view.
In the restaurant-museum-school, visitors can eat a rich and varied menu of savory and sweet dishes, which attest to the cuisines that range from the Recôncavo to the Sertão.
Service
Museum of Bahian Gastronomy
Location: Praça José de Alencar, 13/19 – Largo do Pelourinho, Salvador – BA
Opening hours: Monday to Saturday, 12pm to 3pm.
Phone: +55 71 3324.8118 / (71) 3324-8101
Website: http://www.ba.senac.br/museu
E-mail: museum.gastronomia@ba.senac.br
10. Poison Drinkeria Club
Ver essa foto no Instagram
This bar is becoming more and more known for being different, creative and frequented by a very nice crowd. With a differentiated service, it receives all kinds of public, being affectionately called "buraquinho" (little hole) for being in a peculiar place: in the basement of the house of the Third Order, dating from the 17th century.
This Nightclub Bar in Salvador serves good drinks, Japanese food, quiches and alcoholic brigadeiros. The music is on account of the DJ and producer Zigor Improta and performances by local artists.
Service
Instagram: @poisondrinkeriaclub
Open from Wednesday to Sunday, starting at 5 pm
Minimum consumption entry: R$20.00 – Minimum Age: 18
Address: Rua da Ordem Terceira, 7- Pelourinho, Salvador, BA
Phone: (21) 97966-4839
Another….
This bar is outside Pelourinho, but is in the Historic Center. Let's agree that it is so close to the "boundary", that it's worth breaking our own rule (lol).
Malembe Food & Drinks
Ver essa foto no Instagram
Malembe is located on the way up Ladeira do Carmo, close to the steps of Passo Church. It's a bar with diverse drinks, international, Brazilian and vegan food. There are indoor tables or high benches on the sidewalk.
The suggestion is to reserve your table to watch Rosa Morena's show, "Orgulho de ser rosa". Order a drink based on cachaça, aperol, passion fruit and ginger. To eat, choose "barquinha de siri" (crab), or "Bacalhau à Moda Porto" (codfish), made with a slice of browned cod accompanied by oven-roasted vegetables. Another good choice is the Angola dish, "Moamba de Ginguba", prepared with chicken, okra and peanuts.
Service
Malembe Food & Drinks
Instagram: @malembesalvador
Opening hours: Wednesday to Saturday: 3:00 pm – 11:00 pm Sun: 12:00 pm – 9:00 pm
Address: Ladeira do Carmo, 7 – Santo Antônio, Salvador – BA, 43301-410
Attention to the protocols:
You can already go out on the street, but the safety protocols against COVID-19 must be maintained
The city hall of the Bahian capital began the green phase of the "Plano Salvador" for the resumption of economic activities, and since July 23, the city's bars and restaurants began operating until 12:30 am. Remember that the use of a face mask and 70º alcohol are still necessary to avoid Covid-19 contamination. You can only remove the mask when eating or drinking. If you need to walk around the bar, wear the mask.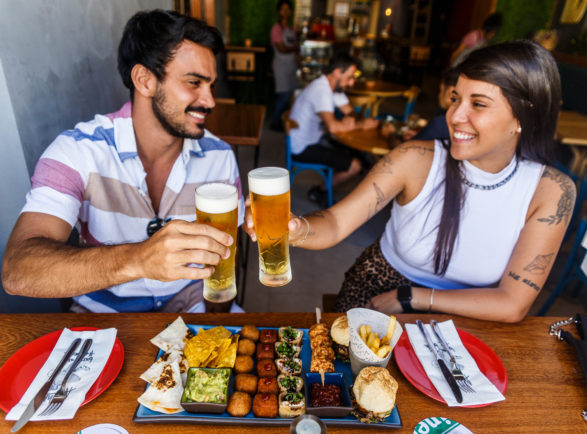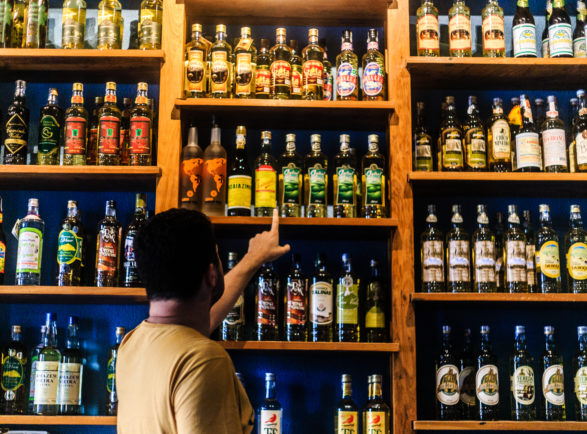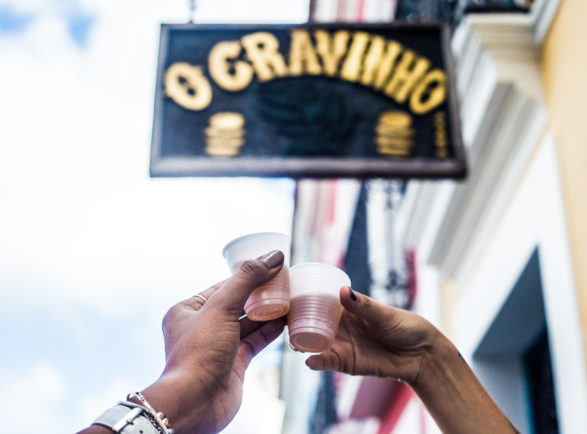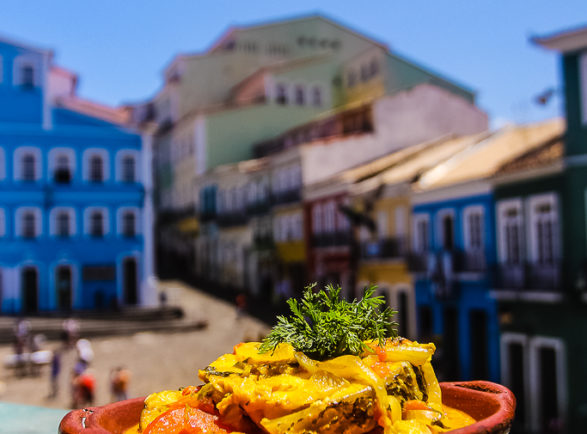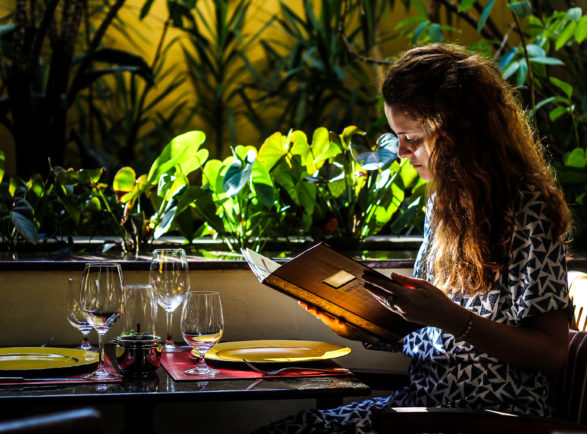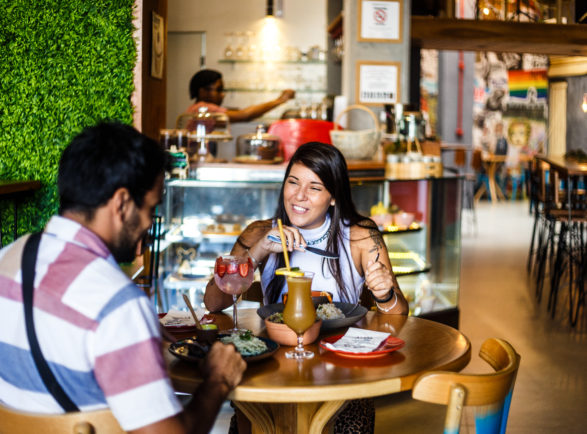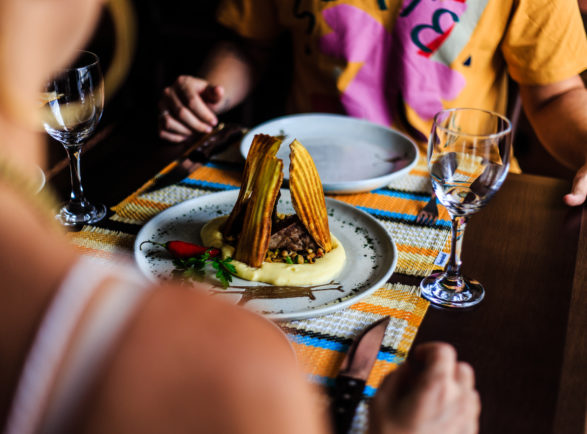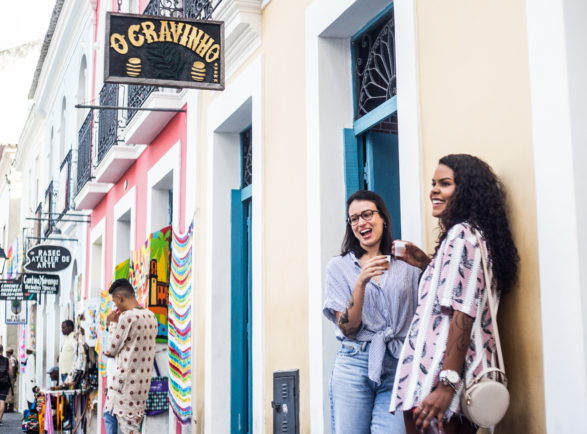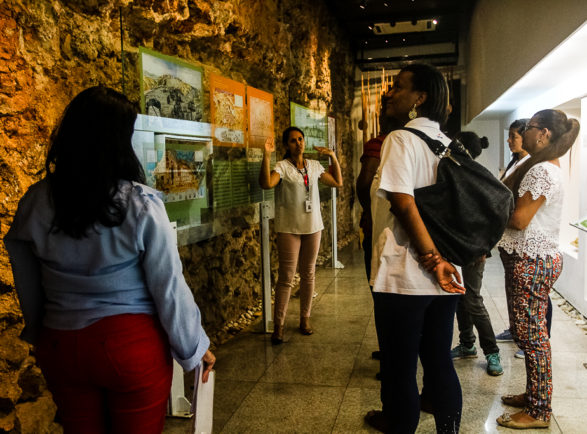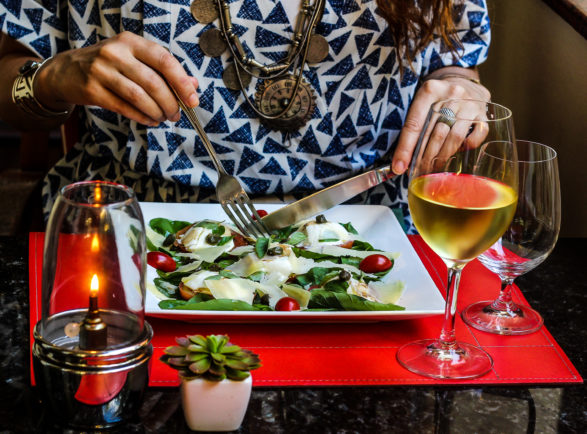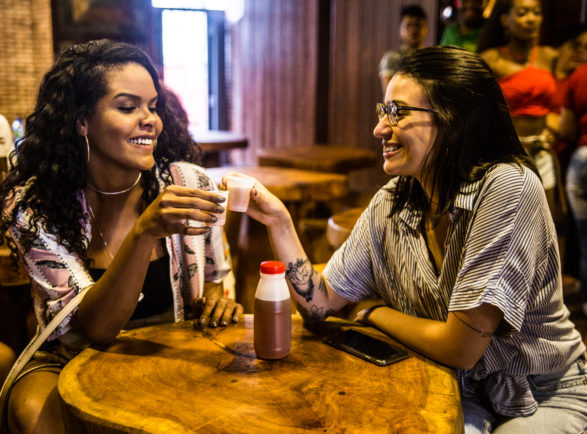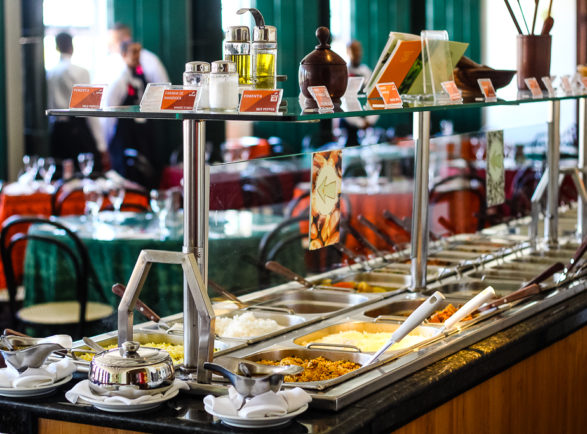 Mariposa Pelourinho. Salvador, Bahia. Foto: Amanda Oliveira.