The charming neighborhood at the Historic Center has an excellent gastronomic route
Located in Salvador historic center, Santo Antônio Além do Carmo neighborhood is within walking distance of Pelourinho. As well as its neighbor, Carmo has colorful historic houses, many inns, some art galleries and a profusion of friendly restaurants and bars that offer different types of gastronomy.
In this itinerary, we present six dining options ranging from contemporary and African food, to vegan food and classic bars.
We've prepared a perfect playlist for this experience. Listen now!
Charm and simplicity at Poró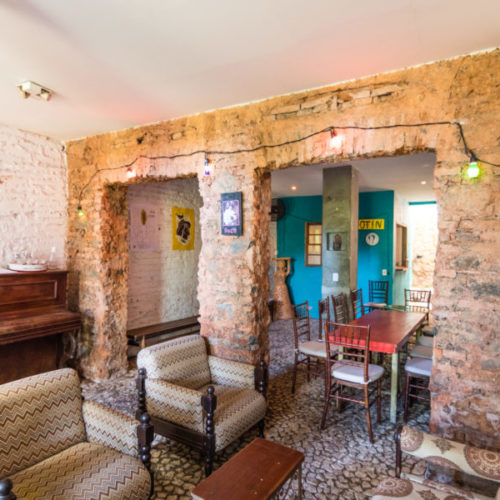 We start with Poró's charm and simplicity. The Brazilian food restaurant has an atmosphere that mixes colorful umbrellas and flowers in an explosion of colors that harmonize with the menu flavors.
Try the Costelinha Bêbada, which comes with two strips of pork ribs roasted in caipirinha accompanied by sweet potato fries, farofa and sautéed kale. Or fresh grilled sea bass with yam vatapá. Finish off with the delicious banana dessert with cinnamon ice cream.
Service
Poró Restaurant
Address: Rua do Carmo, 13 – Santo Antônio Além do Carmo, Salvador – BA, 40301-380
Opening hours: from Tuesday to Sunday, from 12:00 pm to 4:00 pm and from 7:00 pm to 11:00 pm.
A classic neighborhood bar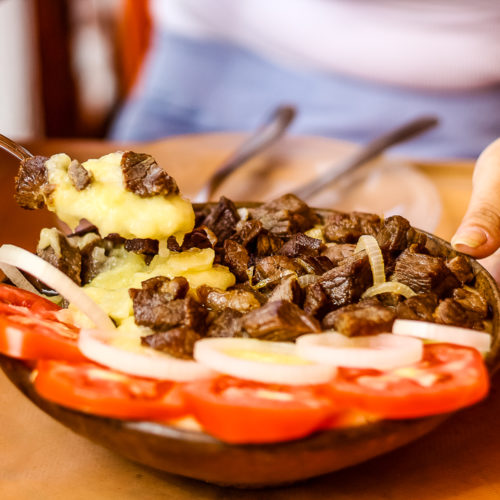 Cruz do Pascoal Bar is a kind of classic bar that serves regional menu in an informal atmosphere, as well as keeping original emporium time objects, especially a large metal cash register machine with buttons and keyboards.
Founded in 1952 by the Spanish Porfírio Amoedo, Cruz do Pascoal Bar is famous for its cold beer, tasty snacks and the privileged and highly disputed view of the Lower City and All Saints Bay. The bar is frequented by artists, bohemians, tourists, citizens and the neighborhood residents.
Service
Cruz do Pascoal Bar
Address: Rua do Carmo, 2 – Santo Antônio Além do Carmo, Salvador – BA, 40301-405
Opening hours: Tuesday to Saturday, from 1:30 pm to midnight.
Phone #: (71) 3243-2285
Vegan Meals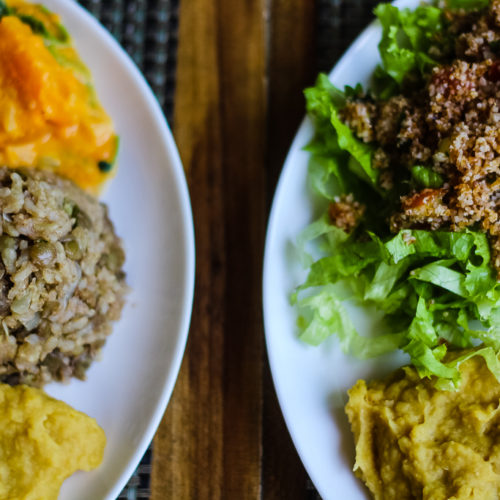 Rango Vegan is a 100% vegetarian restaurant. It was born in 2006, formed by women that aimed, through a work in cooperation, income generation linked to the vegan philosophy. The menu is varied and the price super inviting, with a fixed value, which includes salad, main course and a glass of juice.
One of the most requested dishes is the delicious vegan boliviano. For those who still enjoy meat, this is the best option because the taste is very close. Also try the seaweed burger, the shitake bobó with vegetables, and the tofu pie with seaweed. And to sweeten it, the chocolate pie with whipped cream and strawberry and the juice made of mango, passion fruit and ginger. To top it off, the restaurant is cozy and has a space with ocean view.
Service
Rango Vegan
Address: Rua do Passo, 62 – Santo Antônio Além do Carmo, Salvador – BA, 40301-408 (close to Passo Church).
Opening hours: Sunday and Monday, from 12:00 pm to 3:00 pm. From Tuesday to Friday, from 12:00 pm to 8:00 pm. Saturday: from 12:00 pm to 11:00 pm.
Phone #: (71) 3488-2756 or (71) 9 8601 9673
Email: contato@rangovegan.com.br
African food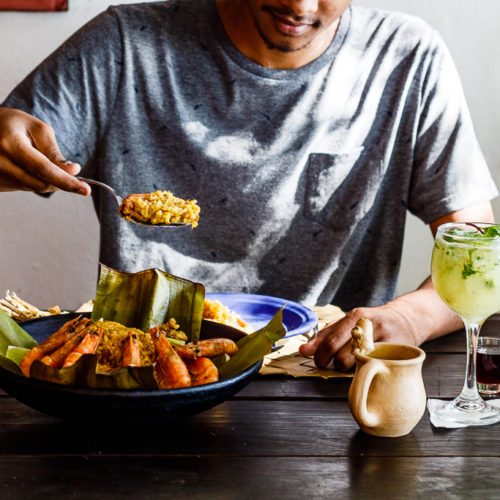 Zanzibar is a delicious gastronomic experience that transits between Africa and Brazil. The cuisine features exotic dishes such as the African "ébubu fulô" – fish seasoned with ginger and shrimp sauce and banana puree; the unmissable Auca Rice with prawns; or the "Bahian" and tasty shrimp with tomato sauce and "dedo de moça" pepper, served with sweet potatoes and okra.
The house has menu inspired by Benin, Africa. The decor is beautiful, the tables are colorful and well set, religious syncretism is everywhere. Afro-Brazilian food with a view of the All Saints Bay!
Service
Zanzibar
Opening Hours: From Thursday to Saturday, from 12:00 pm to 11:00 pm. Sundays, from 12:00 pm to 6:00 pm.
Address: Rua Direita de Santo Antônio, 60, Santo Antônio Além do Carmo, Salvador. Next to Boqueirão Church.
Phone #: 71 98226-3750.
Good music, tasty food and artisanal beers.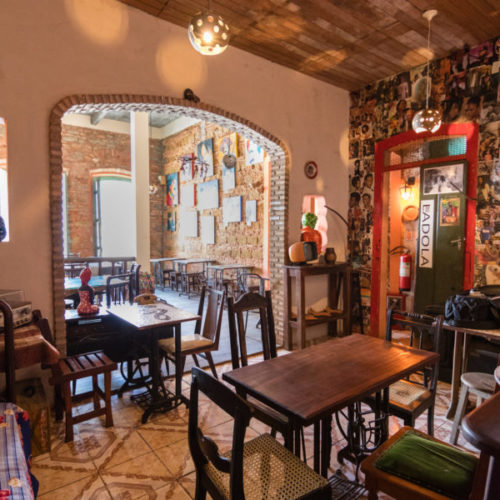 The ancient tiles facade works like the cover of a book that surprises at each page: so is the Venetta Cultural Space. More than a restaurant that serves delicious dishes like maniçobas, feijoadas and tropical drinks, the place is a meeting point for artists, exhibitions, DJs, and all types of culture, resistance and light in the city.
The restaurant spaces please different tastes, from the front porch to the terraces in the backyard. Antique objects make up the house decoration. The menu is simple, but the dishes are very well executed. Typical dishes are served in clay bowls, a charm apart. A restaurant for all the senses!
Service
Rua dos Abôdes, 12 – Santo Antônio Além do Carmo, Salvador – BA, 40301-282
Opening hours: from Wednesday to Friday, from 6:00 pm to midnight. Saturday from 12:00 pm to midnight. Sunday, from 12:00 pm to 6:00 pm.
Cold beer, fried fish and sunset at Carmo!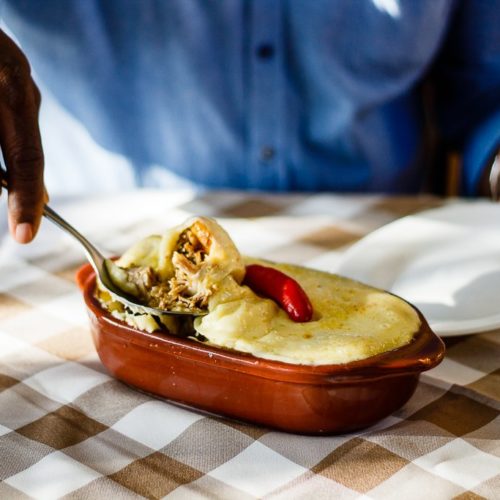 The well-preserved façade, painted in royal blue with white details, is already an indication that the place will offer a beautiful program. Ulisses Bar has already become a tourist attraction in Salvador Historic Center. Great service, tasty Bahian food, well prepared caipirinha.
Start with the angel hair noodles fritter, go ahead with the fried fish, famous for its "crunchiness" and, to top it off, order a beer that is always (repeating: ALWAYS) very cold! It's worth watching the sunset from the balcony. The view of All Saints Bay is spectacular! Ah! And if there is a waiting line, it's worth the tip to feel local: start taking one of the famous drinks already on the sidewalk… Feel the place's "vibe"!
Service
Ulysses Bar
Opening Hours: Tuesday to Saturday, from 11:30 am to 11:00 pm. Sundays and holidays, from 11:30 am to 5:00 pm.
Address: Rua Direita do Santo Antônio, 541. Largo do Santo Antônio Além do Carmo, Salvador, BA. CEP: 40301-280
Contact: (71) 3014.0130 / falecombarerestaurante@gmail.com / Instagram: @barulisses / www.barulisses.com.br