With a beautiful view of the All Saints Bay, the place is perfect for your social or corporate event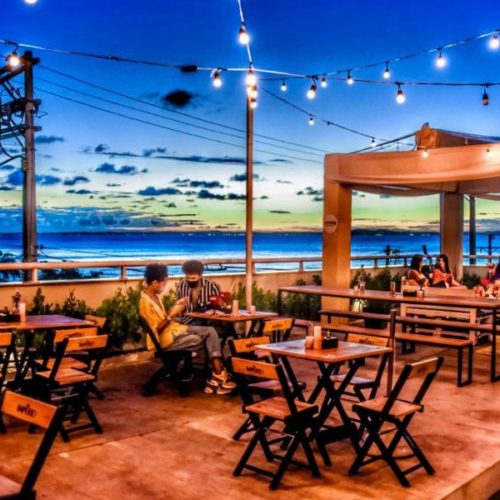 Casa Cloc. Vila do Bem. Salvador Bahia. Foto: ELIAS DANTAS.
Opposite the Museum of Modern Art (MAM) and Bahia Marina, Casa Cloc Ceremonial invites you to hold your social or corporate event with the most splendid view of Salvador. The event house, located on the slopes of Avenida Contorno, in front of the natural beauty of the All Saints Bay, is perfect for events such as weddings, graduations, cocktails, exhibitions, small fairs, among others.
The space is fully air-conditioned, soundproofed and was planned to receive an audience of up to 450 people. On the balcony, with a privileged view of the sea, you can enjoy a sunset considered to be one of the most beautiful in the world. The space also has a structure for sound and scenic lighting, has double ceiling height and mezzanine with VIP space.
In addition, considering this period of pandemic and adaptation to the current moment, the place will soon have gardens in the outdoor area. The space also has an independent bar with a vertical freezer and two coolers; host and artist spaces; nursery; toilets; waste deposit and work uniforms.
Learn about this and other ceremonials on this link.
Vila do Bem – one of the events that take place there
Vila do Bem is a gastronomic project by Oquei Entertainment that provides the public with the opportunity to taste life outside home, with comfort, pleasure and safety.
With two environments, one outdoors and a covered space, the gastronomic village has the expertise of Mirella Ferreira, from Arte Bar, who prepared a special menu, capable of pleasing different palates, from the simplest to the most demanding, with drinks menu and a portfolio of special beers.
Security protocols
Strictly following all safety protocols of the Municipality of Salvador, the objective of the Vila managers is to provide a safe and pleasant experience for everyone. Among the requirements: it is not allowed to enter the place without a mask or get up from the tables to circulate without them; everyone who arrives at the site will have their temperatures measured; alcohol gel dispensers will be available in all spaces for collective use; 1.5m spacing between tables.
Service
Casa Cloc, Avenida Contorno
Address: Ladeira do Gabriel, 334 – Dois de Julho
Telephone: (71) 4104-6286
Instagram: @casacloc
facebook.com/casacloc
E-mail: casacloc@casacloc.com.br
Website: www.casacloc.com.br
Vila do Bem
Opening: Wednesdays at 12:00 pm. Thursdays at 4:00 pm. Fridays, Saturdays and Sundays: at 12:00 pm
– The space offers valet parking
More information to the press: MC COMMUNICATION
Journalist in charge: Mônica Carvalho.
Contact: (71) 99985.2190