Where the fine sweets are the stars! Entremets, macarons, pies, special bonbons and more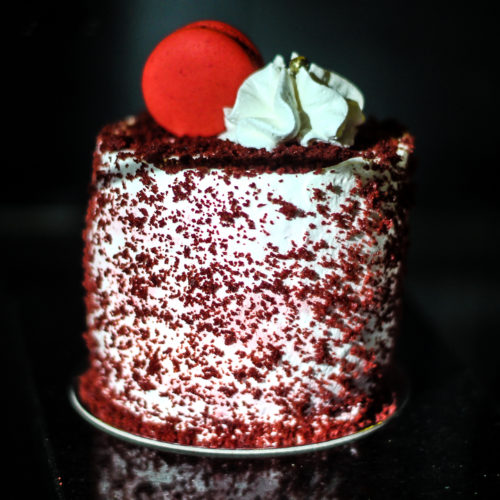 A well-built window display, so sophisticated and colorful that seems to be showing jewelry. At Thiago Sá Confectionery, the special chocolates, macarons, cakes, brigadeiros and other sweets are the stars of the menu, as well as the beautiful – and trendy – entremets, pies inherited from French cuisine.
The sweets aesthetics calls attention. Thiago Sá fell in love with the "culinary art", precisely the area of the gastronomy of hot dishes specialized in being fancy, with well-designed and more elaborated dishes. Thiago loves the techniques of each dish. He soon realized that his passion was the confectionery.
This story began in 2016 with a radical change. Thiago Sá worked in the construction sector until he left everything and invested in gastronomy, his great passion. It was on a course at Senac that he began his career. Later, he decided to go to São Paulo, where he studied with Chef Diego Lozano, until he left for Spain where he spent four months training with the award-winning Jordi Bordas.
Back in Salvador, the initial intention was to teach confectionery, but he was encouraged by his family to follow his heart and do what he really loves, and so he opened the confectionery that bears his name. The commercial spot has just completed one year in May 2019. Today, the place also holds events, receives birthday celebrations, bachelorette parties, and develops unique candies on demand.
Among the chef's suggestions there are: Confeitaria Thiago Sá – chocolate biscuit, hazelnut and almond crunchy, creamy chocolate and a chocolate mousse. A burst of chocolate! But believe me, it's light and not very sweet. The cheesecake, which has a mix of flavors, with creamy strawberry and crispy biscuit. There's also the Tropical, a coconut biscuit, hazelnut and almond crunchy, creamy mango and passion fruit and a coconut mousse. In addition to the aesthetics, the size of each unit has also been thought so that people can eat more than one and get to know different flavors.
The kitchen is practically open, with a glass wall. It's like this so that gastronomy lovers can see the process until it is served, which gave a charm in the decoration, with a pass-through facing the hall. The finalization of cakes decoration, for example, happens right in front of this "window", making everyone's mouth water before even going to the window display.
"This way I feel closer to my clients, especially because I like to hear their opinion, I go to the tables, I ask what they like. I have faithful customers, who at least once a week are here", Thiago explains.
There are always news, especially on Sundays, a day he calls "free day" for creations that aren't often repeated. There are savory snacks in the menu. It is worth tasting the coxinha made with shrimp dough and crab stuffing, crumbed with panko, exclusivity of the house. Another one is the coxinha filled with dried meat and banana, crumbed in tapioca. The Italian soda is also a good order, as well as the coffee.
Caption 1 – Entremets, super trendy tartlets inherited from French cuisine.
Caption 2 – Milk caramel cream, cashew nuts biscuit, a chocolate cream, milk caramel mousse and milk caramel icing.
Service
Thiago Sá Confectionery
Address: Rua Território do Amapá, 56 – Pituba, Salvador – BA, 41830-540
Opening hours: Tuesday to Sunday, from 11am to 8pm.
Phone: 71 3033-5050
We've prepared a list of perfect songs for this experience. Listen now!