Tradition, creativity and flavor
70's ice cream shop keeps reinventing itself in a seafront setting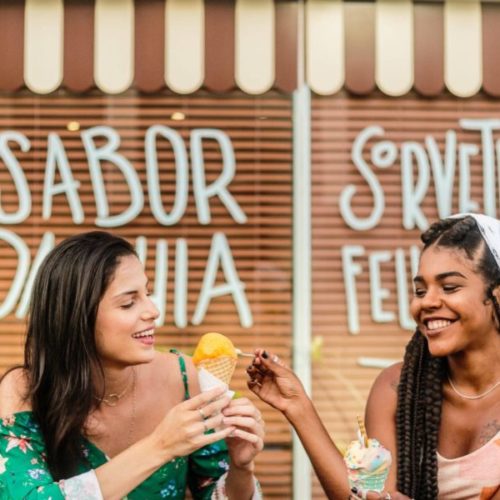 Sorveteria da Barra. Salvador, Bahia. Foto: Amanda Oliveira .
When strolling along Barra's boardwalk, pay attention to a charming, super-inviting shop that faces the sea, near Christ's Hill. This is Sorveteria da Barra, a traditional handcrafted ice cream house created in 1974. With a modern retro style, full of color and visual detail, the ice cream shop offers more than 30 flavors, including sugar-free and milk-free options.
Those who visit Salvador can't miss the chance to try the many flavors of Bahia. At Sorveteria da Barra, under the care of Ice Cream Master Marcio Assis, the menu is full of juicy fruits from our state, natural riches that make all the difference in the composition of ice creams.
Cajá, mango, cupuaçu, green coconut, mangaba, strawberry from Chapada Diamantina and a dozen other raw materials catch the attention of those who arrive. The fruit ice creams have no added milk. But is it creamy? Yes, and a lot! Made with water, using traditional house technique, they have a texture that delights any customer.
The ice cream sundae of Sorveteria da Barra is also a big hit. There are two balls of ice cream with three syrups, grained peanut, cherry, cookie and whipped cream. Another good option is Bricellet da Barra, with cookies produced by the Benedictine Nuns of the Convent of Salvador, with two balls of tapioca or vanilla ice cream, truffled chocolate syrup and grained peanut. Try it, because this is the only ice cream shop in town where you'll find this extraordinary mix.
On special occasions, ice cream gets exclusive and commemorative versions. It happens on Christmas, Father's Day and Mother's Day, on the arrival of summer and on Children's Day. In the latter one, for example, the house bet on a Unicorn ice cream: blue, pink and yellow with flavors of cotton candy, tutti-frutti and cream, respectively, which when mixed together formed a pulsating rainbow. It even had a special edition for reasons of: popularity.
Another good option of the house is Barra Cake, traditional cake with four flavors that comes with a coffee with ice cream. And speaking of coffee, it is important to know that the house has a menu for those who want to spend some time looking at the sea and sipping the indispensable coffee.
The darlings of the house are the ice cream tastes Pitanga Roxa, Dulce de leche Argentino and Rafaello, with white Ferrero Rocher. They say the Gil family always asks for that coconut darling. You can bet, because you will love it too!
Service
Sorveteria da Barra
@sorveteriadabarra.oficial
Phone #: (71) 2132.5999
Barra
Ed. Expresso 2222. Av. Oceânica, 683 – Lj 1, Barra, Salvador – BA, 40.140-130
Bahia Marina
Lafayete Coutinho Avenue, 1010 Comércio, Salvador – BA, 40.015-160
Opening hours: Monday to Thursday, from 11am to 9pm. Friday and Saturday from 10am to 10pm. Sunday from 10am to 9pm.