Salvador Suburb impresses with its natural beauties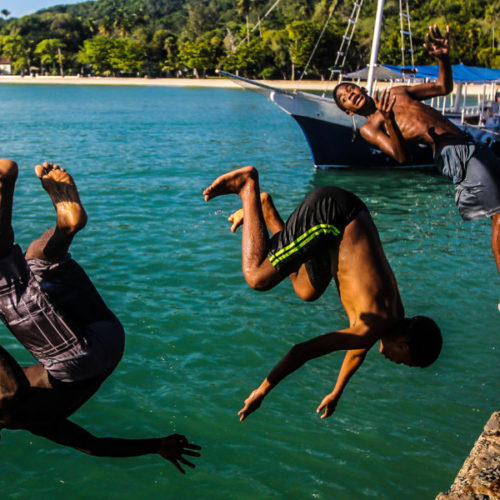 Located in the Railroad Suburb of Salvador, São Tomé de Paripe Beach impresses by its beauty. The water is calm and warm, coming from All Saints Bay, and the place is very cozy, with organized street vendors and parking space along the seafront. The beach is surrounded by bars and restaurants and there are lots of people on weekends, mainly locals.
São Tomé do Paripe is located at the southern end of Salvador coast. The calm and shallow sea is ideal for those who can't swim and for children and also for water sports, such as windsurfing, water skiing and kayaking. There is a small pier from where boats leave daily for Ilha dos Frades and Ilha de Maré, within All Saints Bay.
Like São Tomé de Paripe, Tubarão Beach, leaving from Salvador Monastery, is also part of the Suburb of Salvador seaboard. The seafront was completely renovated by Salvador's City Hall in 2014. The beach is near Aratu Naval Base, where Inema is located, nicknamed "The Presidents' Beach", as it has become some of Brazil's governors destination. Inema is the most famous area nationally; it is in the Navy's restricted access land. The way to get to Tubarão is the same one used for São Tomé de Paripe.
Service
To get to São Tomé de Paripe Beach you have to follow the BA 528, popularly called the road of Departamento de Estradas e Rodagens da Bahia – DERBA (The Road Department of Bahia). Another option is to follow the BR-324, through Águas Claras viaduct. The road has signs, but watch out for speed reducers as the roads cut suburban neighborhoods.
From there to the islands – To get to the islands beaches, a direct boat from São Tomé de Paripe costs from R$ 5.00 on. See other prices ​​and routes at the place.
Islands – How to get there
Adval Viagens e Turismo
www.advalturismo.com.br
Phone #: (71) 3328-0332 / 3329 4834 / (71) 98802 1375
Adval Viagens e Turismo is a local receptive agency with proven professional competence in the national tourist market as well as the international receptive. It offers tours to Ilha dos Frades and Itaparica and throughout Salvador, showing its history and its natural beauties.
We've prepared a perfect playlist for this experience. Listen now!