Delicious meals and fair price at one of the few vegan restaurants in town.
Rango Vegan is a 100% vegetarian restaurant located in Santo Antônio Além do Carmo, a neighborhood full of charm and cultural tradition, in the historical center of Salvador. It was born in 2006, created by women that aimed, through a cooperation work, the generation of income linked to the vegan philosophy. It has a diversified menu and the price is very inviting and fixed, including salad, main course and a glass of juice. For some people, veganism is a movement, for others, a philosophy. With that in mind, workshops are also offered for those who want to learn how to cook.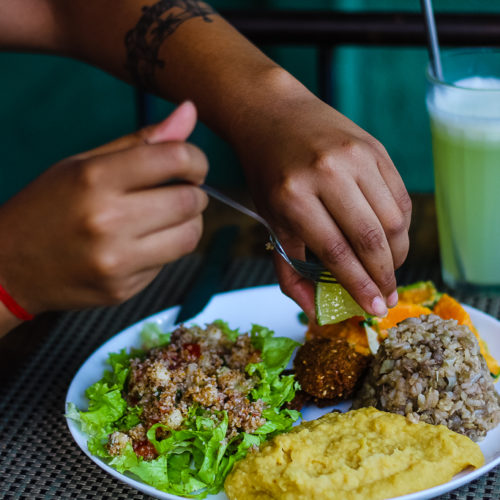 Rango Vegan no Santo Antonio. Foto: Amanda Oliveira.
One of the most requested dishes is the delicious vegan boliviano. For those who still enjoy meat, this is the best option because the taste is very similar. Also try the seaweed burger, the shitake bobó with vegetables, and the tofu pie with seaweed. Other treats include the palm heart coxinha, and the soya burger with unbelievable vegan mayonnaise and beetroot. And to sweeten it, the chocolate pie with whipped cream and strawberry, and the mango, passion fruit and ginger juice. In addition, the restaurant is cozy and has a space overlooking the sea.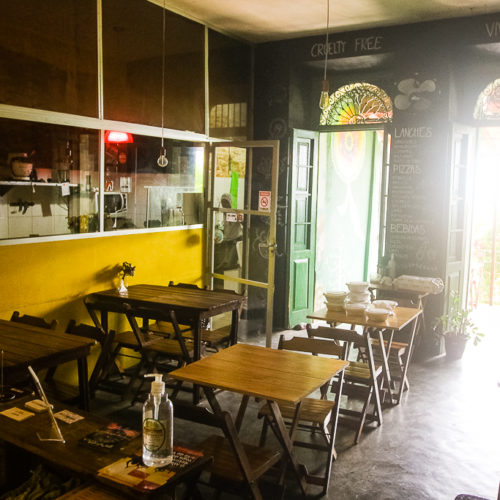 Rango Vegan no Santo Antonio. Foto: Amanda Oliveira.
If you become a fan of Rango Vegan's seasoning, just call, they deliver your lunch wherever you are! You can have your meals at home, at work or wherever else you want. From Monday to Friday, right on your doorstep. Another alternative is the ordering of sweets, pies and snacks for get-together parties: salpicão, boliviano and strawberry cupcake are examples of vegan suggestions for events.
It has complete options for your buffet, all 100% vegetable. In addition to the classic sweets and salads, they offer gluten-free and sugar-free options. Do you think it's over? No, no! They also run home-based consulting, with all the facility of cooking in your home, combined with the efficiency of a menu specially designed for your daily life and possibilities.
Service
Rango Vegan
Address: Rua do Passo, 62 – Santo Antônio, Salvador – BA, 40301-408 (near Igreja do Passo).
Opening hours: Sunday and Monday, from 12:00 pm to 3:00 pm. From Tuesday to Friday, from 12:00 am to 8:00 pm. Saturday: from 12:00 pm to 11:00 pm.
Phone: (71) 3488-2756 or (71) 9 8601 9673
Email: contato@rangovegan.com.br