Revitalization rescues part of Salvador's history and culture
After 20 years closed, Palácio da Sé, located in the Historic Center of Salvador, returns to the daily lives of residents and tourists after the revitalization process. This is another important space for popular visitation in the city, now as a Cultural Center, either because of all its historical content, or because of its privileged location. Commanded by the Human Development Institute (HDI) and Father Abel Pinheiro, the restoration process took five years.
The visitation is wonderful and we recommend the guided tour, so you won't miss any information and end up learning even more about your city, enjoying rare and beautiful pieces, since the time of discovery. The team will tell you every detail. The photographic tip is to choose one of the "big windows" that provide an incredible view of the All Saints Bay.
The Palace's ground floor now has an area available for traveling exhibitions and corporate events, allowing the sustainability of the place. The first floor houses the permanent exhibition "The Church and the formation of Brazil", with its own collection and historical goods remaining from other religious buildings, such as the old Sé Cathedral, demolished in 1933 to make way for the current Praça da Sé .
The first floor also houses the room of the Conservation and Restoration Laboratory Reitor Eugênio Veiga (LEV), exhibiting important historical documents restored with the mission of preserving, researching and disseminating the documentary collection of the Catholic Church in Brazil. The collection has more than 16 thousand documents, among those restored and not restored.
On the second floor, the Administrative Center of the São Salvador da Bahia Archdiocese will soon be working, with a permanent collection, the old Igreja da Sé chest, the gallery of the Bishops and Archbishops of Bahia and Primates of Brazil. The space will also have an area dedicated to Archbishop Sebastião Monteiro da Vide, responsible for the Palace construction.
The archbishop's services and hearings will also be held at the place, as well as secretaries of the Archdiocese's administration, an episcopal chapel, a library and a conference room.
Service
Palácio da Sé Cultural Center
Website: www.palaciodase.org.br (https://www.palaciodase.org.br/)
Instagram: @palaciodase
Address: Praça da Sé, 203-47 – Centro Histórico, Salvador – BA, 40020-210
Opening hours: Tuesday to Sunday, from 10 am to 5 pm.
Phone #: (71) 3838-9987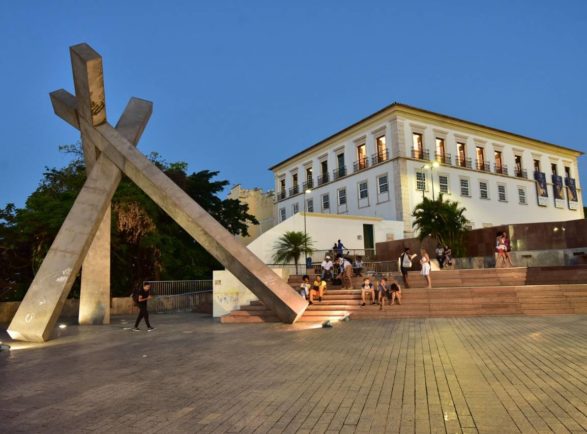 Palácio da Sé. Centro Histórico. Salvador Bahia. Foto Max Haack. Secom.