A story full of personal fulfilment, creativity and good work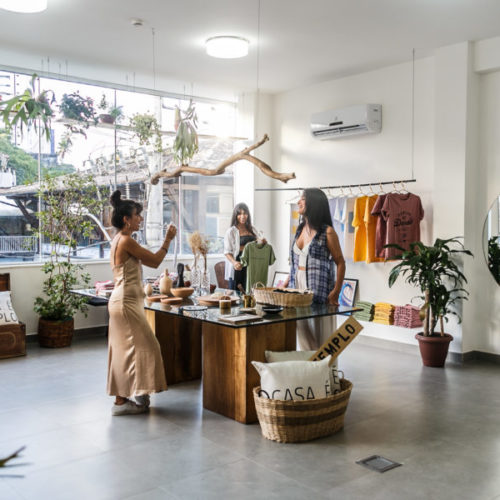 Miranda Estúdio. Rio Vermelho, Salvador, Bahia. Foto: Amanda Oliveira .
This is one of those inspiring stories of people who dream, execute and multiply. The choice to lead a happier life, out of the daily stress of a job that had nothing to do with their moment, was the best choice for the owners of Miranda Studio. What is most interesting is to note how this energy of personal fulfillment is intertwined with the products created and the services they provide. Whether you choose famous diaries, t-shirts with catchy phrases or creative works for others' business, know that here everything is done with great care.
The name Miranda means woman linked to the arts and family. And that is, in fact, the essence of this studio. Mila Giacomo and Aline Biliu, as she is known, develop necklaces, custom ceramics, sarongs, pictures, diaries (which have now become planners), t-shirts, hats with the Our Beaches concept – a manifest product of love for Salvador's beaches – and baby's bodies. Success is due to two major reasons: First, all products are timeless and of good quality and can be used all year round; The second is that in the products you find affective phrases like "Confia na Bahia" (Trust in Bahia), "Rode como uma Baiana" (Spin like a Baiana), "Vibes don't Lie", "Um banho de mar antes do trabalho paga metade do salário" (A sea bath before work pays half the salary) e "Mancha de dendê não sai" (Palm oil stain doesn't come off).
"Bahians admire Bahia", explains Biliu.
And, by the way, you probably know that phrase "Mancha de dendê não sai" from the 1984 Moraes Moreia and Paulo Leminski song, which bears the same name. But here in Salvador, the phrase was also famous for another reason: in 2015, Mila and Biliu made a real buzz on Buracão beach, in Rio Vermelho, and in other parts of the city, by sticking this phrase in a very big size on a wall. The buzz was such that the place became a point for photos. The phrase on the wall no longer exists, but it remains in sarongs, t-shirts, silver medals, paintings and even temporary tattooing.
Miranda studio's trademark is the annual planner. This was the first product developed there in 2014, the girl's beloved child. It was born as a diary with inspirational phrases and covers made manually by themselves from fabrics imported from Mexico. Today, this product is one of the most anticipated in the year, and always runs out very fast.
"Within a month, the entire print run was over and we felt a new and delicious sense of professional fulfillment", remind the businesswomen, referring to the time when the planner was launched.
In 2019, Miranda Studio celebrates its fifth anniversary and along with this celebration comes the inauguration of a physical space, a place for product sales and also good meetings. The place is beautiful, wide and bright, just like them. It has an excellent product layout, is well decorated and has a meeting environment for clients looking for branding, illustration, book layout, editorial graphics, and more.
About Mila and Aline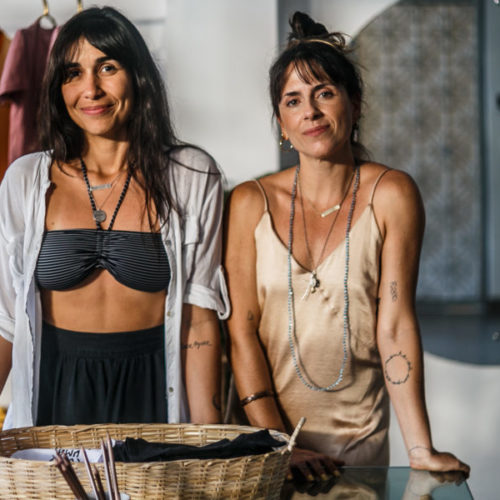 Miranda Estúdio. Rio Vermelho, Salvador, Bahia. Foto: Amanda Oliveira .
Mila is a designer, graduated from the São Paulo Fine Arts College. Biliu is a publicist and has transited as art director in agencies in Salvador and Barcelona. Together they are practically a multi-studio of products and services that experiences different creative spheres of art and design.
"We worked together with art direction at an advertising agency in Salvador, Bahia. We were equally dissatisfied. Between coffee and complaints, we wanted to get out of those concrete walls, let go of all the frenzy of the advertising market, and find a formula to dedicate ourselves in a lighter and healthier way to a free own business. We wanted to have more affection for briefings and especially more time and presence with our children, family and friends in daily life", says Mila.
Want to be inspired and believe more in your dreams? See their trajectory, year by year, in this link.
Service
Miranda Studio
@mirandaestudio / www.mirandaestudio.com.br
Rua João Vidal Taboada, 7, Ed Vila Persa, Room 105. In front of the Villa Forma gym in Rio Vermelho.
Look how cool: Every year, they launch a special carnival collection. Stay tuned to their networks to know the day of release.
Accessibility: The studio is accessible only by a very wide staircase. There is no lift. Within the space there is excellent circulation, no walls, or steps.
Important: The building has no parking, only street parking spaces.