Excellent service and food in the charming bistro & creative and delicious drinks in the trendy bar!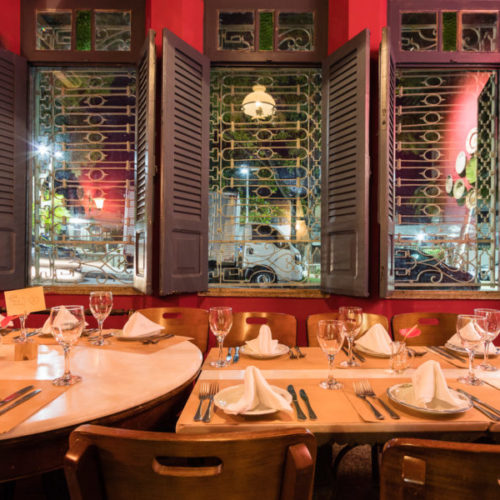 In the small bistro of the Guerra family, the menu is written on a blackboard. The chef and matriarch Rosa personally prepares the portion and helps you to harmonize your dish with the wine. From La Rue de Rire – The street that laughs, in French – this charming place, where mother and children run the kitchen and the father welcomes us with care in the hall, has only 16 places. It is necessary to make a reservation a few days in advance!
On the wall, a handwritten cookbook gives you the hint of what to order. In the menu, portions of six cubes of tapioca with coalho cheese, served with catuaba molasses and pepper jelly, noodles with gorgonzola sauce, raisins and walnuts. For dessert, the artisanal coconut ice cream, watered with wine reduction composed with Jurubeba Leão do Norte (a Bahian wine), leaves the kitchen with peanut farofa and salt flower.
Right next to it, small but very busy, Larribar is a great option to start the evening for dinner. It's a small place with only one counter – wonderful, by the way – that offers good, creative drinks and snacks. The service is friendly (the bartenders are super nice), there' a beautiful and modern decor.
Service:
LarriQuerrí
Address: 26, Alexandre Fernandes Square, Garcia, Salvador-BA, 40100-130, Brazil
Phone: 71 3043-0934
Larri Bar
Address: 160, Alexandre Fernandes Square, Garcia, Salvador-BA, 40100-130, Brazil
Phone: 71 3263-5632
Photos of LarriQuerrí: Fábio Marconi
Photos of the dishes: press office
Photos of LarriBar: Amanda Oliveira
We've prepared a perfect playlist for this experience. Listen now!