Many water sports in the neighborhood eternized in Vinícius de Moraes verses
Praia de Itapuã means round stone in the Tupi language. The neighborhood has a sidewalk with coconut trees along the entire shoreline, which was all requalified. It is also on the shoreline that we can see the famous Mermaid of Itapuã statue. It is exactly there that on Thursday, before the beginning of Carnival in Salvador, Lavagem de Itapuã happens. Baianas dressed in character carry ceramic pots with flowers and scented water to wash the staircase of Nossa Senhora da Conceição de Itapuã church.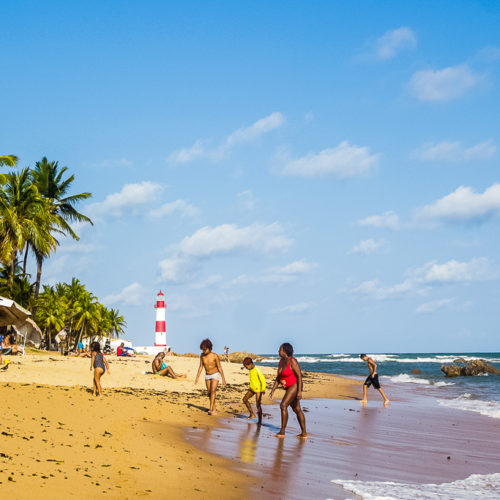 Praia de Itapuã. Salvador, Bahia. Foto: Amanda Oliveira.
Located to the north of the city, Itapuã is outside the All Saints Bay. There also happens the coral formation called cove – small bay or inlet – making the place a protected area. The calm sea of ​​regular waves is bathed by the Atlantic Ocean with emerald water. In some places, there are large stones that make natural pools. Depending on what spot on the beach you are, you can practice surfing and other water sports.
Rua da Música (Music Street) – also known as Rua K – was the place where, in the 70's and 80's, artists, musicians and sportsmen from Salvador used to go. Until today, it is the meeting place for sportsmen in general and for those who want to practice Windsurf and S.U.P. Several athletes have already passed through Itapuã: Allan do Carmo (aquatic marathon), Ana Marcela Cunha (aquatic marathon), Ricardo and Emanuel (champions of beach volleyball doubles) among others. They say that Bebeto, famous Brazilian soccer player, also played a lot of "baba" there.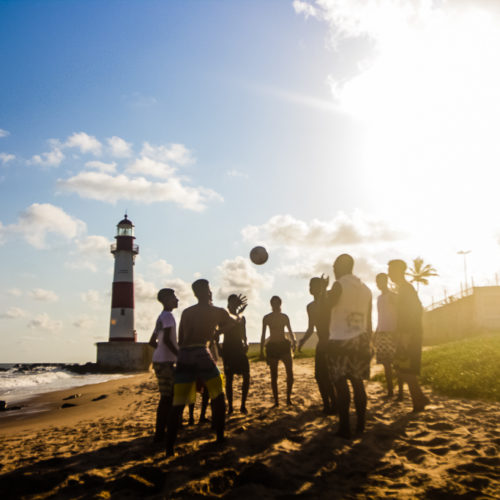 Praia de Itapuã. Salvador, Bahia. Foto: Amanda Oliveira.
The place was originally occupied by fishermen, where until today we can easily buy fresh fish, sustenance for more than 500 fishermen. Visitors can visit the lighthouse, a true city's postcard, and in its mediations appreciate the many fishing boats. On the way to the lighthouse it is possible to see mosaics on the houses' walls and on works in the sand from the artist Bel Borba. The beach has stands and kiosks at different points on the seashore for umbrella and chairs rental.
Eternized in the verses of Vinícius de Moraes, the neighborhood has "the presence" of the artist until today. Look how nice this itinerary we have prepared specially for you to spend the day and the afternoon in Itapuã. Aaaaah! And that's not all! There is no way of going to Itapuã and not eating the acarajé da Cira, a city's icon.
Service
Address: Itapuã, Salvador – BA, 41610-160.
Dictionary: "baba" is what we call informal soccer games, for amateurs. In other states it is "racha", "rachão" or "pelada".