The millenarian transport that became a fever in Salvador
The warm and calm waters of the bay are the perfect environment for sports.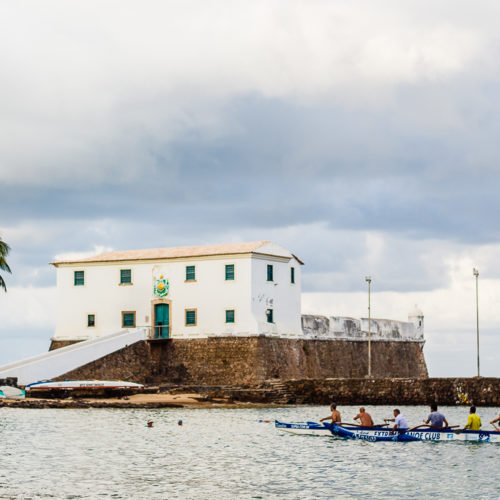 The "Canoa Havaiana" or "Canoa Polinésia", means of transportation that dates back approximately 10,000 years, became a sought sport in Salvador. Its peculiar shape, with a second hull to give it stability in the hectic seas of the Pacific islands, is now very popular in the city and you can choose some rowing schools to start in the sport or, if you already have experience, fall on the water and paddle!
Rowing and being in touch with the sea represents for many people joy, harmony, mental balance and a healthy life. Exercising the body through an outdoor sport and in contact with nature goes beyond body care- it is also a way to disconnect from the day-to-day race and reconnect with your own thoughts and feelings. The Bahia de Todos os Santos (Bay of All Saints) is the largest tropical bay in the world and the second in extension of both hemispheres, always with warm, shallow and calm waters.
A Hawaiian canoe holds up to 6 people, but also has models for 1, 2 and 4 paddlers. And, depending on the waves, they can even exceed the speed of 20 kilometers per hour. The canoe is very stable due to the float, which makes a beautiful and quiet stroll also for beginners.
Service
Extreme Canoe Club
Phone #: (71) 98137-5141 (Search for Clovis)
Instagram: @extremecanoeclub
Kaiaulu Va'a Canoeing Club
Canoeing Club (training, classes and tours)
Praia da Preguiça (Preguiça Beach)
Contact: kaiauluvaa@gmail.com
Phone #: (71) 99212-1086
Instagram: @kaiaulu.vaa
Ho'ohui Canoe Club
Classes, personalized training and tours
Imagine watching the sunset while practicing this sport. The Ho'ohui Canoe Club staff offers this tour on Mondays, Wednesdays, Fridays, Saturdays and Sundays, at 4:30 pm, or as scheduled in advance.
Equipment: Oc6, v3 and oc2 canoes; life jackets approved by the Brazilian Navy; handmade wooden oars; Go Pro camera for underwater imaging; camera for surface imaging.
Address: located at Rua da Música, Praia de Itapuã (Itapuã Beach), near the Rey Náutica cabana (@reynauticaba).
Phone #: 71 99360-9392
Instagram: @hoohuicanoeclub
Kaleopapa Canoe Club
Canoe and kayak rental and lessons
First Outrigger Canoe Club in Salvador. Frank Faro was the first canoeist in the Northeast, and has been practicing the sport for 16 years.
Address: Rua da Música (Rua K), Praia de Itapuã (Itapuã Beach).
Phone #: 71 99974-8509
Instagram: @kaleopapa_canoe_club_
Rey Náutica
Training and recreation center for nautical sports in Bahia.
Guarderia (Storehouse), bar and restaurant under the command of Reyzinho Oliveira.
Instagram: @reynauticaba
Galeria Vivá
Located in Porto da Barra, it is one of the coolest guarderias (Storehouses) in the region, with specialized instructors. Its location is also a "plus" because, being close to the beach, it offers SUP and traditional canoeing classes and functional training. It functions as a boat store, sports store, and offers a sports and gym instructor. You can rent Canoes, Stand Up Paddles and Surfski boards.
Av. Sete de Setembro, 3819 E – Barra, Salvador – BA, 40140-110.
Phone #: (71) 99165-2894
Instagram: @galeria_viva
Nativos Va´a Clube de Canoagem
Sport for any age
Base 1 – Itapuã
Base 2 – All Saints Bay
Instagram: @nativosvaa
Clube de Canoagem Canoa Bahia
One of its guidelines is to form competition teams in the various canoeing modalities.
Núcleos de Canoagem Canoa Bahia (NCB) – Canoa Bahia's Canoe Centers
(NCB – 1) Location: Porto da Barra Beach – Barra – SSA – BA
(NCB – 2) Location: Praia da Preguiça (Preguiça Beach) – Comércio – SSA – BA
(NCB – 3) Location: Dique do Tororó – Tororó – SSA – BA
(NCB – 4) Location: Itapuã Beach, Rua K – Itapuã – SSA – BA
Contact: contato@canoabahia.com.br and facebook.com/canoa.bahia
Responsible: Hamã Oliveira – (71) 9282-1680 (Tim)
Instagram: @canoabahia
Website: www.canoabahia.com.br
Escola de SUP Barbara Brazil (Barbara Brazil SUP School)
Classes: Functional fitness training, SUP, Canoe, Swimming and Foil
5x Brazilian SUP RACE Champion.
Two addresses: Porto da Barra and Rua K, Itapuã
Phone #: (71) 71 997054361
Instagram: @babibrazil
Barra Paddle
Guarderia (Storehouse): SUP, Outrigger Canoe and Surfski
Classes: SUP and Outrigger Canoe
Classes and Rentals: day use
Address: Rede Andrade Barra Hotel, Porto da Barra, Store 15.
Phone #: 71-996780772 (Zeba Vilas Boas)
Instagram: @barrapaddle
Yacht Club da Bahia
Stand Up Paddle (SUP) and Outrigger Canoe courses for members.
Those interested in participating in the courses should contact the Sports Department: (71) 2105-9108 or secretaria.esportes@icb.com.br/Gabriele )
We've prepared a perfect playlist for this experience. Listen now!