Restaurant offers healthy, natural, organic food menu without falling in stereotypes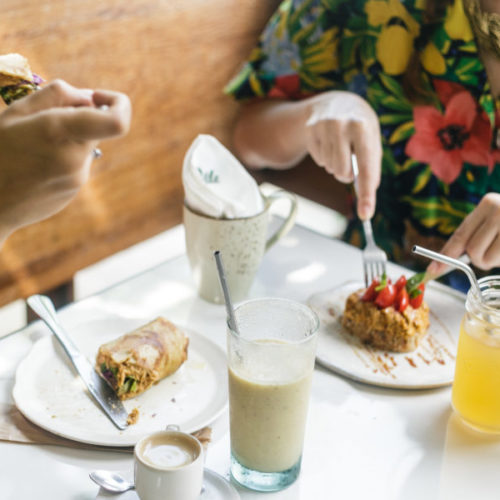 Da Vila. Pituba, Salvador, Bahia. Foto: Amanda Oliveira.
Right at the entrance, a sentence written on the floor greets those who reach 448 Rua das Hortênsias, in Pituba: "Smiles around here". The kind service and affectionate cuisine, in fact, inspire smiles in the customers of Da Vila restaurant, designed by sisters Luísa Leite and Nathália Leite.
Divided into two environments, one air-conditioned and the other outdoor, the space was built in a sustainable manner and offers a menu of healthy, natural and organic foods. The menu features tasty options such as leek quiche and tostadas – highlighting Paris, which features avocado mayonnaise, miso mushroom and basil on the house bread. Natural juices are also a great choice to refresh your taste buds: we recommend mangaba with ginger!
Another delicious tip is to order a full meal and make a tasteful table. Try the Ball Amarelo, the truffled tostada, the jackfruit meat wrap, and a passion fruit and cashew Kombucha* to drink, with a coffee to top it off. The cool thing is that you can buy the drink in a bottle or in a super-stylish mug, since there is a "Kombucha draft machine"! Look how wonderful!
Luisa tells that Da Vila, which completes one year in 2019, started as a factory. "We have had a factory for three years. Everything on the shelf, cookies, granola, jellies, kombucha, we produce and sell throughout Brazil. The restaurant is a place to add the whole Da Vila concept", she explains.
All products are free of gluten and animal protein, except for the use of eggs in a few cases. This differential, however, is not intended to stereotype food, but to make customers live another eating experience.
"It's not written vegetarian or vegan on the menu and this is a way of not conditioning the customer's mind – he or she comes with open mind and eats. Here there is the welcoming place. We need to welcome people and give them the opportunity to live the experience", says Luisa.
Open every day from 9am to 9pm, the Da Vila restaurant fits well for breakfast, lunch or dinner. Whatever meal you choose to try the delights of the place, you will find quality, healthy and – why not? – transforming food.
Service
Alimentos Da Vila
Address: Rua das Hortênsias, 448 – Pituba, Salvador – BA, 41810-010
Opening hours: Every day from 9am to 9pm.
Phone #: (71) 99654-5487
Instagram: https://www.instagram.com/alimentosdavila/
Important: reservation is not necessary.
Accessibility: the main entrance has a ramp and the lounge is easy to get around. It has only one high table, all others are of traditional height.
Note: Kombucha is a fermented drink made from sweetened black tea that looks like a soda due to the gas it produces. It's a drink that strengthens the immune system and improves bowel function.