Stunning view, personalized and differentiated service, in the heart of the Carmo district
This is one of those very charming experiences. Situated in Santo Antônio Além do Carmo, in a beautiful colonial building transformed into a boutique hotel, Aram Yami Hotel Boutique is for those who like exclusivity. The hotel has 6 unique suites, offering quality and personalized service. The service is impeccable, the decoration is beautiful, ideal for a romantic stay. Perfect also for travelers interested in architecture, churches and history.
The couple Juan and Lola, from Barcelona, ​​value the hospitality. They have restored this magnificent 19th century Baroque building, keeping its original style and adding a contemporary flair. In addition to the six large suites, the hotel features two swimming pools and stunning view of All Saints Bay.
Aram Yami is just 15 minutes' walk from Salvador's famous Pelourinho and other points of interest. It is close to art galleries and studios, excellent bars and restaurants. You can see amazing places during the day and come back in time for a swim in the pool, having a drink, watching the sunset.
The hotel offers a delicious Bahian breakfast with a wide variety of fruits, cakes, tapioca beiju, cooked banana, cooked yam or manioc, breads, omelets, crepes, fruit juices and coffees or teas and a wonderful passion fruit mousse.
Service
Aram Yami Hotel Boutique
There is no "Day Use" and its facilities are for guests only.
Direita de Santo Antônio, 132, Santo Antônio, Salvador, ZIP Code 40301-280, Brazil
Contact: 71 3242-9412 / info@aramyamihotel.com
Website BR: www.aramyamihotel.com/en/
EN: www.aramyamihotel.com/
We've prepared a perfect playlist for this experience. Listen now!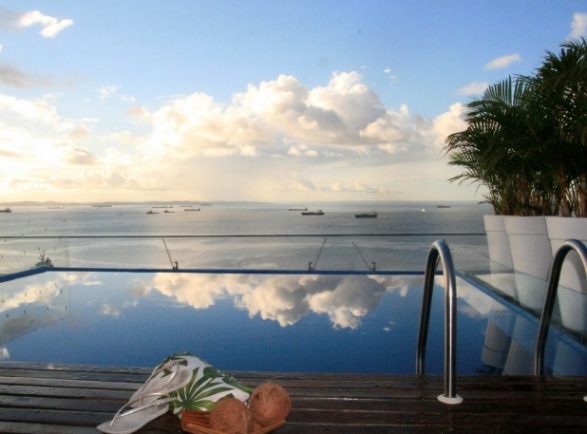 Aram Yami Hotel. Santo Antônio Além do Carmo, Salvador, Bahia. Foto: Amanda Oliveira.