Lounge, children's space, wi-fi, showers and great restaurants, all just a step from the beach
It is normal for a tourist who visits Salvador to be called to go to a beach hut and get surprised when arriving there. It happens because most visitors imagine that the hut will be something very simple, with no structure. Far from it. The Bahian huts are places that look like big houses, with restaurant structure and some even with lounges. There are also some that are like clubs.
In this itinerary, we give tips of 08 seafront paradises for all kinds of public. For the family who needs space and safety for the little ones, for groups of young people who want to have fun, good drinks and take lots of photos, and also for those who want to relax feeling the breeze and listening to the waves.
We've prepared a list of perfect songs for this experience. Listen now!
1. Enjoy the beach with style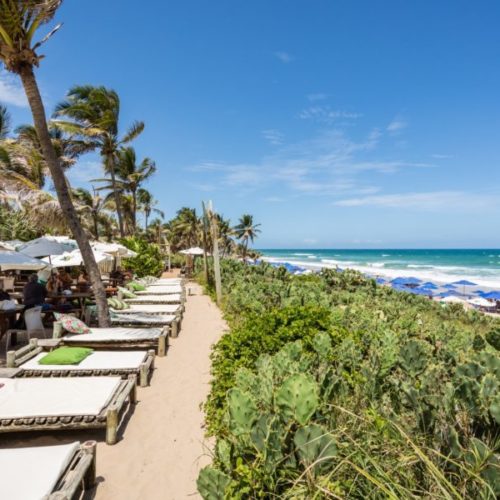 At Lôro Flamengo, you are welcomed by a corridor full of mosaics and works from local plastic artists. A luxury! The space is charming and welcoming, accommodates large groups very well and has structure to receive families with children. It offers access to a beautiful beach!
It has a great restaurant with Brazilian cuisine of seafood and meats in a sophisticated environment, by the sea. It also offers a wide range of services, such as massage therapy, children's space, wi-fi, showers and a lounge where you can enjoy the beach and have delicious drinks or a cold beer to the sound of good music.
Service
Lôro Flamengo
Address: Rua Desembargador Manoel de Andrade Teixeira, 266 – Praia do Flamengo, Salvador – BA, 41603-135.
Opening hours: every day from 9am to 5pm.
Phone: (71) 3015-0140
2. On Buracão Beach, there is a bar with lattice gazebos and tasty food
Blue Praia Bar. Rio Vermelho. Salvador Bahia. Foto Tércio Campelo. Divulgação.
With the exuberant view of Buracão Beach, in a hidden corner of Rio Vermelho neighborhood, there is the Blue Praia Bar. The atmosphere is beautiful, with its lattice gazebos, tables on the porch, lounges by the sea, Balinese beds and beach kit. Everything very fluid and cozy, with tables for friends or for couples to enjoy a romantic atmosphere. Beautiful view, good service and tasty food.
It has an entrance by the sand, but prepare a post-beach clothing: it is forbidden to enter in swimwear. The place is super cute and charming, has great service and is just a few steps from the beach. If you prefer staying in the sand, you also have options of tables and large cushions, a perfect place for a charming itinerary in Salvador.
Service
Blue Praia Bar
Instagram: @bluepraiabar
Opening hours: Open every day from 10am to 8pm.
Contact: (71) 3034-3054. For reservations: (71) 9 9675-8734
Accessibility: Both entrances (either by the beach or by the street) have stairs and the environments are in levels. Most tables are traditionally tall.
3. Sophistication at the edge of the surfing point beach in Salvador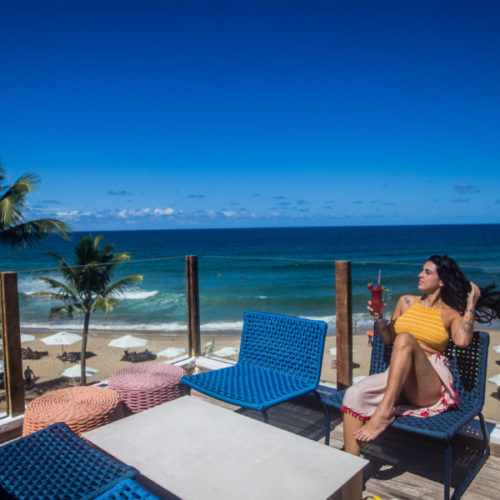 Lôro Stella Maris is a charming and welcoming space, where you can go with large groups, and there is a good structure to receive families with children. With a privileged location, feet in the sand, it offers access to one of the best beaches for surfing. It's considered a surfing spot, once the owner does several sporting events there.
Lôro Stella Maris brings together friends and athletes for a super fraternization, with surf competitions, band and DJ presentations, footvolley, running, beach wrestling, graffiti, composting and recycling, among other activities.
It has a great restaurant, with a varied menu of appetizers and local cuisine. It has a lounge where you can enjoy the beach and have delicious drinks or a cold beer to the sound of good music.
Service
Lôro Stella Maris (Beach)
Alameda Mar Del Plata, 06 – Stella Maris, Salvador – BA, 41603-200
Opening hours: every day, from 9 am to 5 pm.
Phone: (71) 2137-5002
4. Good location, comfort, fun and excitement with concerts on a "feet in the sand" stage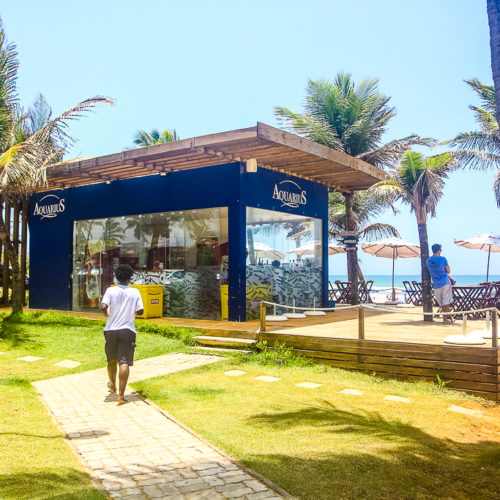 The Aquarius Bar is one of those "feet in the sand" bar and restaurant options. The deck has a great view out to sea and there is a large area for events. Stay tuned to their social media. There are always good parties there.
The clientele is mostly young, and the organization and good service make the place a great option also for a family outing. With a rich menu of appetizers and a wide variety of drinks, it is the ideal spot for those who like to admire a beautiful landscape, with comfort, good music and good products.
Service
Aquarius Bar
Avenida Mangabeira, no number, Stand #37, CEP: 41620-225, Salvador-BA.
5. Beachy and cozy atmosphere!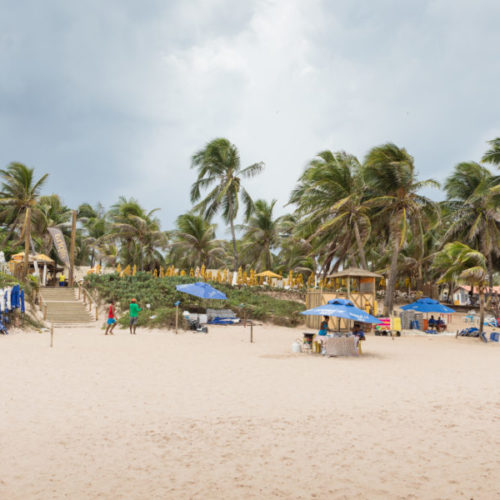 With a wide field, coconut trees in the waterfront and without a neighbor on the right side, Pipa Beach Hut is well ventilated and has a beach environment. The place, very cozy, counts on decks, pouffes and tables, in the inner part as well as in the sand, shaded by the coconut leaves. Ask for an acarajé, fried fish, coconut water or beer, add it to a sunny day, the crystalline sea, the breeze that never ceases and relaxes: you are ready to surrender to Bahia.
Service
Pipa Beach Hut
Address: Alameda Cabo Frio, no number, Salvador – BA, 41603-135
Opening hours: every day from 8am to 6pm
Phone: (71) 3378-1182
6. Have a nice meal, eat with your eyes too, and all this on an island!
Restaurante Preta. Ilha dos Frades, Salvador, Bahia. Foto: Amanda Oliveira.
Your destination is Restaurante da Preta, one of those hiding places in the All Saints Bay, located in brand new address, Ilha dos Frades. The atmosphere is beautiful, all decorated with antiques, handicrafts, many plates, each table is more beautiful than the other, everything prepared with a lot of affection to welcome the customers.
And check how cool! Ilha dos Frades, where Restaurante da Preta is located, is in Ponta de Nossa Senhora de Guadalupe beach, one of Brazil's five Blue Flag beaches.
Service
Restaurante da Preta
Address: Praia de Ponta de Nossa Senhora de Guadalupe, Ilha dos Frades, Salvador.
Phone: (71) 99326-7461 – only with reservations.
7. An oceanfront water club
Salvador Beach Club. Patamares, Salvador, Bahia. Foto: Amanda Oliveira .
Beach Club Salvador is the city's first beachfront establishment with swimming pools and toys, integrating the water club with the beach. Perfect for the whole family, it has excellent oceanfront tables and gazebos for 1200 adults and 230 children with bracelets*. It is a great place to spend a family day on weekends and holidays and it's 3 kilometers from Salvador's new Convention Center.
The water club is from Boteco do Caranguejo chain, which has 7 units in Salvador and 2 in Lauro de Freitas, neighboring city. This guarantees that you have great options among snacks, main courses, always cold beer and drinks. There are two areas with structure for live music, and the whole space has ambient sound.
Service
Beach Club Salvador
Avenida Octávio Mangabeira, Pituaçu, Salvador-BA, 41740-000
Beach Club Salvador is in full swing! An entrance fee of R$ 10.00 is charged. There is a fee of R$ 50.00 for pool maintenance, which gives the right to receive a bracelet to spend the day in the place with free traffic between the pools and the beach. Those who choose to use the pools, are exempt from the R$10.
The lockers** have a fee of R$ 10.00. You leave a deposit of R$ 20.00 to use all day and when you return the key you get R$ 10.00 back.
Opening Hours: Every day from 9:00 a.m. to 8:30 p.m. (until the last customer). The pools close at 5:00 p.m.
Phone #: 71 3363-5151
8. Charm for those who want good structure while enjoying the beach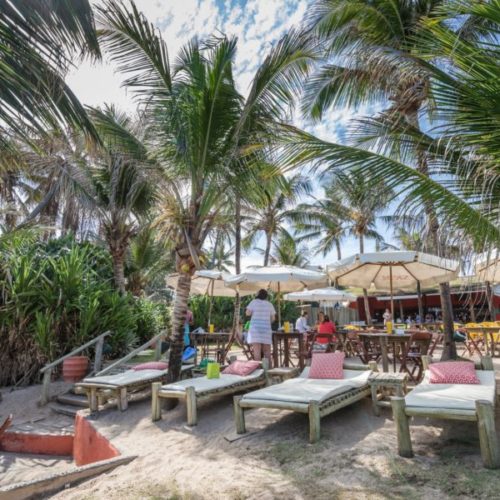 Next to Itapuã Lighthouse, on a quiet beach away from the urban center, Pedra do Sal Beach reserves a small oasis. Barraca do Lôro, in Pedra do Sal, is ideal to have lunch, spend the afternoon, listen to good music and have a snack until the sun goes down.
This beach hut sits between two rock formations, what makes a small cove. There you can choose comfortable loungers, mattresses, chairs and tables for groups, with green lawns, shade of coconut trees and fresh water showers. Relax!
Service
Lôro Pedra do Sal
Opening hours: every day, from 9 am to 5 pm.
Phone: (71) 3023-5018