Good food, lots of music and water sports in the neighborhood eternalized by Vinicius de Moraes
Eternalized in Vinícius de Moraes verses, Itapuã has the artist's "presence" until today. The most musical district of Salvador is also home to the Malê Debalê Afro Group and to Ganhadeiras de Itapuã, besides having one of the most iconic acarajés in the city, Acarajé da Cira. If that were not enough, it is still a point for those who practice SUP and Windsurfers, as well as being great for those with small children who can play for hours in the natural pools at the beach. You can end the day at Itapuã Lighthouse, Salvador postcard.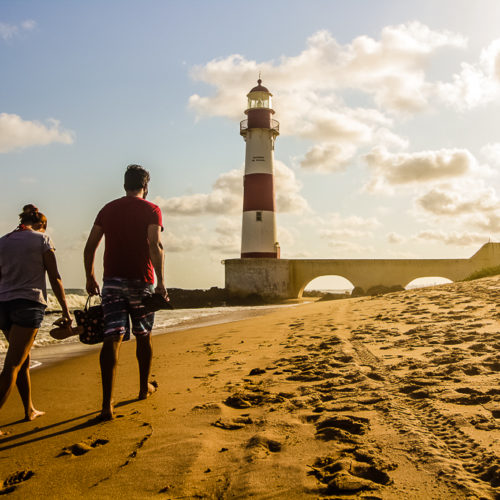 Praia de Itapuã. Salvador, Farol de Itapuã como cenário. Bahia. Foto: Amanda Oliveira.
In the seventeenth century, Itapuã was a whaling place. Later, in the 1960s, it became fashionable, and turned up to be the darling of the city's beaches. Itapuã was the setting place for the movie "Dona Flor" and also the home of the playwright/poet/lyricist Vinicius de Moraes and composer Dorival Caymmi. Vinícius composed, with his partner Toquinho, some memorable songs about Bahia, and the famous anthem "Tarde em Itapuã". Vinicius de Moraes (1913-1980) lived in Itapuã in the early 70's, with his beloved Bahian actress Gessy Gesse. In this house, today, there is the artist's memorial and an excellent restaurant called Casa di Vina.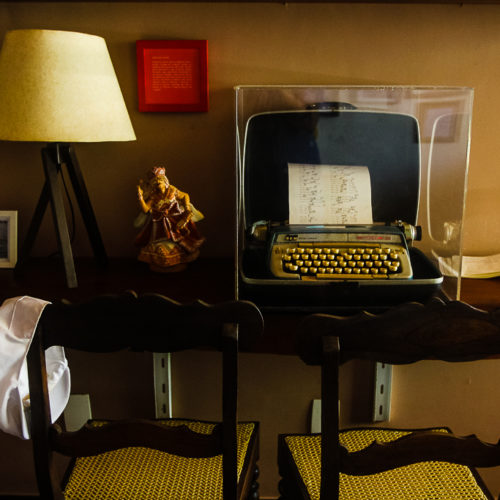 Casa di Vina. Memorial. Foto Amanda Oliveira.
In his honor, there is Vinicius de Moraes Square, with the Monument to the Poet, and Itapuã Beach in the background. The monument's author is the Bahian artist Juarez Paraíso and he had Márcia Magno, Renato Viana and Paula Magno's collaboration. The square was inaugurated in 2003, the year in which he would be 90 years old. It is located near the Itapuã Lighthouse, another place that can not be missed. Vinícius sculpture, in bronze, has a natural size. An empty chair, next to it, invites visitors to take pictures with the poet. In the Square there are also ten totems of 0.90 x 1.60, where compositions of the Poet are written.
Musicality everywhere
Going a little further into the neighborhood, there is the Abaeté Lagoon (Lagoa do Abaeté), a symbol of the city. Around the lagoon there is the Metropolitan Park of Lagoons and Dunes of Abaeté (Parque Metropolitano Lagoas e Dunas do Abaeté), inaugurated in 1993. In the surroundings is where Casa da Música is located, a resistance landmark to cultural expression in Salvador. The place holds cultural events, dance performances, plays, workshops, temporary exhibitions and music chats.
There is an important and award winning regional group that goes to Itapuã: As Ganhadeiras de Itapuã. The group counts on the participation of musicians who play string and percussion instruments and almost 20 ladies Cantadeiras (Singers), Ganhadeiras (how they used to call the black slaved women who sold food on the streets and gave part of the money to their "owners") and Lavadeiras (Laundresses). With their very peculiar voices, they enchant listeners in each presentation. The objective is to rescue, preserve and strengthen the historical-cultural roots and traditions of Itapuã neighborhood.
Ganhadeiras de Itapuã. Lagoa de Abaeté, Salvador, Bahia. Foto: Amanda Oliveira.
It's in this neighborhood that we can find the headquarters of Malê Debalê, a carnival Afro Group, founded in 1979 by a group of Itapuã residents, who wished their neighborhood could participate in Salvador carnival. Today the group has about four thousand members.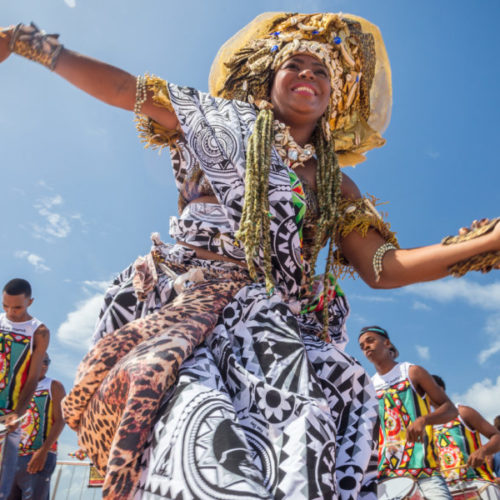 Uma das maravilhosas mulheres guerreiras do Malê Debalê, na Festa de Itapuã em 2017. Foto: Fábio Marconi
On the way back home, if you get hungry, the suggestion is to eat at Mamão's Bar and Restaurant. Not only for the delicious food, but also for Jorge, the owner, a vinyl records collector, who has more than 3 thousand records in the establishment. Small but very cozy, with tables under the trees, at this place you have lunch listening to Moraes Moreira, Chico Buarque, Gal Costa, Gerônimo, Geraldo Azevedo, Baden Powell and many others straight from the record player.
Beach, sport and leisure
The calm sea of regular waves at Itapuã Beach is bathed by the Atlantic Ocean with emerald water. In some places, there are large stones that make natural pools. Rua da Música (Music Street) – also known as Rua K – was the place where, in the 70's and 80's, artists, musicians and sportsmen from Salvador used to go. Until today, it is the meeting place for sportsmen in general and for those who want to practice Windsurf and S.U.P. Learn more about the neighborhood sports scene at this link.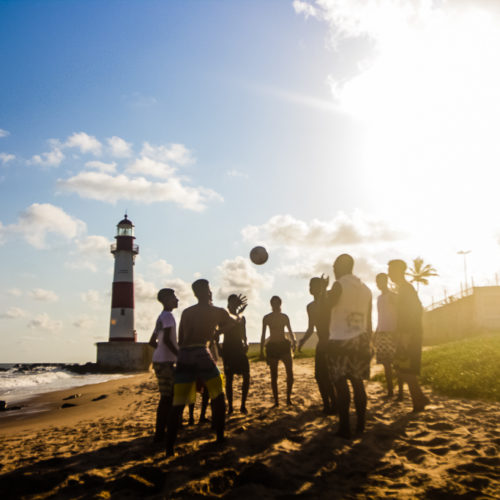 Praia de Itapuã. Salvador, Bahia. Foto: Amanda Oliveira.
An interesting date to get to know the neighborhood is at Iemanjá Festival, on February 2 or on Thursday before Salvador Carnival starts, when Lavagem de Itapuã happens. Baianas dressed in character carry ceramic pots with flowers and scented water to wash the staircase of Nossa Senhora da Conceição de Itapuã church. Regional groups and Malê Debalê also participate. Keep an eye on the city's summer schedule. Schedule yourself for the rehearsals and popular parties at this link.
Service
Itapuã Beach
Address: Itapuã, Salvador – BA, 41610-160.
Dictionary: "baba" is what we call informal soccer games, for amateurs. In other states, it is "racha", "rachão" or "pelada".
Casa di Vina
Opening hours: from Monday to Saturday, from 12:00 pm to 11:30 pm. Sunday from 12:00 pm to 10:00 pm.
Address: Rua Flamengo, 44, Itapuã, Salvador
Entrance: free for the memorial.
Centro Cultural Casa da Música
Address: Alto do Abaeté, s/n – Itapuã, Salvador – BA, 41610-510
Phone: (71) 3116-1511
Barão do Mamão
Address: Rua Ministro Carlos Coqueijo Costa, 103 – Itapuã, Salvador – BA, 41620-810
Opening hours: from Wednesday to Sunday from 12:00 pm to 11:00 pm.
Phone: (71) 99139-1064
We've prepared a perfect playlist for this experience. Listen now!