Discover four tourist attractions that can only be seen in Bahia
When we select the must-see attractions of each city we visit, we usually make a list of picturesque places, cultural attractions, beautiful scenery and good cuisine. Here in Salvador, you can still add a good musical program and excellent beaches, and then the list will be long, needing a few days to be fulfilled.
To get off on the right foot, Visit Salvador da Bahia brought together four experiences that you – definitely – will only live in Bahia. From the airport, through the Historic Center, to the Lower City, we challenge you to visit the points of this list and say: arrived in Salvador, check! Then, tell us what you think.
Take a photo of the "Bambuzal"
One of the most beautiful areas for those arriving or leaving Salvador, the bamboo forest, which is just on the way to Salvador International Airport, is a famous brand and a postcard of the city.
According to the Bahia Architecture and Urbanism Council (CAUBA), the bamboo has an impact on urban architecture and is considered a natural heritage of the municipality, becoming a strong and referential symbol of our city.
The bamboo corridor forms a tunnel, which for many is an energetic portal. People say that the trip already begins there, and whoever passes by it has the most wonderful days of their lives. Come and see if this is true!
Run to eat an acarajé
One of the great icons of Bahia, full of ancestry and practically a tourist spot in itself, acarajé is more than food and sustenance for several families: it has an important symbolic character. Acarajé is an affective memory.
We asked Elaine Michele Assis Cruz, one of the people responsible for Dinha's board, in Rio Vermelho (one of the most emblematic acarajés in Salvador) if tourists know what acarajé is made of and if they ask her about the recipe:
"Tourists generally don't know and do ask how to prepare it and its recipe. Some even invent some ingredients (lol). But I teach what governs the tradition and some are surprised by the fact that it is a black bean fritter seasoned with onion and salt to taste", she explains.
Are you curious to know more about our dear acarajé? Look at this article, how cool.
https://www.salvadordabahia.com/saiba-14-curiosas-sobre-o-acaraje/
Tie a ribbon from Bonfim
Symbol of faith and also of good memories lived in Salvador, the most beloved ribbons in Brazil are of great importance for Bahians and tourists. Not surprisingly, Senhor do Bonfim's ribbons are scattered throughout the city and, of course, throughout the state. When someone visits the capital of Bahia, it is quite common to go back home with a ribbon tied to the wrist or ankle.
It is also one of the favorite souvenirs not only by tourists, but also by the people of Salvador. After all, much more than a way to remember the trip, the item is synonymous with faith and tradition and has the power to make three wishes come true, according to popular belief.
Did you know that each candomblé orixá is represented by a color? Despite being a tradition that began in the Catholic Church, like everything else in Bahia and Salvador, the Bonfim ribbon is also a strong symbol of local religious syncretism.
The accessory also represents the typical African roots of Bahia and is considered by many to be an amulet. Sold in different colors, each ribbon represents an orixá. For example: green (dark or light), Oxóssi; light blue, Yemanjá; yellow, Oxum. Learn this and other curiosities in this link.
https://www.salvadordabahia.com/10-historias-e-curiosas-sobre-as-fitinhas-do-bonfim/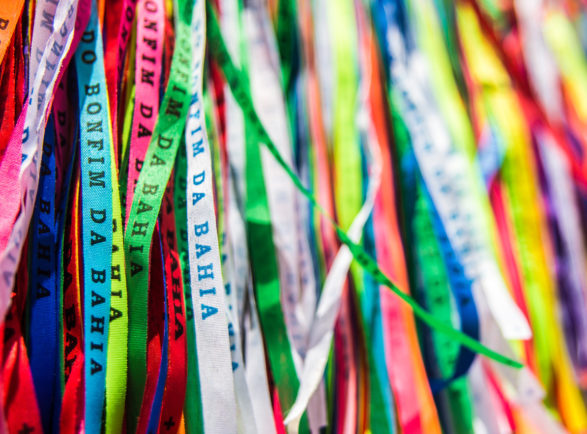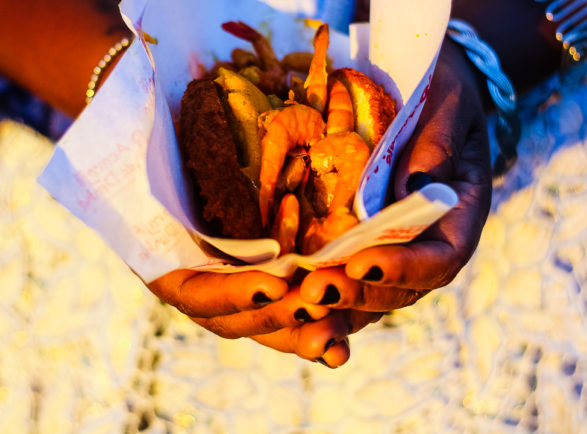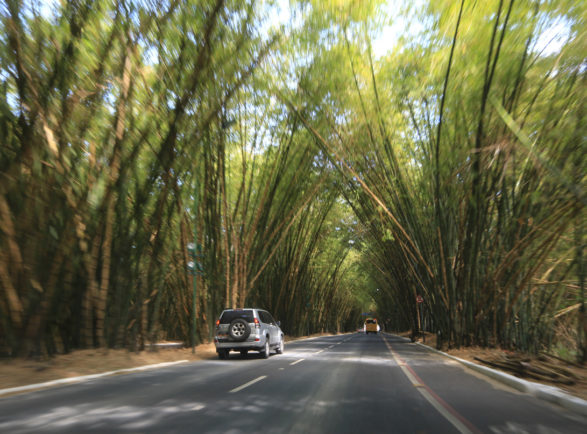 Lavagem do Bonfim 2020 Salvador Foto Amanda Oliveira.