The best places, the costs and how to practice it: learn all about the sport
The Bahian capital is considered one of the best places to practice the sport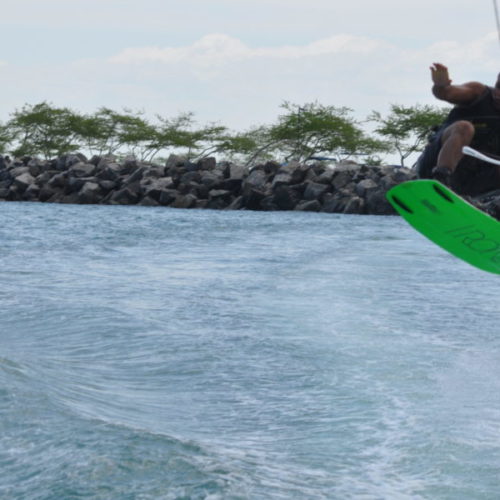 Wakeboard em Salvador. Bahia. Foto Eduardo Silva divulgação.
Enjoying All Saints Bay or the coast of Salvador is already pleasant. Now, imagine doing this at 30km per hour, being pulled by a speedboat and taken by adrenaline when performing radical maneuvers. These are the feelings of those who practice wakeboarding in the capital of Bahia.
For those who are hearing about the activity for the first time, here's a brief explanation: In this sport, the sportsperson climbs on a board that is pulled by a speedboat. Thus, the wakeboarder, connected to the boat using a lever, performs maneuvers on the waves left by the vessel after coming into contact with the water.
The administrator Eduardo Silva, 42, previously had a wakeboarding school in Salvador, WakeBahia (Instagram @wakebahia), for six years, but he had to close the school, for personal and professional reasons, in 2018. During this period, he passed on his passion for the sport to more than 5,000 students.
"It is a sensational sport, which I recommend to everyone. There is no contraindication. I myself have taught people from 8 to 60 years old. Just find the right rhythm and everyone will have fun", said Eduardo.
Salvador, with its 50km waterfront, is one of the best cities to practice the sport. But, according to the specialist, the two best places are in Paripe, in Aratu Bay, and in the area of the Marina, on Avenida Contorno. 'In addition to the little traffic of boats in these places, there are calm waters, ideal for practicing the sport", he analyzes.
The equipment to practice the sport costs from R$ 2.500 on average. Once the equipment is purchased, it will be necessary to rent a motorboat. The daily rate of a leased vessel costs, on average, R$ 1.500.
Five tips for those who want to practice wakeboarding in Salvador
1 – Look for a place with calm waters. The motorboat makes the wave and not the sea
2 – Always start practicing with someone more experienced than you
3 – If possible, use an appropriate wakeboard speedboat
4 – Always take a first aid kit
5 – Practice the sport away from shallow places, bathers or rocks