Long live the sunset!
A Lighthouse for a beautiful photo, and a good romance
It is not by chance that the Lighthouse of Ponta de Humaitá is called the Valentine's Lighthouse. There are several couples who begin their relationships there. It must be for the excellence of the view or the warm tones of color palette when the sun goes down, but some say that it is the balustrade's fault! Do you doubt? Then know that it is unique in the city: besides protecting from the sea, it is also a bench for those who want to sit. So you get cozy, you get comfortable and the conversation just flows, and then it's with you! The Lighthouse is to signal a dangerous point for navigation and nautical orientation, and looking at the city, you can clearly understand the geography of the Lower City to the Upper City. You can start your tour from the top of Monte Serrat or the base of Ponta de Humaitá, at the entrance to the Bay of All Saints. The Lighthouse of Ponta de Humaitá is the only one of the 3 lighthouses of the city situated within the sea water, on the shores of the beach of Monte Serrat. When the tide goes up, part of the lighthouse structure is submerged and the scenery becomes even more fascinating. Currently, the lighthouse is under the guard of the Regional Army Maintenance Park and is part of the architectural complex of Ponta de Humaitá, at the end of the Peninsula of Itapagipe. During your walk you can also visit the Church of Our Lady of Monte Serrat, built in 1580, and the Monastery of Monte Serrat, dating from 1679.
Service:
Arrive before 5:00 p.m.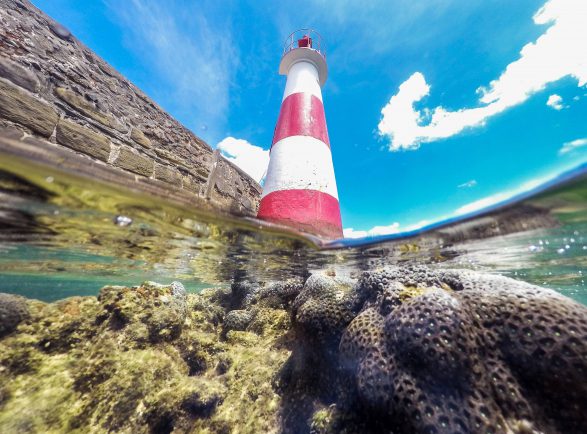 Farol Ponta do Humaita. Foto: Fábio Marconi