Crystalline sea, beautiful coconut grove, comfort for the family and sport for surfers.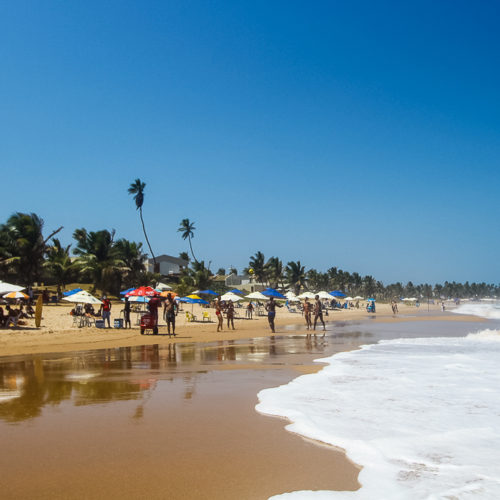 Praia Stella Maris. Salvador Bahia. Foto: Amanda Oliveira.
Considered one of the cleanest beaches in Salvador, Stella Maris has condominiums, several vacation homes and hotels close around. The beach is extensive, with a large sand strip, and is a good option for those who want to escape Salvador central buzz. The waves are strong, but there are also natural pools, where you can have a calmer dip. With a paradisiacal view, the place is surrounded by a beautiful coconut grove and native vegetation. The open sea has strong waves, making this beach a point for those who practice surfing and bodyboarding in the city, where, by the way, there are some sports competitions.
On the soft white sand there are several beach stalls that are extremely inviting for those who are strolling with family and friends. The Bahian beach stalls are places that look like big houses, with restaurant structure and some even with lounges. Like Beach Club do Lôro, a charming and receptive space, where it is possible to go with large groups and that has structure to serve families with children. With a privileged location, where you can put your feet in the sand, it is in front of one of the best places on the beach for surf practice.
The name Stella Maris is of Latin origin, meaning "starfish", but the neighborhood and beach namesake is due to the ruins of a hotel that was never built. In the summer, the region is very popular and several parties are organized in Stella. It is also just a few minutes from the city's airport. So, if you happen to arrive early in the city via airport, start the day at the beach and enter this city's "summer all year" atmosphere. Mix it up.
We've prepared a perfect playlist for this experience. Listen now!