Crystalline sea, breathtaking view of All Saints Bay and works of art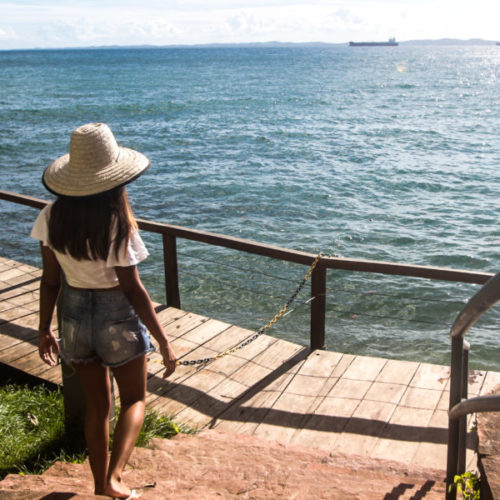 Down Contorno Avenue, attached to Bahia Marina, there is a small cove of calm and crystalline waters. There is Mam's beach – Museum of Modern Art of Bahia, the sensation of the moment, frequented by locals, tourists and especially young people, which turned the sand strip into one of the most buzzing points of recent times. Salvador things! Where else would you find a beach in a museum, right?
The beach works as a tourist attraction and leisure area, since it is inside the Sculpture Park, which, when inaugurated in the late 90s, was the first cultural space in the country specially planned for permanent exhibition of outdoor sculptures. In addition, it has one of the most beautiful views of All Saints Bay.
The site has two original works done by the plastic artist Carybé shortly before his death. One of them is the one that welcomes you before you even see the beach. On the upper part, an iron gate is the gateway to this charming beach. Full of drawings that refer to Bahia traditions like the fishing nets being pulled, fish and a fabulous Iemanjá, there will definitely be your first stop for photos. The other is a concrete panel down below, already close to the sea.
In addition to Carybé's works (1911-1997), the Park has 20 other works by Brazilian artists such as Emanuel Araújo, Ivens Machado, José Resende, Mário Cravo, Mestre Didi, Tunga, Juarez Paraíso and Siron Franco, among others. The José Resende's works (an iron-sculpted Venus) and Tunga (an eight-meter steel braid) have already been presented at the Venice Biennale (Italy). Mário Cravo's work – a 3.5 meters Antônio Conselheiro – was built in the 60's and exposed at Castro Alves Theater entrance.
Although the beach is located on the museum facilities, it is the Navy's land, belonging to the Union, with free access for all. Even so, access may be closed because of the frequent construction works on site. Because it has a small extension of land, the beach can be crowded. Our tip is that you take food and drinks. But don't worry: there are street vendors at the place, including chairs and umbrellas rental services, but you have to get there early.
Service
Address: Avenida do Contorno, no number – Comércio, Salvador – BA, 40060-075
Attention! Remember that on this beach there are pieces of great artistic and cultural value! Let's take care of our patrimony!
There is no parking lot.
We've prepared a perfect playlist for this experience. Listen now!