To practice Kitesurfing, first of all, it's necessary good weather and strong winds. The best condition is winds above 25km per hour. There is no age, no weight, that makes it impossible for you to practice. Children from 9 years old on already have the ability to start in this sport. And, incredible as it may seem, it's a sport that needs a lot more technique than strength. In theory, it's a balance exercise: the kite puts you forward and you throw your body back, making a traction in the water that propels you to slide.
The best way to learn is by doing a basic course around 4 classes of two hours each. Besides being an excellent physical exercise, it relaxes and entertains. From September to February the northeast wind predominates, excellent for the sport practice. Then you just need to check which the best place is each day and go to the sea. In the winter, a south and southeast wind predominates. It's more of an onshore wind. Then, the best place in Salvador is near Casquinha de Siri (Piatã), because it is a tip, a small peninsula, and it's more protected.
Salvador has good stories regarding the sea. Maurício Sales de Jesus, known as "Pequeno", was a car washer on Rua K in Itapuã, he also used to sell cheese and popsicle on the beach, took care of boats, carried fish, until the sport changed his life. Pequeno started right there on Rua K when, on a winter day in 2000, he met Polo (already deceased) and Patrick Gonçalves – who raced in the 2010 GP Bahia race – one of the first sailors in Salvador. They lent the Kite to Maurício. The years passed and by 2004 he was already competing. He really dedicated himself until he was in 9th place in the national ranking in 2007. That was when he decided to teach.
Today, at Pequeno do Kite School, he provides the equipment for the student. He says the best time to learn, usually, is in the winter. So when the summer arrives, with perfect conditions, you can have fun. In May and April the wind goes down. The meeting point is a WhatsApp group where people give tips about the places with good wind, so they gather at this place. Classes take place whenever there is wind and a group is formed. With almost 20 years of practice between kitesurf and windsurf, Mauricio has also taught famous people as Minotauro, Popó and Luciano Huck.
Another practitioner is the soteropolitan Bruno Pitanga (@bppitanga), athlete of several water sports like surf, SUP and kite. He has been practicing surf for almost 36 years and kite for about 10 years. He was introduced to kitesurfing by Brazilian champion Roberto Vieira, who has always talked about the Kite Wave: "… I started training and never stopped anymore, I have even left surfing a little aside, which is my first sport", says Bruno. Today in Sri Lanka, Bruno says that the best places to practice kite are in Peru, in Lobitos and Pacasmayo, where there are super wide waves and wind in the right conditions. In Brazil, the best place is Ibiraquera beach, in Santa Catarina, which has very strong waves and wind. In Salvador, the best places are Terceira Ponte, Jaguaribe Beach and Busca Vida, which is a good place where there are not many people.
Tips and explanations:
Northeast Wind – Strong wind above 25 km/h.
Materials Needed – A board, a belt (called Harness) and a kite.
Board Master – Concept store of high quality products for those who are masters in surfboard sports. For Kite, it works with the German brand DUOTONE, promoting test drive events for customers and friends. The project designed by Marlos Viana – also a practitioner of many sports – is a place where people can have a beer, eat a Hawaiian food, and of course, take classes, lectures, learn the news, and buy new and used products. To take classes, they give all the equipment. Once the person graduates, they give all the advice to buy and use the equipment better. Phone: 71 98326-1313
Kite Wave – It is possible to surf many waves in the session comparing with the surf in the paddling. The wind side shore (which blows sideways on the beach) is the best one. When you need power, you just have to maneuver the kite to gain speed and the maneuvers get pressure, strength and radicalism.
Known place – Terceira Ponte is on Jaguaribe beach, after the circus, just after the gas station. This is a very extensive beach, it goes until Piatã. But if you say that name, anyone who understands water sports will understand where it is.
More information about Kitesurf in Salvador at this link.
Service
Kitesurfing School
Pequeno (Mauricio Sales de Jesus). The base is at Terceira Ponte where the largest number of Kite surfers gathers in the summer.
Phone: 71 98174-1890 / @pequenodokite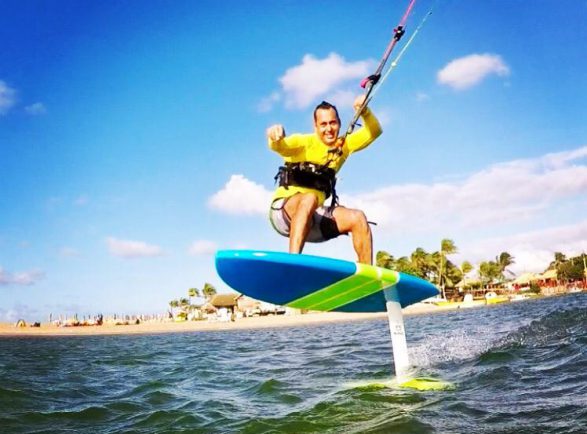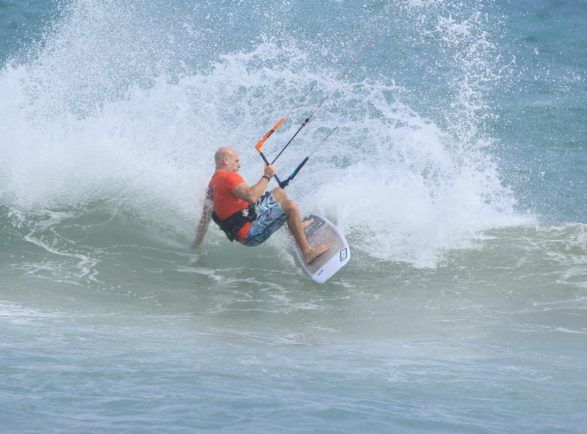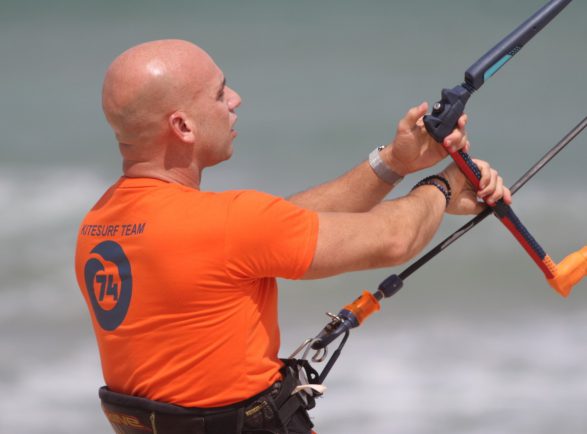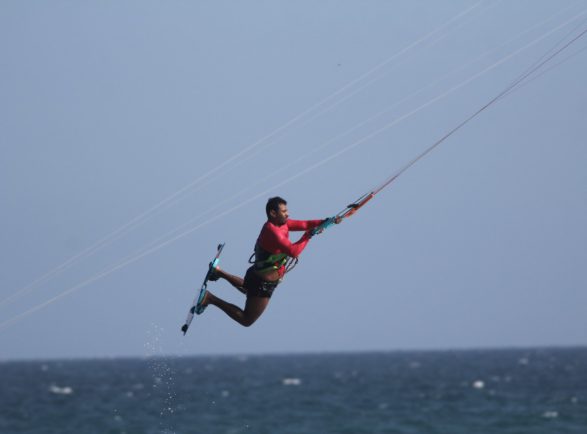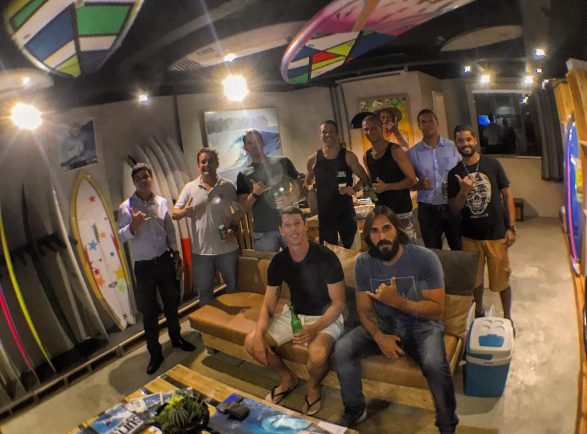 Kitesurf Gustavo Costa (Kimbi) Salvador Bahia Foto: cedida por Gustavo Costa.