A perfect place for surf lovers
Salvador has the first sports complex in the country focused on surfing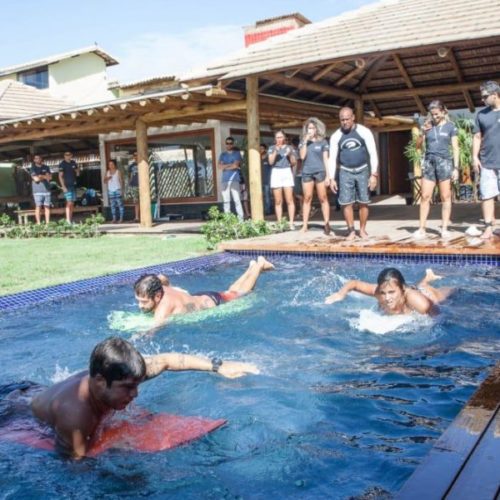 Salvador has won the country's first surfing complex. HCT – Experience the Surf Life, works in an ultramodern headquarters, designed by the architect and professional surfer Gabriel Imbassahy, in Flamengo Beach, next to Barraca do Lôro. HCT is a complex that brings together the best of sport. It has training spaces and a cutting-edge structure. In addition, it is located on a beach with the best waves in the city, a perfect place for surf lovers.
Located in a 500 m² area, facing the sea, HCT was created in order to increase the performance of surfers of different ages and levels of practice through the best surf coaching programs. In its structure, many different trainings are offered as a part of professional athletes' routine who seek the highest performance for their skills. Besides the sport activities, the space also has stores of Hurley, Labamba, Maison and The Finds brands, inspired by sports.
The space includes a pool, mini skateboard track, functional gym, living space, video analysis room, martial arts room, surf and body board school, equipped physiotherapy rooms, yoga, sports nutrition and functional training. The proposal, according to the owners, is to work as a sports support center for local surfers, tourists and supporters of this lifestyle. The space was designed by Pedro Imbassahy, João Fiamenghi, Caio Isaac and Alexandre Leal, all surfers and businessmen in love with the sport.
Service
HCT – Experience the Surf Life
www.hctsurf.com.br
Praia do Flamengo, next to Barraca do Lôro.
Address: Rua Desembargador Manoel de Andrade Teixeira, QD35 LT02 – Praia do Flamengo, Salvador – BA, 41603-135
Opening hours: Monday to Friday, from 6 a.m. to 10 p.m. Saturday and Sunday, from 7 a.m. to 5 p.m.
Phone: (71) 2137-2885
We've prepared a perfect playlist for this experience. Listen now!