Salvador's first Botanical Bar Café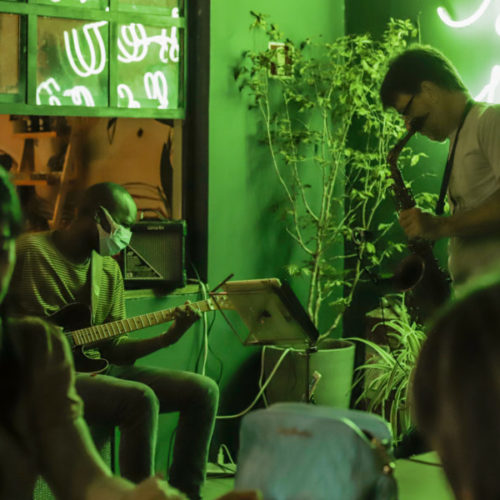 Cafeteria Botânica. Pituba. Salvador Bahia. Foto Lígia Rizério.
Think of a place that brings together plants, vinyl records, books and an essentially organic menu, which brings breakfast, botanical coffees, brunch, lunch, desserts and drinks. And also sells breads and focaccias made in natural fermentation, organic and botanical specialty coffees.
This space is the Cafeteria Botânica, which, besides everything, also has a cultural and musical program offering daily instrumental music shows with Jazz, Cumbia, Bossa and the meeting of great OSBA instrumentalists, Orkestra Rumpilezz and Jam no Mam.
Coffee + plants + drinks
There is no other combo as current as coffee, plants and drinks. Anyone who, in recent times, has included these three in their daily routines, join the club! One of the great differentials of Cafeteria Botânica is the menu with inclusive versions, milk-free, sugar-free and gluten-free options. There are also small, medium and large plants, including fruit trees, and dry arrangements with consultancy on affective landscaping under the brand "Amiga Folhagem", by Luiza Burgos.
And look how cute! There is a children's space there with a collaborative store, TUPIA, with brands made by mother designers, a maternal coffee culture to welcome families, babies and children, also in the midst of a project filled with greenery and art.
The environment
The environment calms us with the urban jungle-style landscaping, and at the entrance, the space welcomes you with a lavender tree and deconstructed tiles on the floor, reminiscent of the old house's backyard, with outdoor tables and loungers that invite you to the calm.
The creator of the project is the producer and journalist, Carla Maciel. The contemporary vegan menu is signed by Chef Pablo Cordier.
"'Nature embraces us' is our idea. We take to the urban scenario options for breathing and what is lacking in the city: to bring together the different eating habits in an environment full of plants, which welcomes mothers, babies and pets", says Carla Maciel.
Service
Cafeteria Botânica
Instagram: @acafeteriabotanica
Address: Casa 478, at Rua das Hortênsias, Praça Ana Lúcia Magalhães, Pituba. (@a_casa478).
Opening: every day from 8am to 10pm.
Cultural and musical program: at 7:30 pm.