Within the community of Gamboa de Baixo, homemade food and a private beach
At Bar da Mônica, you eat a great moqueca and you are practically in the sea, in a place with a privileged view of the All Saints Bay. The cool thing about it is getting to know the residents and their stories, and not just arriving, ordering a dish, eating, taking a photo and leaving. Get ready, because this is one of the best experiences you will have in Salvador.
And as it says on the bar's Instagram: "Welcome to the most tropical bar-restaurant in the city. Here you will find: cold beer, homemade food and a private beach! "
The restaurant is simple, located in the Community of Gamboa de Baixo, on a cement pier, and has a staircase leading to the sea. There is often a very loud sound, where residents, tourists and navigators gather. There are plenty of tables and umbrellas, but to keep the heat away, just a good dip in the sea between a beer and another.
Who is in charge of the kitchen is Mônica Arcela, who has lived in Gamboa for 48 years. The bar is approximately 18 years old. "The bar has been around since my mother was alive, only she didn't sell beer and the snacks I sell. She only sold pastel and only on Sundays", she says.
After Monica's mother passed away, she and her sister started selling beer at the door. There was no bar yet, it was inside their own home. Due to the great demand for appetizers, they decided to make a feijoada, the first dish, served only on Sundays.
Things went well, and nowadays, at Bar da Mônica, the best-selling dishes are fried fish and moquecas, which customers can choose from options of aratu, octopus, shrimp, lobster and even vegan, made from vegetables and banana.
"We receive all kinds of people here to eat. From vegan to non-vegan, because today we have this option to be able to satisfy all tastes", explains Mônica.
Also try one of the starters like Sun-dried meat or Shrimp on Garlic & Oil. Almost all dishes are served with farofa and salad. For the main course, we recommend the lobster moqueca with shrimp and fish. Another tip is to stay until sunset, it will be worth every second!
If you are on a boat and prefer not to wait for a table, the restaurant makes deliveries. As Mônica receives many vessels from other cities, including several sailboats that do tourism, just call, order and go pick it at a certain time or take to eat on board. Everything comes packaged and ready to be consumed.
The ingredients are very fresh over there. Monica receives fish from fishermen in the community, as well as octopus and lobster. The only thing she buys outside Gamboa is the shrimp, which comes from the Fish Market, in Água de Meninos, not far from there.
"The sea is everything to me, it is where I get my livelihood from, it is the beauty, the charm, the greatest wealth that I have today in front of my establishment: the sea. When I was a child, my mother would sit on the edge of the wall and fish. We often had nothing to eat. She took hook and line, went to the end of the wall with a coffee pot, fished to feed us. So I am very grateful for the sea, because it has always sustained me", remembers Mônica.
How to get there
To get to Bar da Mônica, in Gamboa de Baixo, the tip is to go by boat – you can go walking inside the community, but believe me: the "mini" boat ride is worth a lot. The entrance is also through MAM. You must go to the stone beach, down the stairs where there is a SUP school, which is always full of nice people, since it is one of the points of Salvador today.
Another valuable tip is to arrange with Mônica for someone from the community to pick you up near MAM. Then, you go together, avoiding losing time looking for the restaurant. To take the boat that takes you there, just go to the beach. Several come out of there. Prices vary between five and ten reais per person.
And don't forget that, despite the sea breeze, it is important to bring a hat and sunscreen. Oh! Hydrate yourself!
Service
Bar da Mônica
Instagram: @bardamonica
Opening hours: 8am to 6pm, EVERY day!
They make no reservations
All cards accepted (with a 4% fee)
Phone #: (71) 3336-9728
Accessibility: the most comfortable access is by boat, because, by land, the path has unevenness. The slab where the bar is located is flat, with good circulation. The bathroom is very small and can only be reached by climbing stairs.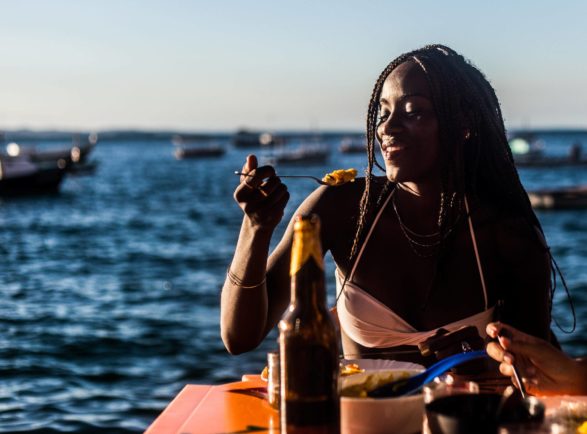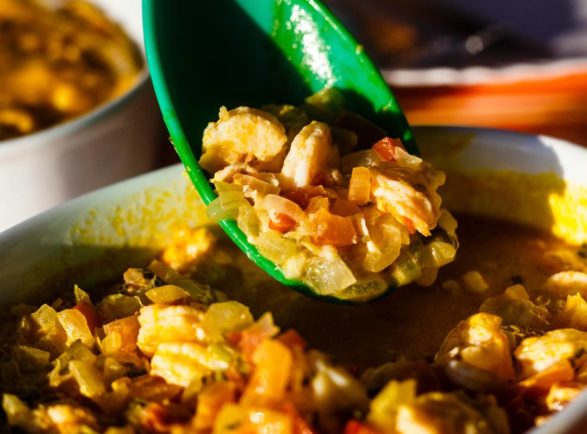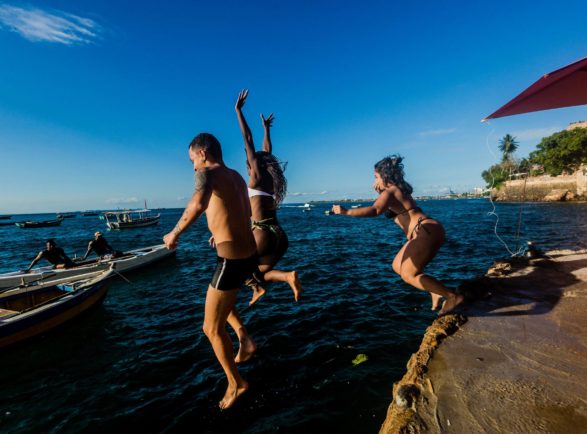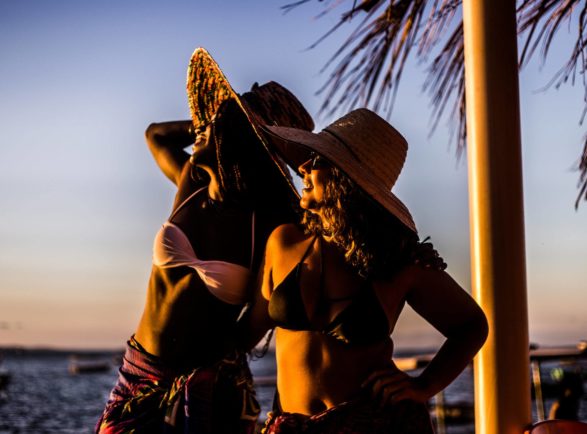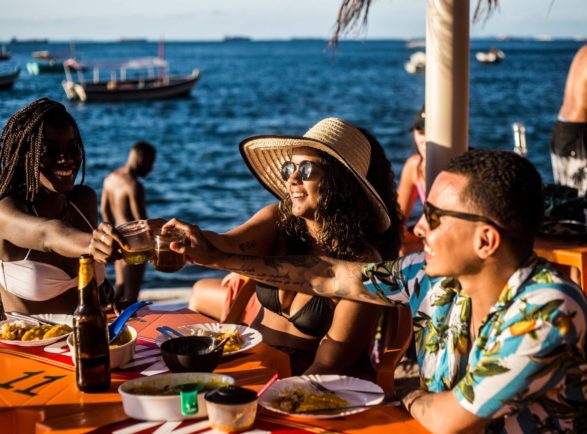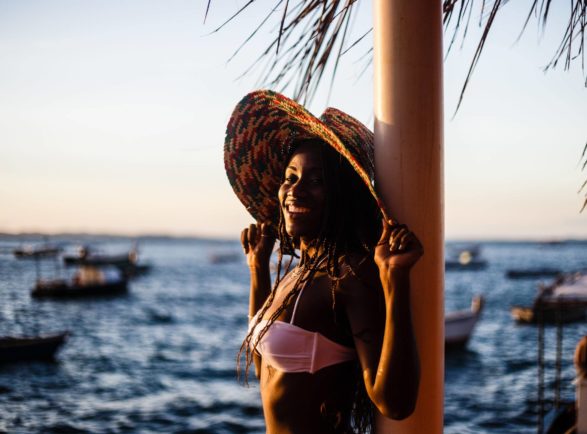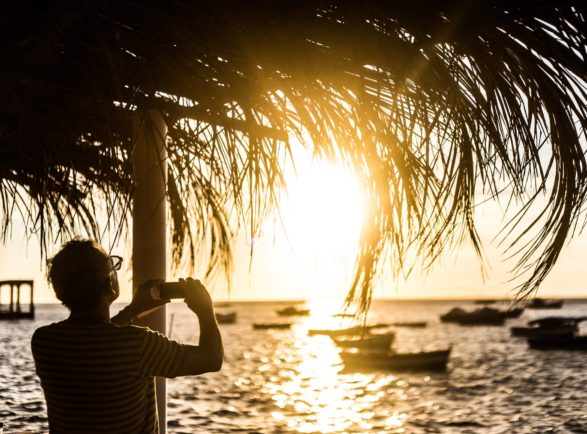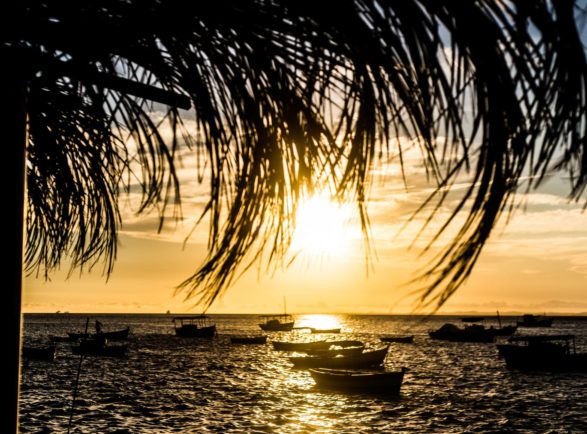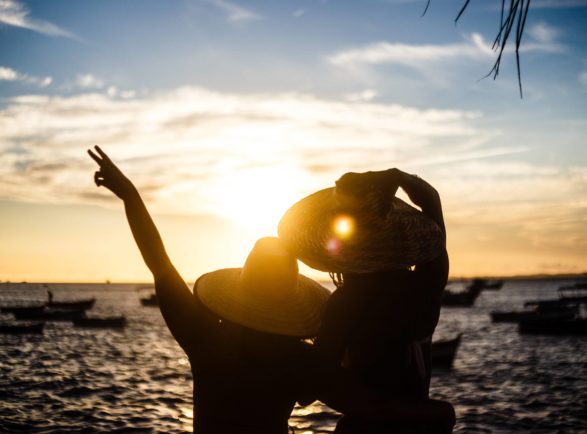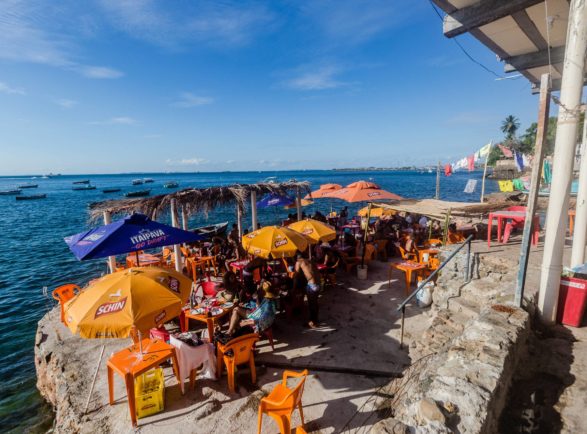 Bar da Mônica Gamboa de Baixo, Salvador, Bahia. Foto: Amanda Oliveira.